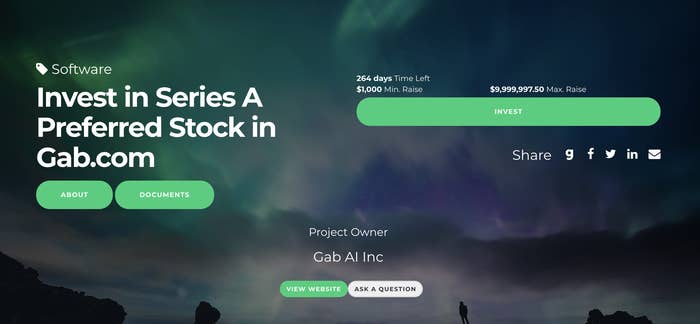 Amazon cut business ties with Gab.com, a social network popular with the far right, following increased scrutiny on the relationships between radicalized internet communities and major internet companies after two mass shootings over the weekend.

Owned by former advertising CEO Andrew Torba, Gab gained national notoriety following the October 2018 Tree of Life synagogue shooting in Pittsburgh, in which the shooter announced his intent to attack the place of worship on Gab before killing 11 people and injuring six others. On its subdomain, invest.gab.com, which was hosted by Amazon Web Services, the company was soliciting up to $10 million from accredited US investors.
On Tuesday, a spokesperson for Amazon Web Services told BuzzFeed News that Gab violated its policies on hateful content. The company said it first learned of its business relationship with Gab on Tuesday, following a report by journalist Judd Legum that found Amazon Web Services was hosting the Gab subdomain.
"This site promotes content that constitutes hate speech and is unacceptable according to our Acceptable Use Policy," an Amazon Web Services spokesperson said in a statement. "We have taken our usual path when websites violate our AUP and are working with the direct hosting partner to notify and shut down the website."
Amazon cut ties with one subdomain associated with Gab, though it does not host Gab.com, the company's main online property. The company did not say when it began hosting the subdomain.
Gab founder and CEO Andrew Torba declined to comment.

While invest.gab.com redirected to a blank page as of late Tuesday night, a cached version of the site showed it attempted to crowdfund up to $10 million from accredited investors as recently as last month. "Our investors help us carry out our commitment to free expression unencumbered by special interests or the venture capitalist old guard that controls Silicon Valley," the site read, positioning itself as an alternative to Twitter and Facebook.
With nearly 1 million registered users, Gab is a well-documented cesspool for hate speech and racism used by far-right influencers who have been deplatformed from more mainstream social networks. Following the Tree of Life shootings, several companies including payment platform PayPal and domain registrar GoDaddy severed ties with Gab.
A number of companies took similar measures with another extremist-friendly message board this week, following the mass shootings in El Paso, Texas and Dayton, Ohio. On Sunday night, Cloudflare dropped online protection services for 8chan, the anonymous messaging board the El Paso shooter reportedly used to share his manifesto, following public pressure.

After being dropped by Cloudflare, 8chan moved to BitMitigate, a digital security company that also works with the Daily Stormer a neo-Nazi site. Following that move, Voxility, an online infrastructure company, pulled services from BitMitigate's parent company, Epik, causing outages for 8chan, the Daily Stormer, and Gab. Epik serves as Gab.com's current domain registrar.