Billy Baker is a feature writer for The Boston Globe. On Monday night he started tweeting out a really incredible story.
Now mind you, it's a little long, but absolutely worth it. Definitely read this until the end!
Then Baker shared the original Globe story about George and Johnny.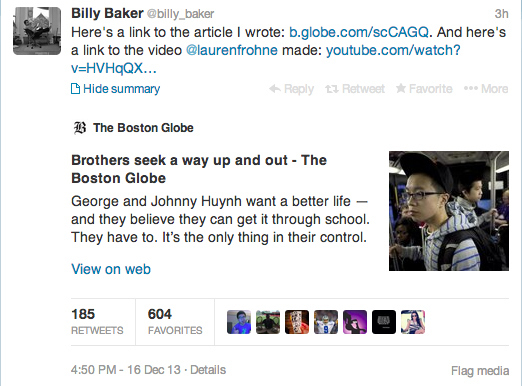 After Baker was done with his amazing story he introduced George to everyone following him.
And made sure to throw him a celebratory retweet.

Oh, and if George's day wasn't amazing enough...
Baker took some time out of celebrating Monday night to speak with BuzzFeed about not only how excited he was for George, but also about the amount of attention his Twitter storm of happiness had received.
He said that when he got George's text in the Globe's newsroom he couldn't help but start crying. "For this to happen, for this to be the outcome of all the hard work and sacrifices, it just seemed impossible," Baker said.
As for why he chose Twitter and what led him to just keep tweeting, he said it was actually born out of frustration. He wanted to tell the world how proud he was and found that 140 characters just wasn't enough.
"If you really want to say something meaningful and emotional on Twitter you just find yourself running into that 140 character limit so much that I just kept trying until I deleted it and said 'I'm going to tell you a story,'" Baker said. "Then I just started typing and I really never stopped for how long it went on. I just kind of kept writing."
Baker also can't believe the amount of attention the storm caused and can't help but laugh that once again George and his brother Johnny became an inspiration to readers.
"It started to dawn on me that once again these two kids from a rough neighborhood in Dorchester had touched people's lives and that's something special," Baker said. "It's that special position we sit at in the media where we can shine light in dark corners and when I shined that light on them they were already shining on their own."
He also sent over these two very adorable photos of George and Johnny picking up a copy of Baker's original article about the two of them.