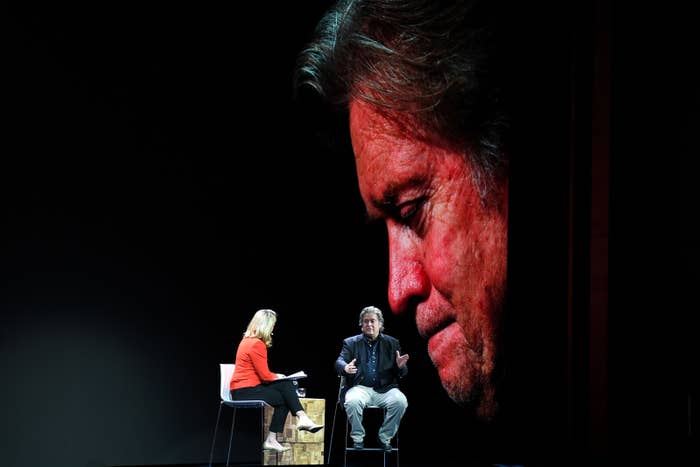 EDINBURGH — So you've decided to invite Steve Bannon to your event. Here's what to expect: Some people will drop out. Other people will march in protest. There will be chaos. And then, Bannon will say nothing new.
That's exactly what happened on Wednesday in Edinburgh, when Bannon appeared at News Xchange, the European Broadcasting Union's annual journalism conference. Based on what BBC Scotland editor Sarah Smith was able to get out of the interview with the former Trump strategist, it doesn't seem as if the appearance was worth all the drama.
Bannon's presence at the conference has been mired in controversy since last month, when the EBU announced he would be a featured guest. First Minister of Scotland Nicola Sturgeon announced she would pull out of the conference in protest.
"I will not be part of any process that risks legitimizing or normalizing far-right, racist views," Sturgeon tweeted at the time. "I regret that the BBC has put me and others in this position."
Bannon's interview on Wednesday afternoon loomed over the entire day's schedule. During the first event on Wednesday, a member of the audience of mostly journalists and European media asked a panel — moderated by the BBC's media editor, Amol Rajan — how they feel about "platforming white supremacists."
"I wonder who you're talking about," Rajan joked before putting the question to the panel of six media industry leaders.
David Rhodes, president of CBS News, said Bannon has probably already got what he wanted out of News Xchange. "We've spent half this panel talking about him," Rhodes said.
By the time Bannon finally took the stage Wednesday, a small crowd of protesters had formed outside. One conference guest told BuzzFeed News that she was cautioned against leaving the building by security. A 56-year-old protester was arrested outside the event and charged with threatening and abusive behavior. One man inside the auditorium said excitedly, "This is the main event," as Bannon took the stage.
But any journalists thinking they can shine a light on Bannon by giving him a stage and an audience may want to think again. BBC Scotland editor Sarah Smith started the interview by explaining that the purpose of inviting the far-right figure and former Breitbart publisher to News Xchange was to "scrutinize" him.

The theme of News Xchange this week is "polarization," and BBC's director-general, Tony Hall, opened the conference Wednesday morning by saying that fake news and misinformation are the existential threats of our lifetime. It seemed as though Bannon's presence was meant as some attempt at balancing the scales, of hearing the other side.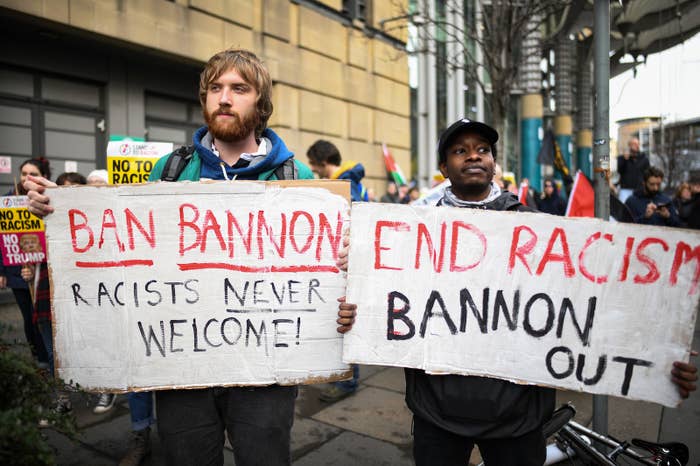 Smith's first question to Bannon was whether he knew that people thought he was racist and whether he cared about that criticism. Bannon responded with a minutes-long answer saying that what he's actually doing is supporting the view of working-class people by promoting populism and "economic nationalism."
He also introduced what would become a common theme of the afternoon — and a regular feature of most Bannon interviews — by accusing Smith and the BBC of being elitist and out of touch.

"Mainstream media is the voice of the globalist elite," Bannon said.
Bannon also admitted in the first minutes of the interview that he no longer works with fringe far-right media anymore and is only interested in using the platform of a media company like the BBC to spread his views.
"As populist nationalists I think it's important to do mainstream media," he said, explaining that doing interviews with places like the BBC is the only way to reach a wide range of people and convert them to nationalist populism.
"This is a game," he said, pointing to the interview and the room full of journalists. "We can do this all night."
"When you were running Breitbart, you ran headlines like 'Birth Control Makes Women Unattractive and Crazy,' " Smith said. Bannon countered by saying that Breitbart's notorious "black crime" tag was actually responsible journalism, an important issue for the working class, and a pressing issue for the victims of so-called "black crime," who he said were predominately African Americans and Latinos in the US.
At no point were Smith's attempts to read back Bannon's previous statements on race, gender, or politics met with anything other than enthusiasm from Bannon, who took the opportunity to turn to the audience and deliver another minutes-long monologue, laying out his ideology with even more detail. A similar tactic involving Smith's needling about Bannon's support of President Trump seemed to be just as useful for him.
"Does Donald Trump tell lies?" Smith asked.
"Typical mainstream media. Did you ever ask that of Obama?" Bannon fired back, launching into another diatribe about media bias. "Would the BBC ever real-time fact=check [UK opposition leader] Jeremy Corbyn?"
"Yes," Smith tried to yell back before Bannon steamrolled again by saying, "We're adults — just admit you hate Donald Trump."
At about the halfway mark of the interview, even the two screens hanging on the sides of the stage that featured tweets from the audience began to flash with tweets that were seemingly critical of how the interview was going.
"Sarah Smith's series of Trump 'lies' that she is putting to Bannon is only allowing him to talk about how the media treats Trump differently to other politicians," one read. Another then flashed up on the screen, reading, "Masterclass by Steve Bannon on how to deflect questions, move the frame, turn the table and push his story."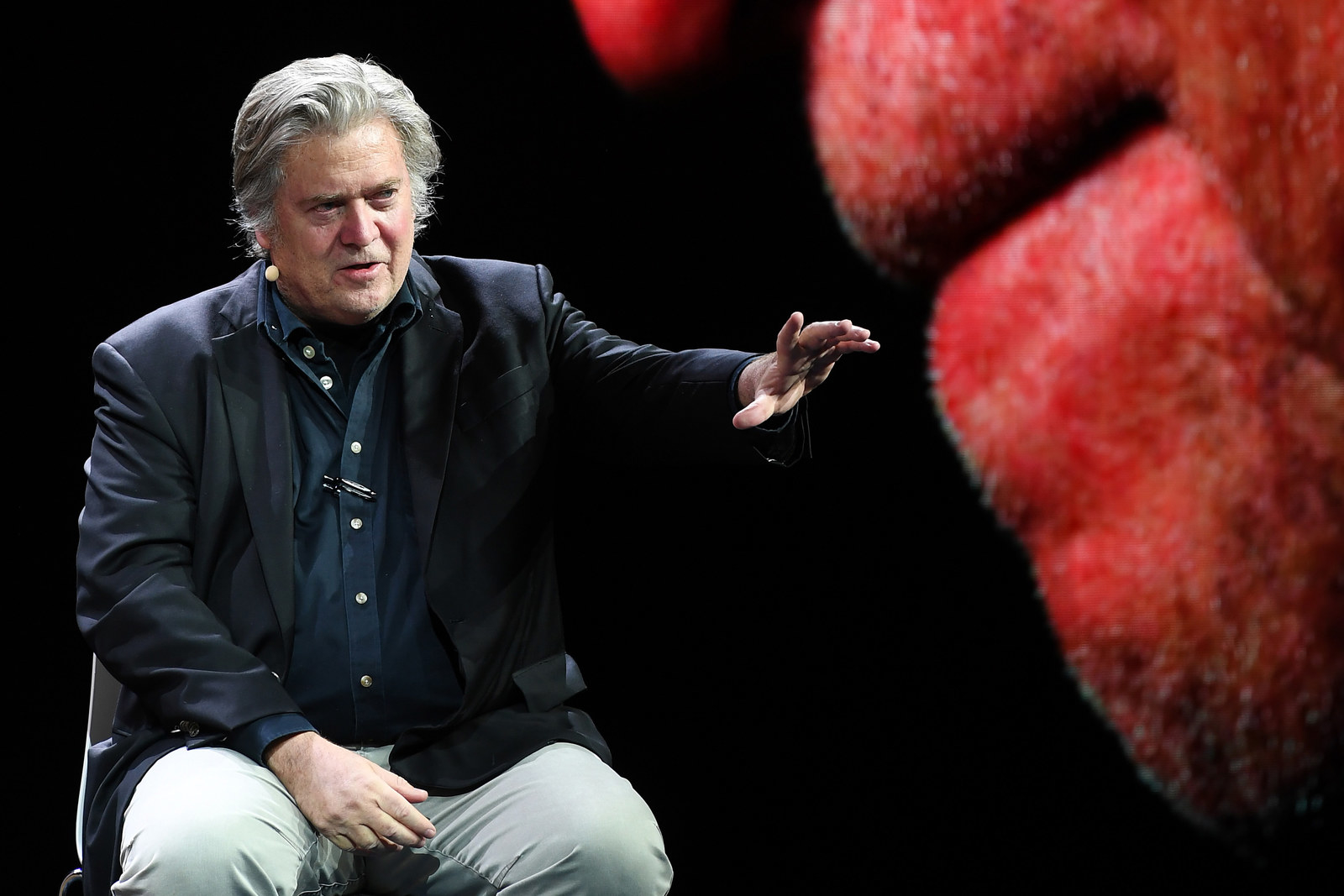 Things became even more surreal toward the end of the interview, when Smith asked Bannon about the #MeToo and #TimesUp movements. The question gave him another one-liner opportunity, saying, "The TimesUp movement is the most important political movement in the world." Then he launched into a riff about how the women involved with the Tea Party were an immensely powerful political force.

Smith tried to counter by asking if Bannon is a feminist, which let him talk emotionally about how much he loves his daughter before declaring that, yes, he is a feminist. The two screens then lit up with audience tweets quoting Bannon saying, "I am feminist."
Aside from humanizing Bannon's relationship with the women in his life and allowing him to ask Smith his own questions, the event gave him an opportunity to launch an unfathomable amount of one-liners into the crowd.
"I'm a Catholic from the American South," he said. "The movement doesn't want to have anything to do with anti-Semitic or fascist movements."
"Any fascists or ethno-nationalists are not what we're after," he said at another moment. And "President Trump's policy of zero tolerance at the border is a humanitarian policy," he said.
The interview ended with Smith taking audience questions, which Bannon didn't actually answer, and audience members started to yell back at him for dodging their questions.
The whole thing ended with Bannon declaring that the everyone in the audience was actually the opposition party and that he was excited to see them all again when he came back to Europe in the spring for the European elections. He boasted that turnout would never be higher once he started building "connective tissue" between populists in Europe.
As for how the BBC and the EBU feel about the event, a BBC spokesperson told BuzzFeed News that they were pleased: "The EBU asked Sarah Smith to interview Steve Bannon on behalf of its journalism conference, News Xchange. We agree with the EBU that this was a robust interview which saw Steve Bannon challenged on his views."
The EBU was similarly enthusiastic, saying, "As a media industry event, we consider it our duty to share and scrutinize a range of relevant viewpoints as part of a balanced debate. Steve Bannon was subject to a rigorous interview and his views were interrogated thoroughly — both by the BBC's Sarah Smith and other journalists in the room."
Perhaps the spectacle was best summed up during the panel after Bannon's interview — a panel on, of all things, diversity and inclusivity in the media industry. A woman stood up in the audience and asked the panelists — and the rest of the audience — why, if everyone at News Xchange was so ready to scrutinize and interrogate Bannon's ideas, did half the room leave the minute he was done speaking? Would this panel be just as newsworthy and interesting for people?