For more on this story, check out this episode of BuzzFeed's Internet Explorer podcast.
Over the last few weeks, a Twitter account called "Uma Kompton" has been causing a lot of controversy.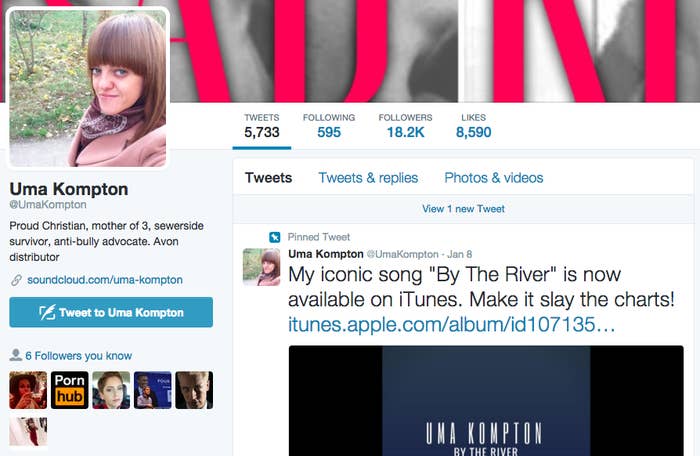 The account advertises music, like a song called "By the River" that opens with the lyrics: "Down by the river, boy, I'm waitin' on you / Pussy needs eatin', beat it black and blue."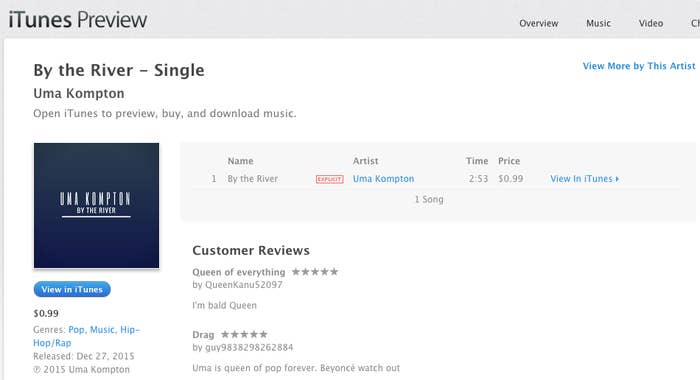 Someone even annotated it on Genius.com.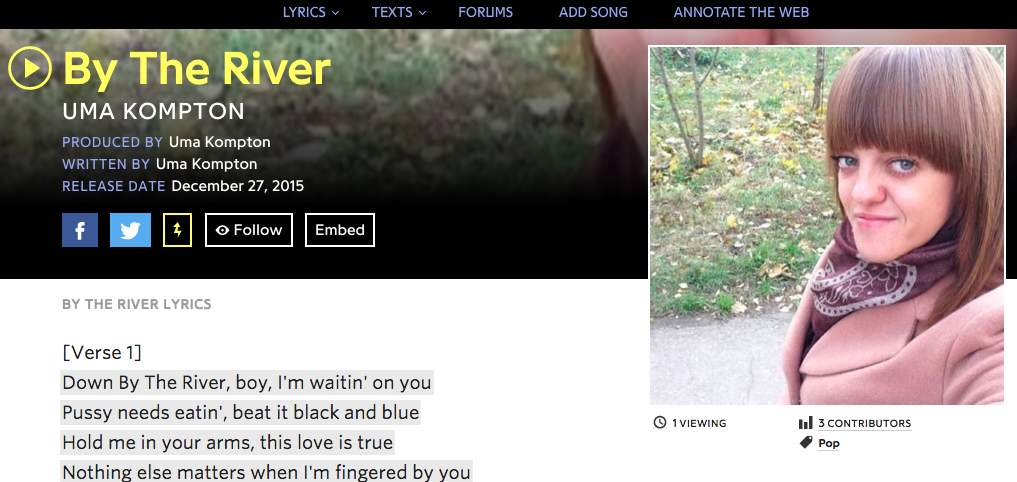 And the account is hosting another song called "Donald Trump (Presidential Cock in My Heart)" on Soundcloud.

As for its tweets, it mostly posts things that are intensively graphic and sexual.
Or commenting on current American pop culture.
Sometimes it completely abandons its central premise and just turns into a normal Twitter novelty account, posting memes.
And it most recently went mildly viral after trolling a customer service representative for United Airlines.
The account appears to have an endless supply of photos of "Uma" and also sometimes features her husband.
Her husband is referred to as "Simon."
And he has a Twitter page too.
There are even more photos of the two on the Uma Kompton Instagram account.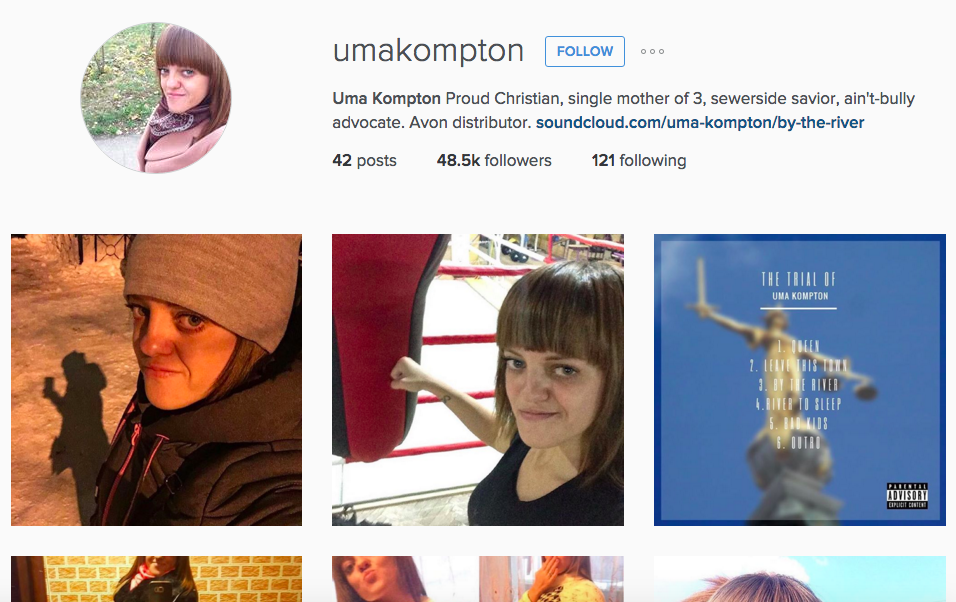 There are even fan accounts for Uma.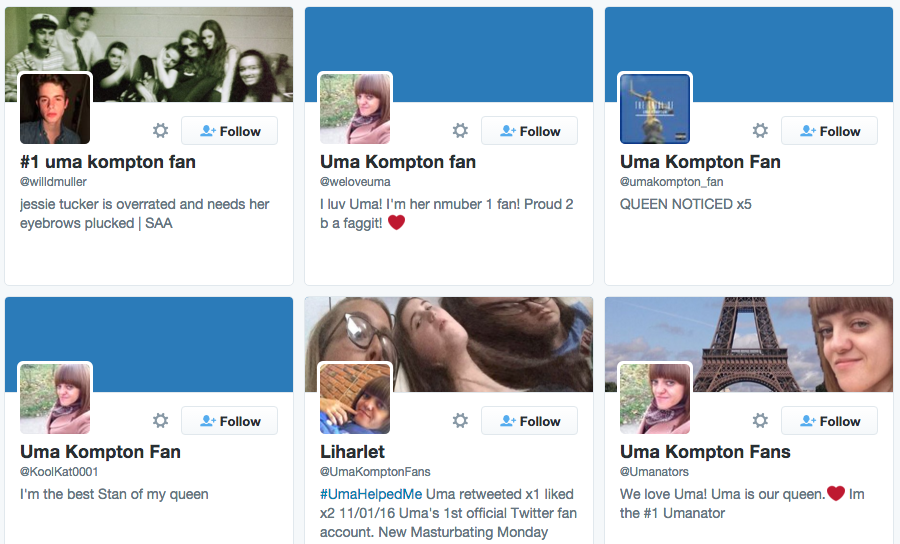 There appear to be other — smaller — accounts in the same network. They tweet similarly graphic content and have a very similar bio syntax.
This account in particular is using a photo of J-pop artist Kyary Pamyu Pamyu to release their own music on Soundcloud. The real Kyary Pamyu Pamyu has 3.97 million followers on her actual Twitter, by the way.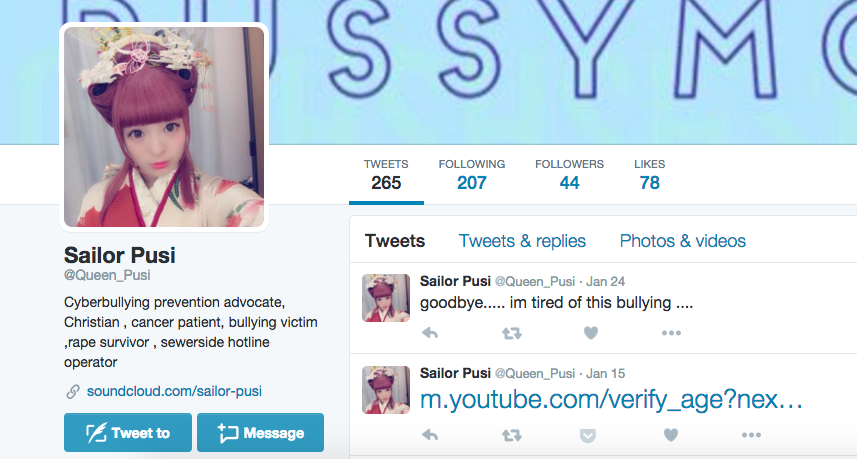 But if there weren't enough red flags that this stuff wasn't being tweeted by a grown woman and her husband, there's something else sort of fishy about the account. Sometimes "Uma" is surrounded by signs that are written in Cyrillic.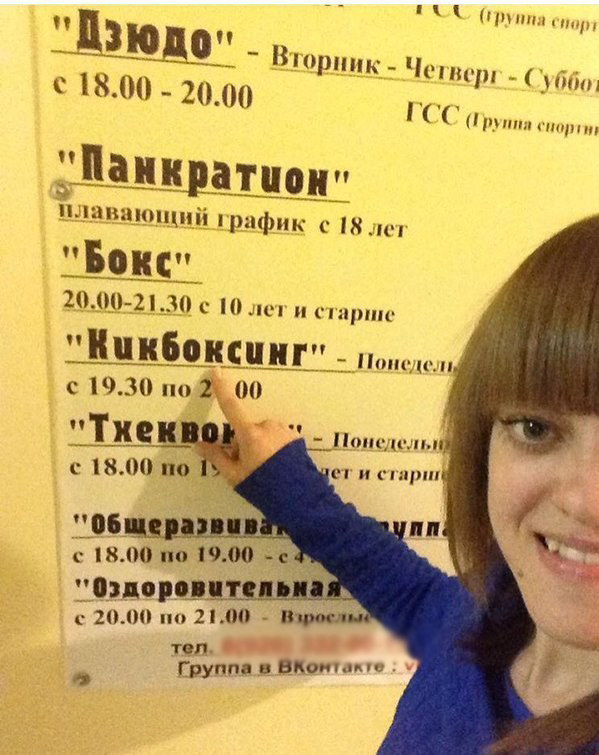 That particular sign above has a phone number, and when you google it, it takes you to...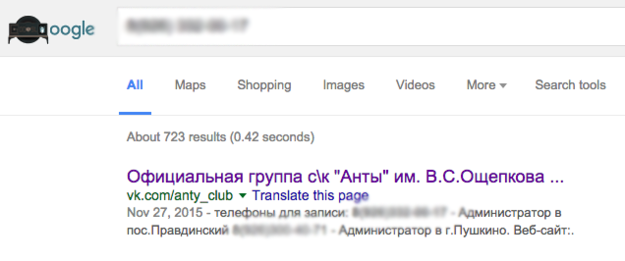 ...a VK page — a Russian Facebook-type social media site — for a gymnasium in Pravdinsky, Russia.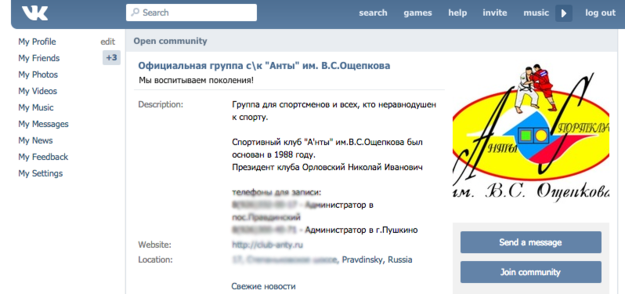 One of the members of that gym is named Natalya Ulyanina.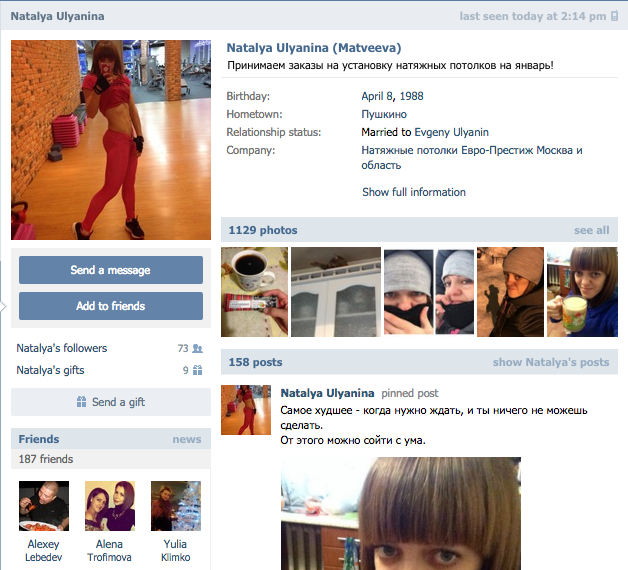 And Natalya Ulyanina is married to Evgeny Ulyanin.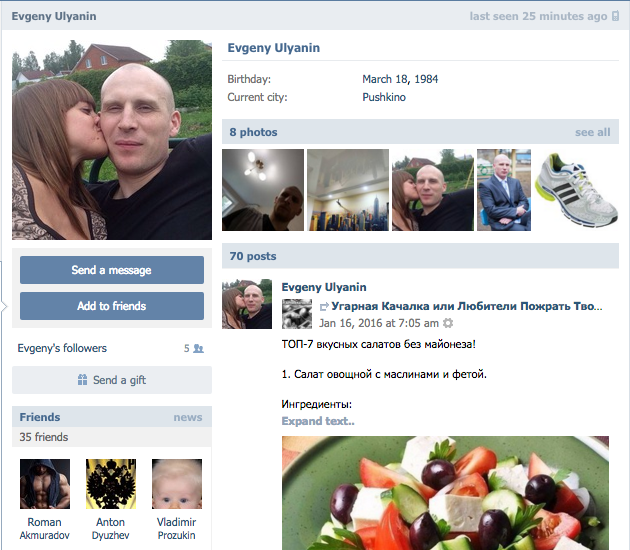 Whoever is running the Uma Kompton account is literally just taking Natalya's photos right off her VK page...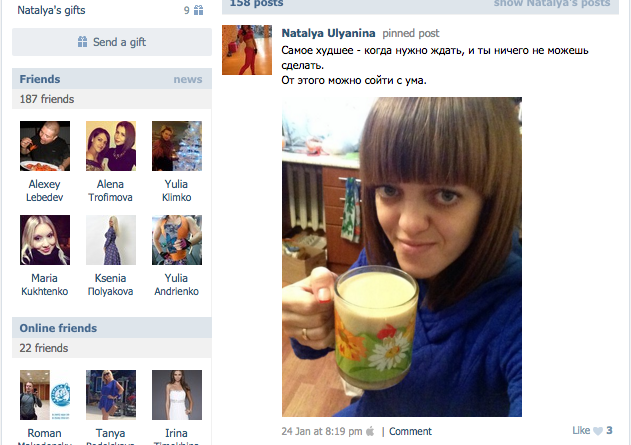 ...and using them as memes on Twitter.
Evgeny told BuzzFeed News that Uma Kompton was definitely using their photos.
Evgeny and Natalya work for a stretch ceiling company in the Moscow area. Evgeny said he's never heard of the Uma Kompton persona and that no one from America has attempted to contact him or his wife about it.
When asked what he thought about the whole thing, he just said, "Find them."
Uma Kompton appears to be a copycat of Lucia Cole, a similar fake account that was using stolen photos to sell iTunes downloads of old Jessica Simpson songs.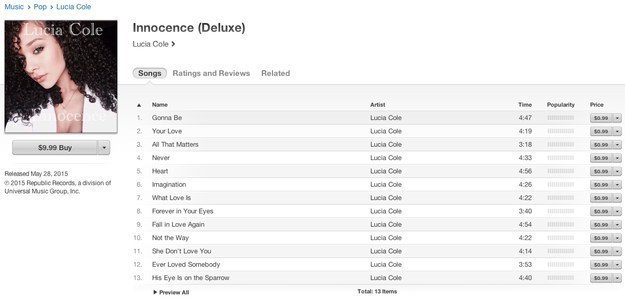 Whoever is running the Uma Kompton account agreed to be interviewed by BuzzFeed News over direct message.
And unlike Lucia Cole — whose Twitter followers were mostly bots — Uma Kompton appears to have a fairly active user base who are very excited about the account.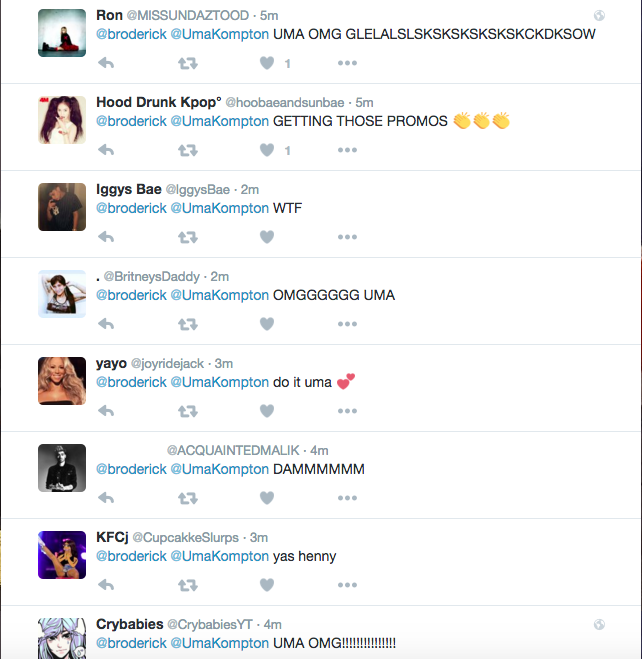 BuzzFeed News asked the account about Natalya and Evgeny.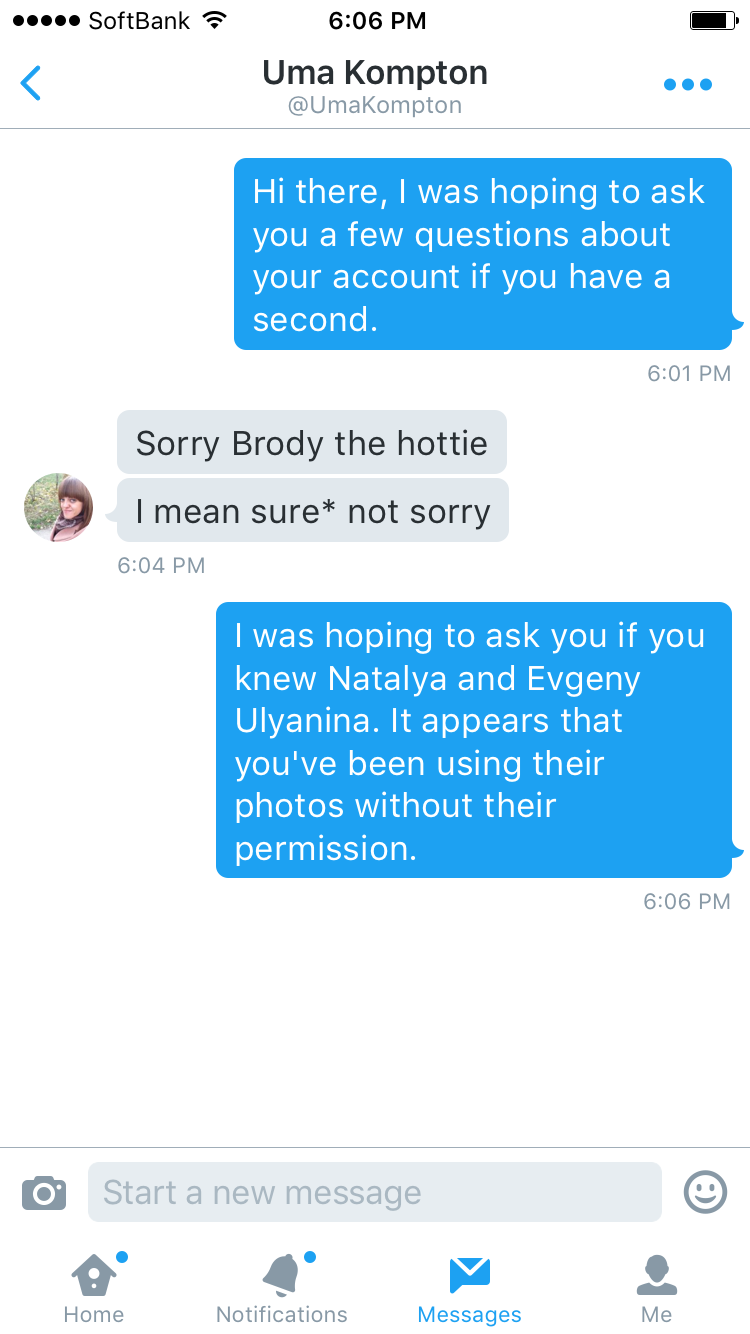 The person running the account claimed to have no knowledge of who they were.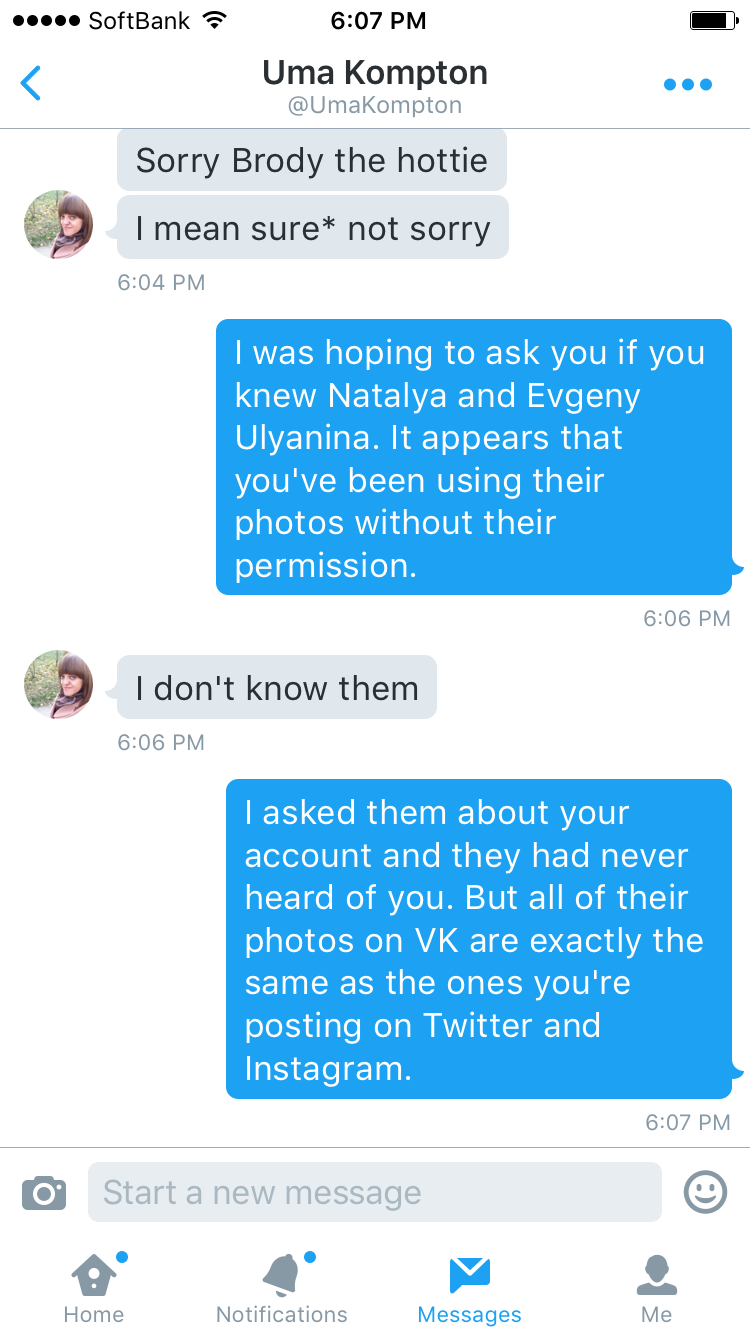 Going so far as to claim they had never heard of the website VK.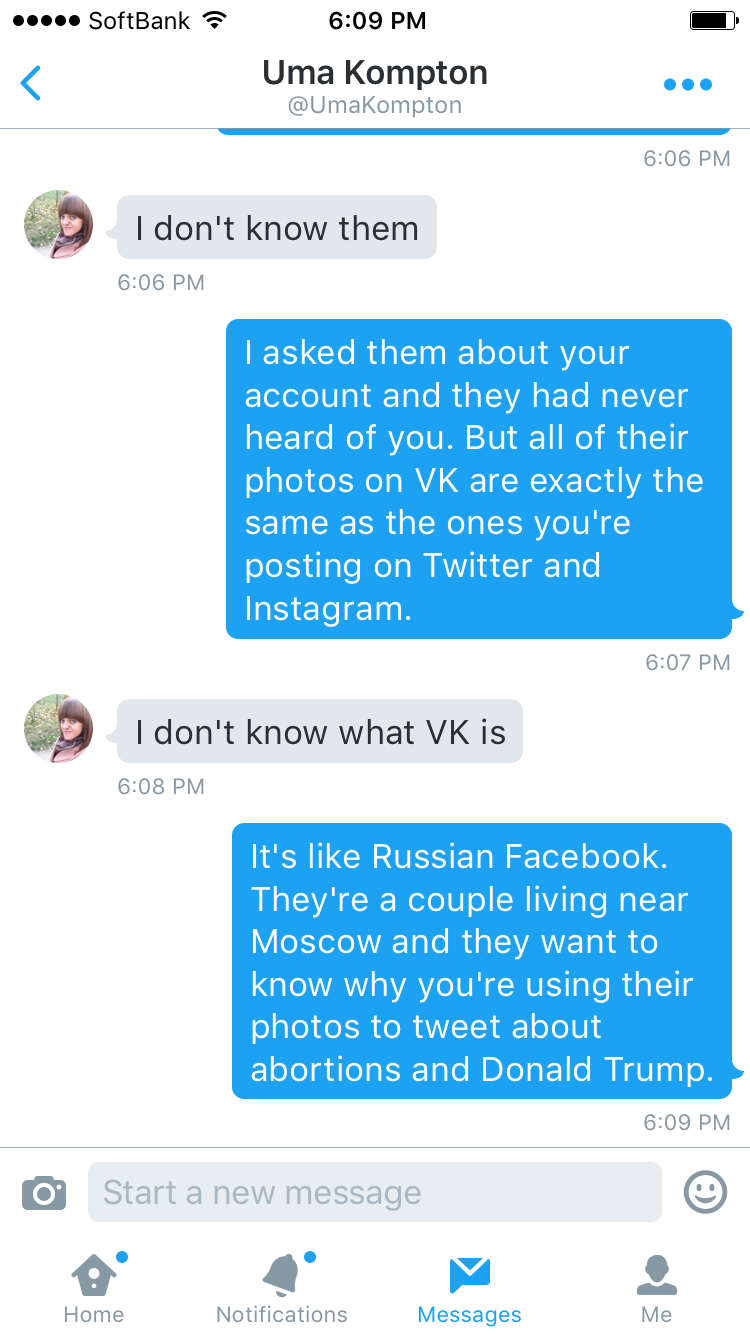 When asked if they had any particular statement about the fact they clearly appear to be a fake account, they replied, "Yasss gimme dat promo daddy!!"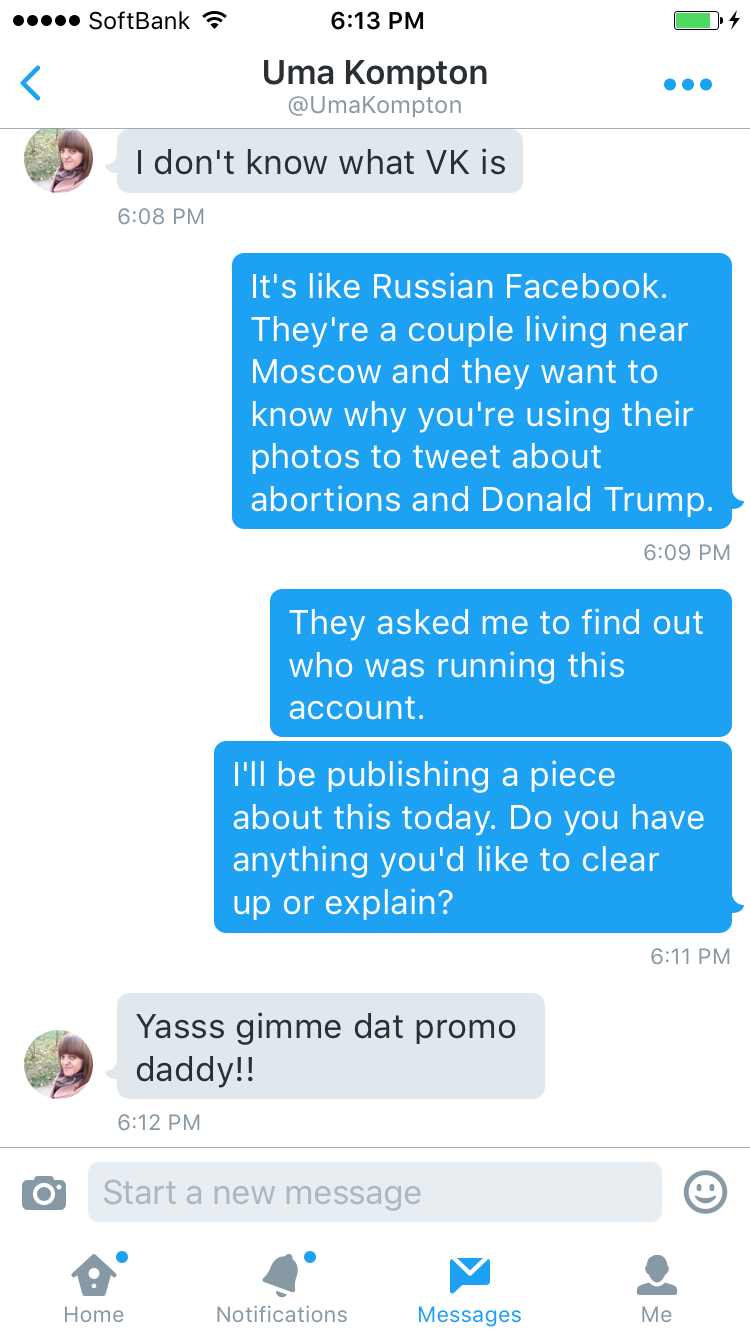 And then immediately after the conversation with BuzzFeed News they tweeted this:
UPDATE
The Uma Kompton account was suspended by Twitter. The owner of the original account has opened another account, but it uses Ulyanina's less than the previous one.
Ulyanin's husband Evgeny wrote to BuzzFeed News on Friday saying he was grateful the original account was suspended.