Updated:
A woman was shot and killed after she allegedly rammed into barricades near the White House and then led police on a chase toward the U.S. Capitol on Thursday, law enforcement officials said.
Capitol Police Chief Kim Dine said it appeared to be an isolated incident and not terrorism related. Dine said the suspect "attempted to pass a barricade" and later struck a Capitol Hill police officer with her car. Dine said the officer is in good condition.
D.C. Police Chief Cathy Lanier said the suspect was shot by police and pronounced dead. She was later identified in multiple reports as Miriam Carey, 34, a dental hygienist from Stamford, Conn.
Terry Gainer, Senate Seargent at Arms said a young child was in the car with the suspect. The 1-year-old is uninjured but was taken to the hospital, officials said.
The Capitol building was locked down for about 30 minutes following the reports of the gunshots.
Video of the police chasing the suspect, who was driving a a black Infiniti.
As the chase led to the Capitol, police locked down the building.
Tourists were reportedly told to run as police scrambled towards the source of the gunfire.
Missouri Senator Claire McCaskill tweeted about the shots fired outside.
The capitol TVs aired instructions for people to stay in place and stay away from doors and windows.
SHELTER IN PLACE. Gunshots have been reported on Capitol Hill requiring all occupants in all House Office Buildings to shelter in place. Close, lock and stay away from external doors and windows. Take annunciators, Go Kits and escape hoods; and move to the innermost part of the office away from external doors or windows. If you are not in your office, take shelter in the nearest office, check in with your OEC and wait for USCP to clear the incident. No one will be permitted to enter or exit the building until directed by USCP. All staff should monitor the situation. Further information will be provided as it becomes available.
Police cars swarmed Capitol Hill.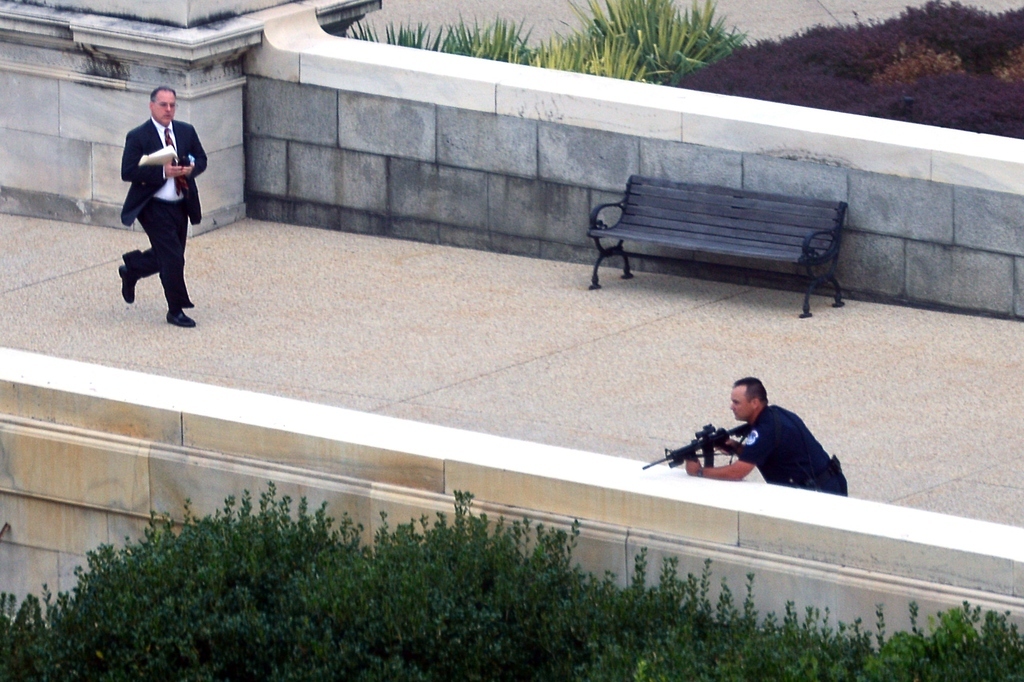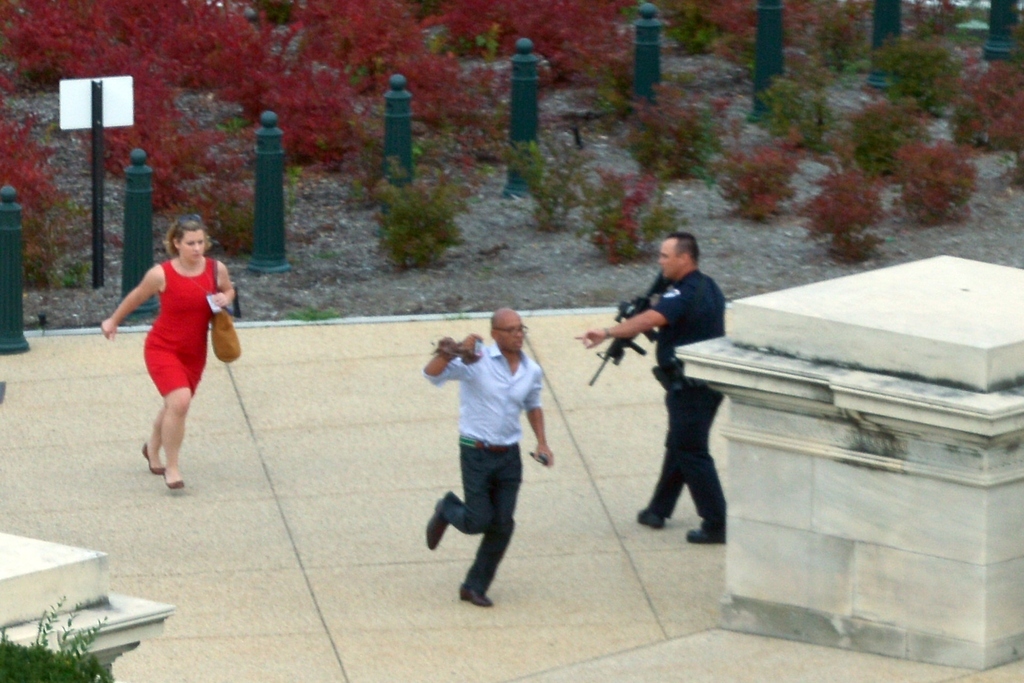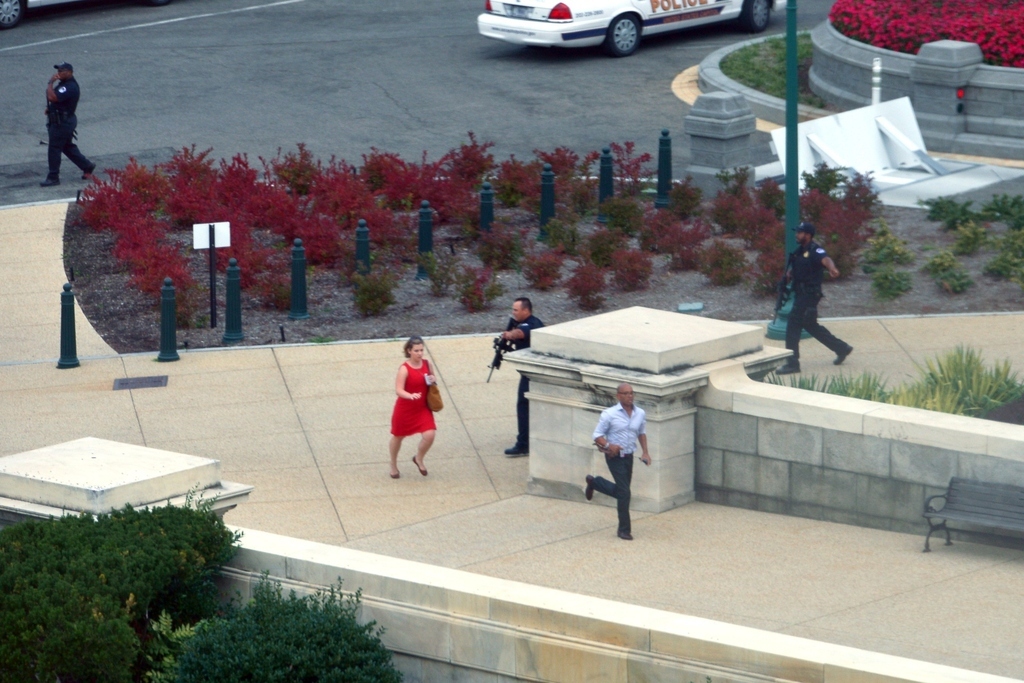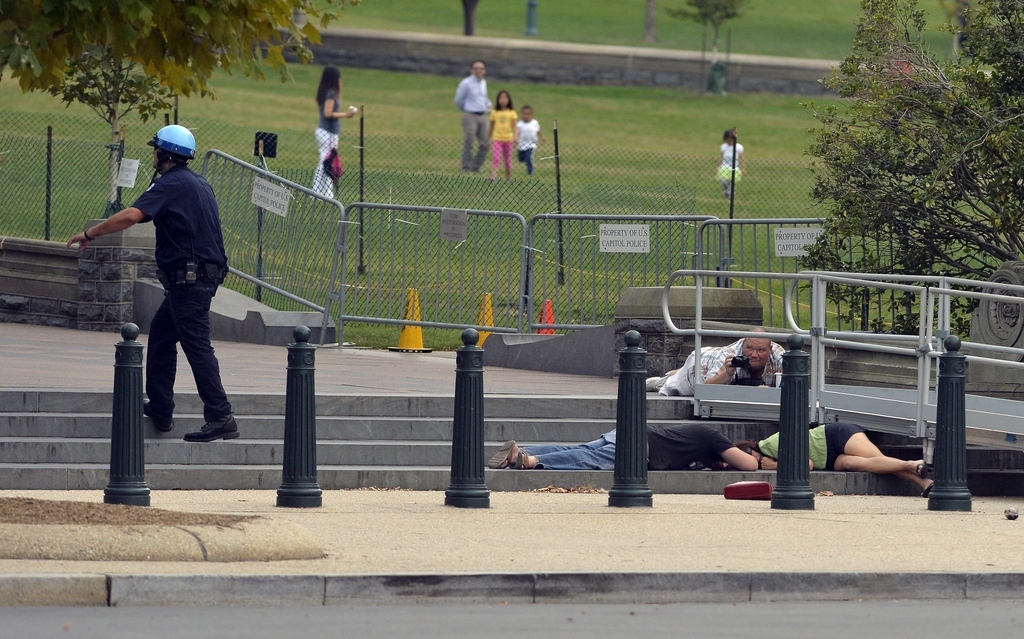 Capitol Police began herding visitors, lawmakers and reporters into security barriers.
Police began combing the halls of Capitol building carrying machine guns.
An ambulance arrived outside the House of Representatives.
As photos began spreading of a unidentified person on a stretcher being escorted by police.
U.S. Senate Majority Leader Harry Reid confirmed that one person was injured in a shooting.
The lockdown on the Capitol was lifted roughly 20 minutes after shots were reported being heard.
The President was briefed on the reports of gunfire on Capitol Hill this afternoon. White House staff are in touch with law enforcement and monitoring the incident. Questions about the security posture at the White House complex should be directed to the United States Secret Service.
It is still unknown whether the woman driving the car was armed.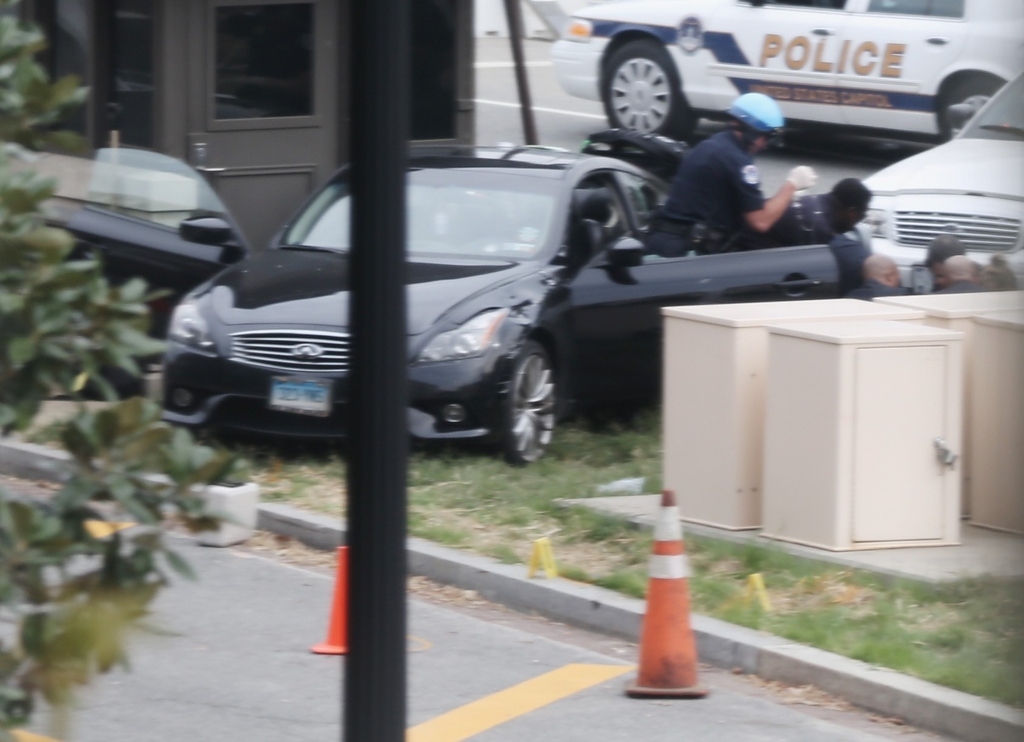 A police officer was injured in the traffic accident but the injuries were not life threatening, officials said.