Last week, Pornhub announced that adult film actress Mia Khalifa beat out Lisa Ann as the most popular porn star on the streaming video site.

Mia Khalifa is a 21-year-old Lebanese-born college student, currently living in Florida.
She describes herself on her Instagram as the "unofficial mascot of the Florida State Seminoles." She's currently working with the porn production company Bang Bros.
As news of Khalifa's popularity spread through Lebanese social media, however, many were completely outraged.
Feminist Lebanese writer Juliana Yazbeck was concerned about Khalifa's role in possibly fueling more sexism in conservative Lebanon, along with affecting the global opinion of Lebanese women:
For someone who has struggled so much to assert their presence as a human being with a working, thinking brain, I cannot deny that I felt a pang of despair when Mia erupted across social media and entertainment news. It never even crossed my mind to think, "she doesn't have the right." What did cross my mind was: "Really? Of the very few Lebanese women who are making global headlines, it had to be a porn star?"
Adding fuel to the controversy, in one of Khalifa's more popular videos, she and a Cuban porn star named Juliana Vega both wear hijabs while performing sex acts.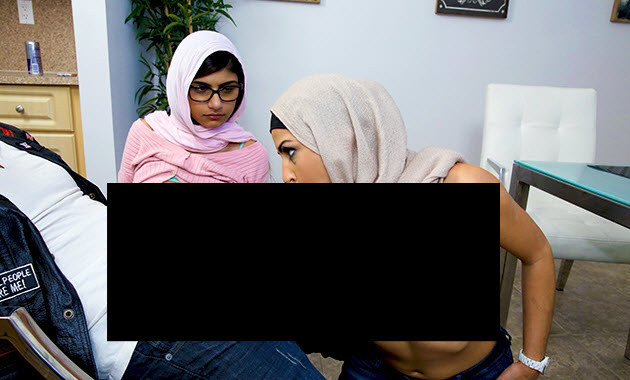 Many on Twitter attacked Khalifa for wearing the hijab, especially because she has a tattoo of the Lebanese Forces cross, a symbol for Lebanon's right-wing Christian political party, which evolved from a Christian militia in Lebanon's civil war.
Another one of her tattoos reads "Koullouna lil-watan, lil'oula lil-'alam," the opening line of the Lebanese national anthem.
Regardless of the outrage though, she's quickly gaining a huge amount of fans online.
Khalifa has tweeted about receiving death threats from Lebanese Twitter users, but that doesn't appear to be giving her any second thoughts about her success.
She's brushed off the use of the hijab and many of her more vocal detractors. "Doesn't the Middle East have more important things to worry about besides me?" she tweeted earlier this week.
Juliana Vega is Cuban, and this post has been updated to reflect her nationality.
"Mia Khalifa has become a household name in the last few weeks since BangBros released her first feature Look who's cumming to dinner," Corey Price, vice president of Pornhub, told BuzzFeed News. "We first noticed Mia the week of November 16th, where we saw over 200,000 searches for the previous unknown."
Price said that media exposure of Khalifa has only expanded her huge profile. They've seen over 750,000 searches for her since Saturday. And "Mia Khalifa" has been the top search term worldwide on PornMD and Pornhub since Sunday.