Facebook has taken down most of the photos from Jones' profile, saying it removes "reported content that promotes poaching of endangered species, the sale of animals for organized fight or content that includes extreme acts of animal abuse."
Kendall Jones is a 19-year-old girl from Cleburne, Texas. And recently she's become a fairly well-known figure on Facebook for her controversial page.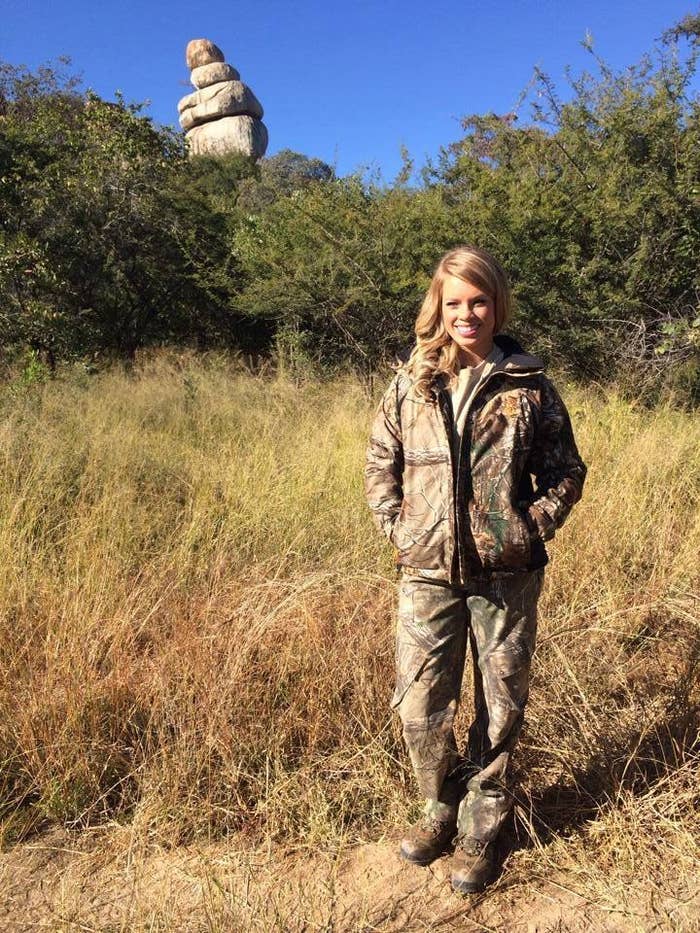 Jones has been hunting big game in Africa since she was 13 years old. When she's not hunting, Jones is a cheerleader for Texas Tech University.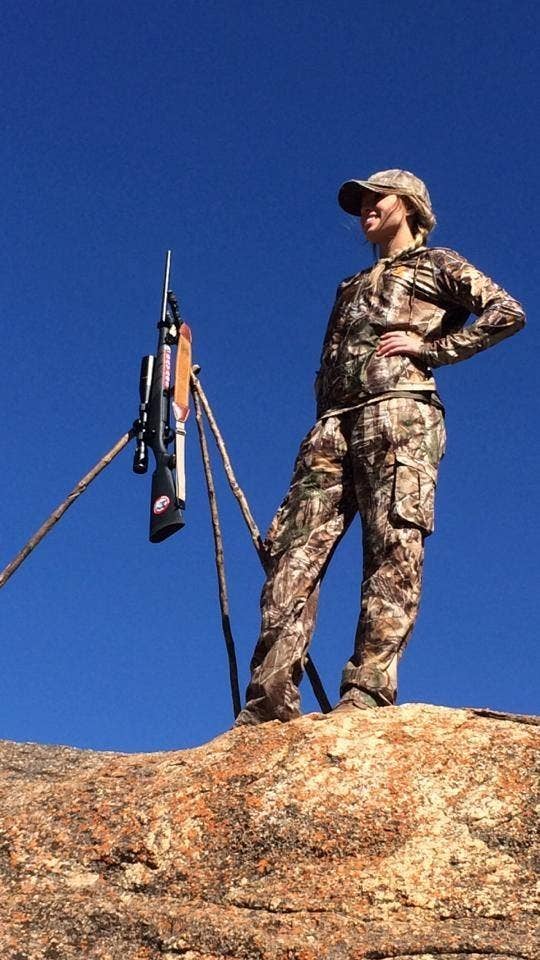 **Graphic Image Warning**
Some of the photos on her page are fairly gruesome, most of them involving Jones posing over bodies of recently killed animals.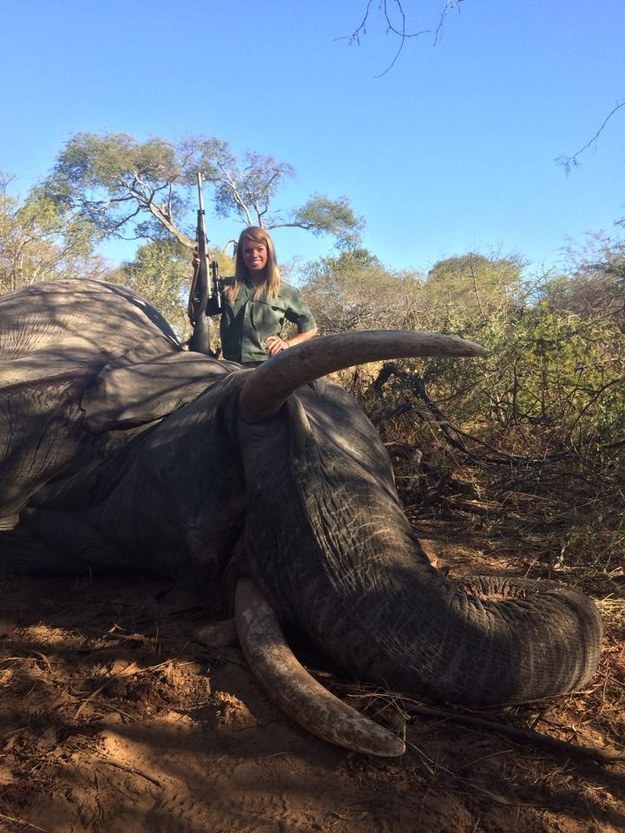 Currently, she's gained over 12,000 Facebook followers on her page, Kendall Takes Wild. Many of the comments are now a mix of hunting fans and animal rights activists that discovered the page.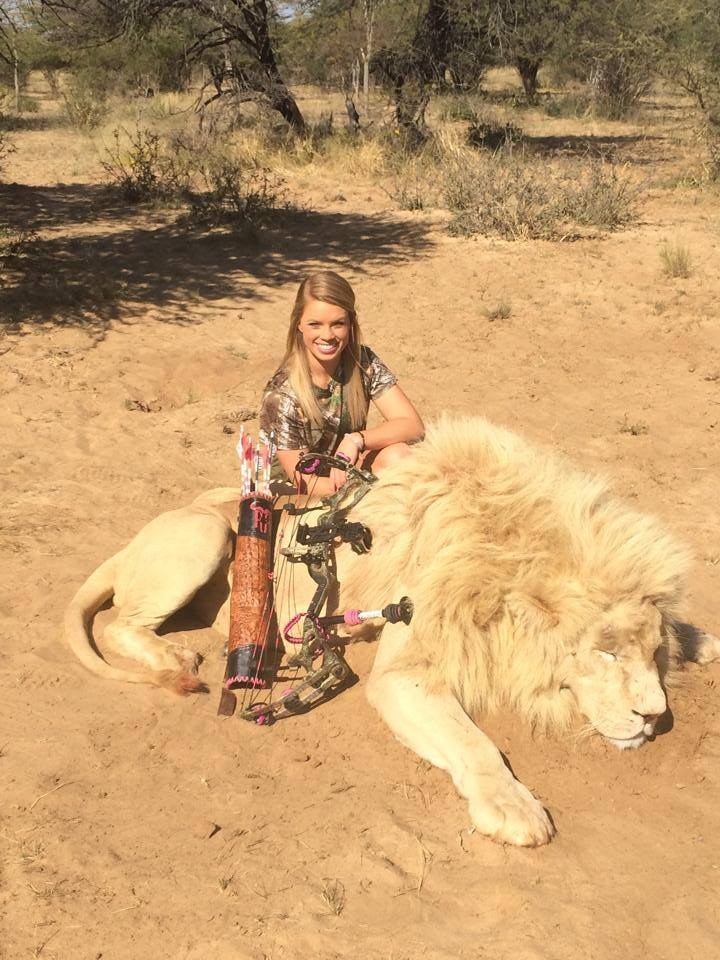 "The vet drew blood, took DNA samples, took body and head measurements… I felt very lucky to be part of such a great program and procedure that helps the White Rhino population through conservation," she wrote.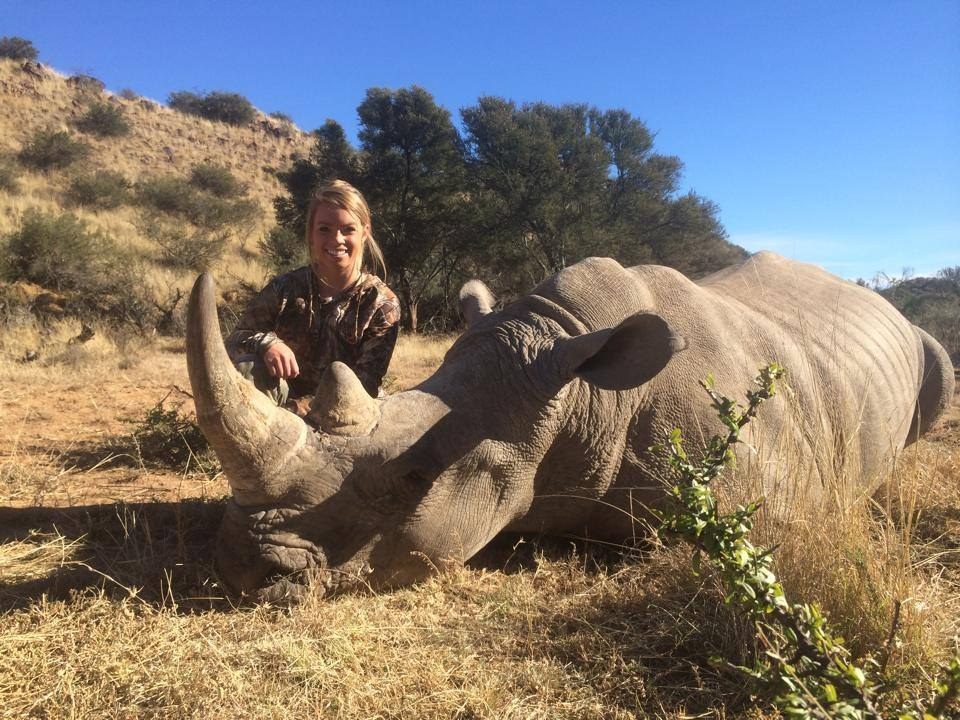 But Jones' handful of comments about conservation haven't slowed down the amount of online backlash she's received.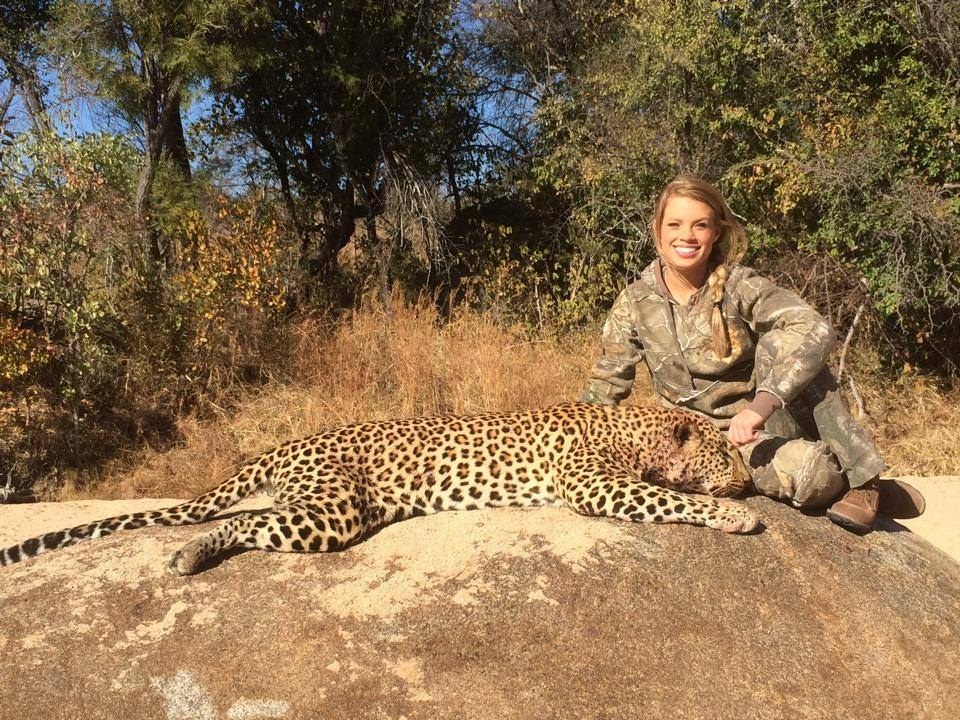 More than 40,000 people signed one online petition started in response to her page, demanding Facebook remove it.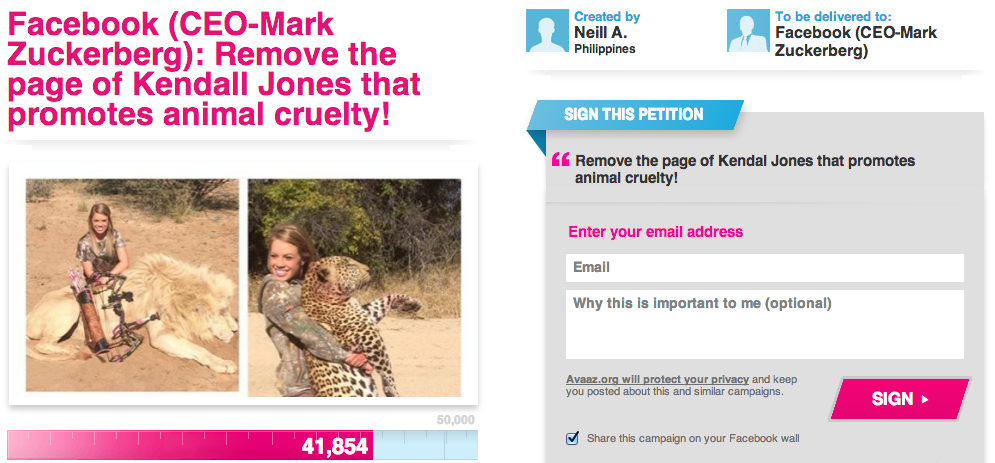 Another petition, started by a South African citizen, was signed by more than 1,000 people, asking the South African government to ban Jones from the country.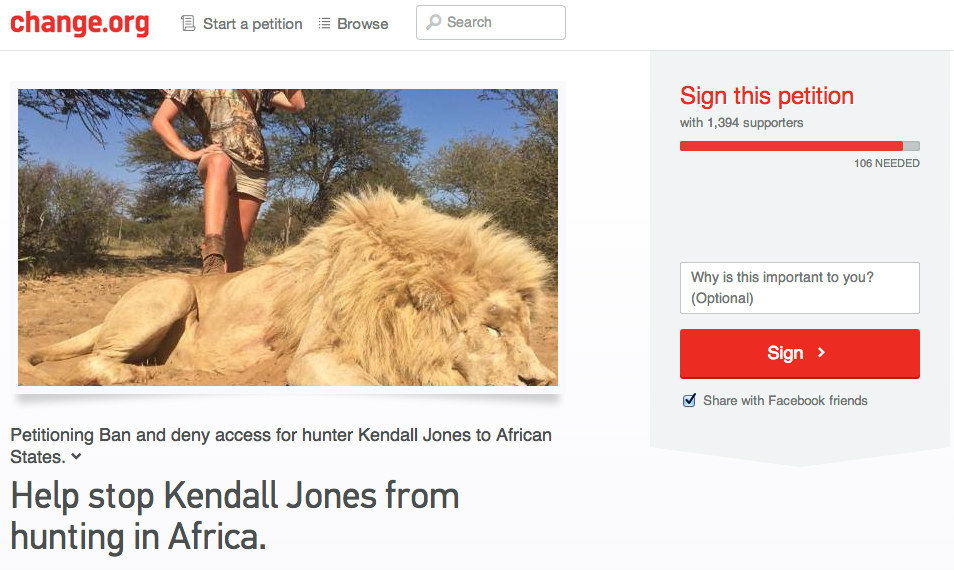 Jones' controversy hasn't been all negative feedback though. Jace Bauserman with Grandviewoutdoors.com came to Jones' defense:
Currently, Jones, 19, is being targeted by the anti-hunting crowd as being a ruthless killer and harming the ecosystem. The controversy started during the first week of June, when Jones started posting mobile uploads of her hunting adventures to Twitter and Facebook…

Aside from support from countless hunters, the Sportsman Channel will be airing a show in 2015 featuring Jones and her amazing hunting adventures. Stay tuned.
And as for Jones, she wrote on her Facebook page, "All the anti-hunters posting negative comments and sharing my photos on their page has helped me get over 600 likes in the past 48 hours."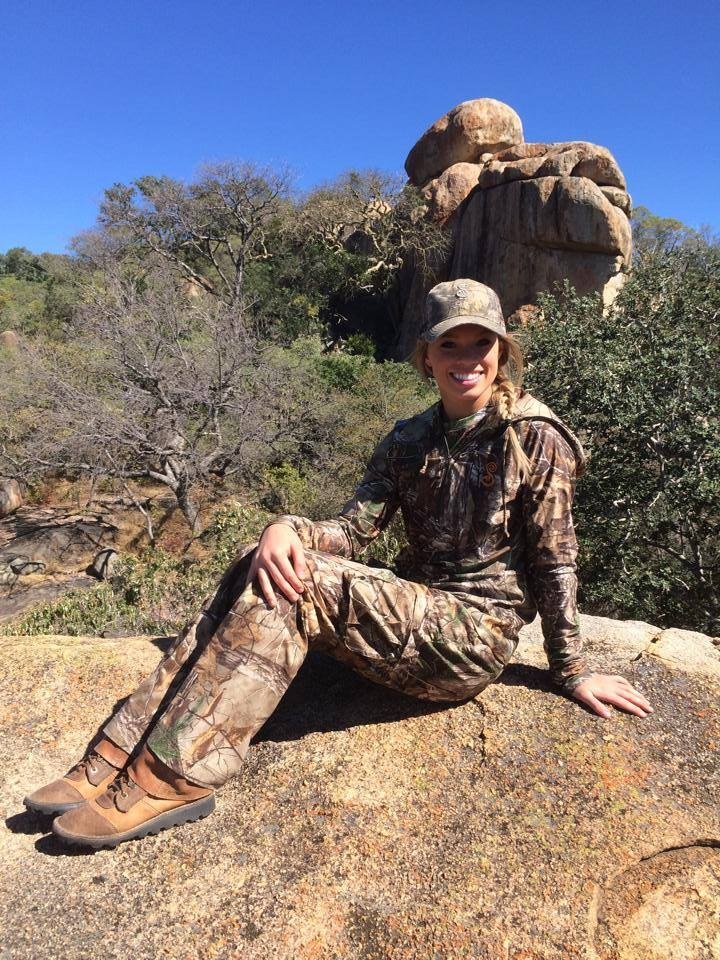 UPDATE - July 1, 2:30 p.m. ET: While Jones could not be reached for comment, she did update her Facebook page, thanking her supporters.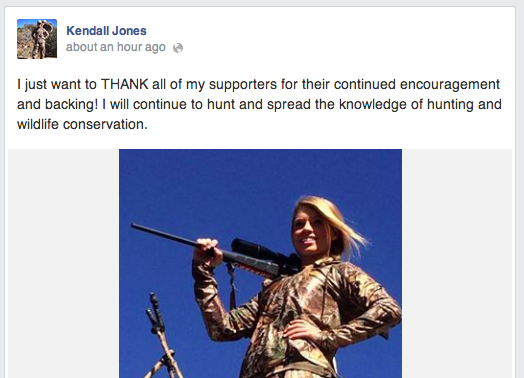 UPDATE - July 1, 5:30 p.m. ET: A Facebook representative issued a statement to BuzzFeed about the status of the photos on Jones' page.
We remove reported content that promotes poaching of endangered species, the sale of animals for organized fight or content that includes extreme acts of animal abuse. Certain content, which some may find offensive, can be used to spread awareness and we welcome dialogue about animal abuse, hunting, and other animal rights issues.
A representative for Pigman TV, the organization behind Jones' upcoming TV show has also given BuzzFeed a statement, saying that the show is still planned to air in 2015.
In the most rural areas, where many of these hunts take place, a majority of the people are unemployed and depend on bartering as a way of living. We're very proud of Kendall and Cody in not only helping to conserve these species for future generations, but also for helping contribute both money and jobs to an extremely poor area of Africa.


At this point, we are still on pace to air the content of Kendall's hunts in early 2015. With regards to the death threats Kendall has received from various members of activist organizations, we would simply ask that these folks consider if threatening to murder a human being for 100% legal behavior makes you worthy of the freedom to express your love for animals. Although our ideologies may be differ from those making threats, we, as a family, still have a profound respect for human life and the law.