Here's my completely empty News Feed.
I added a profile picture and some personal information, like what college I went to and the fact that I work at BuzzFeed, and I put down that I was based in New York.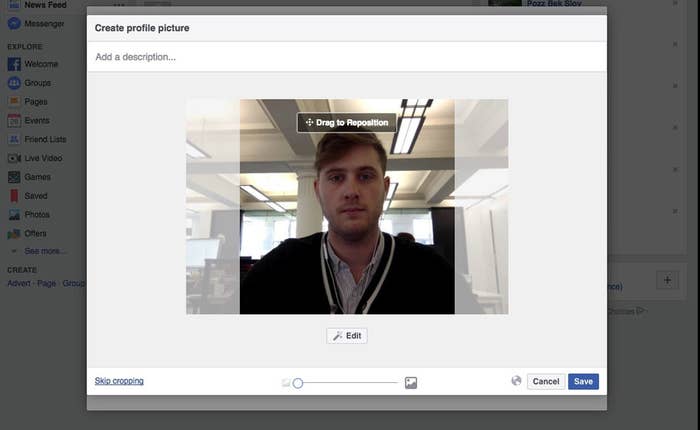 Also, it's important to remember that I have no friends on this profile.
The News Feed is a tool for consuming not just news stories and memes that interest you, but also those that your friends like. Few people — if anyone — use Facebook the way I have. Your friends' interests and tastes have a tremendous effect on what you see. But I wanted to see how Facebook's recommendation algorithms worked in a purely friendless vacuum. What kind of content would it suggest if all it had to go on was what I liked, rather than who?
A spokesperson for Facebook told BuzzFeed News that trying to use the News Feed without friends doesn't make any sense.
"This isn't an experiment; it's a stunt. It isn't how people set up or use Facebook, and suggesting so is misleading. People connect with their friends on Facebook, and stories from friends are the heart of News Feed," they said. "Publishing an analysis of Facebook while deliberately removing all friend connections, the most important part of the experience, simply doesn't make sense."
It's also worth noting that Facebook CEO Mark Zuckerberg has said that he wants to use the platform to actively mitigate political polarization by presenting a spectrum of viewpoints.
I wanted to see what Facebook would suggest to me, based purely on what I liked. So to start with, I headed to the official page for the Republican National Committee and hit "like," which also caused me to follow the page. Facebook didn't suggest anything else for me to like.
But most Facebook pages have a "liked by this page" section in the right corner. I headed down there and liked the first page it listed — current White House Chief of Staff Reince Priebus.
Liking Priebus generated a carousel of other pages called "More Pages you may follow." My News Feed would be pretty boring with just Priebus and the RNC on there, so I took Facebook's advice and followed every page it offered.

I also went over to Hillary Clinton's page and liked it, along with some other suggested public figures like Barack Obama, the Democratic Party, and a few other left-leaning outliers like the Huffington Post just to see what the algorithm would do.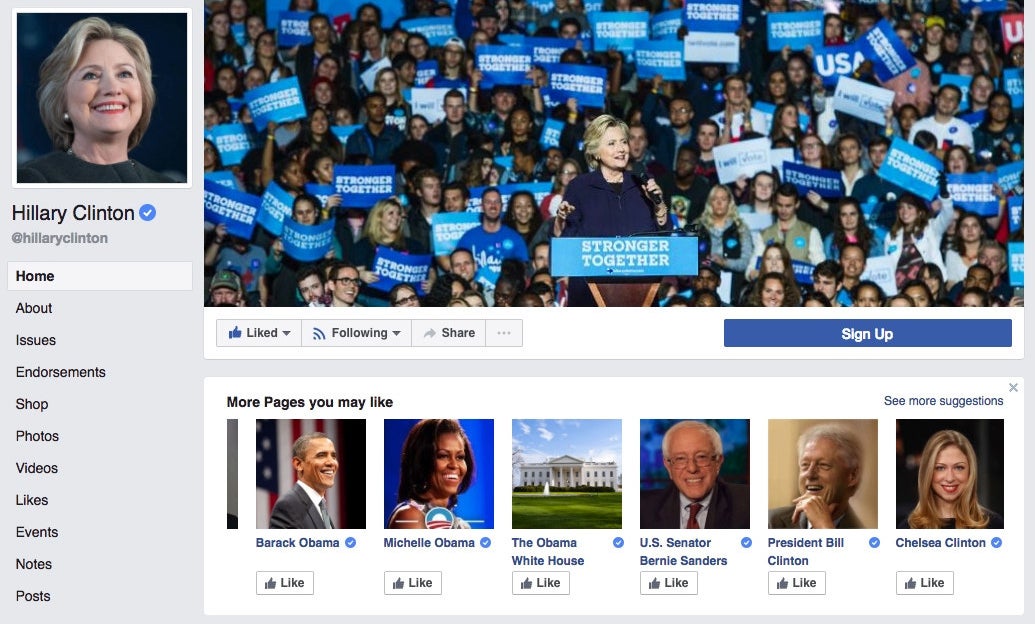 I was getting some news articles in my feed, but for the most part it was still just updates from politicians. So I went on another liking spree. I liked every page presented to me by Facebook's "Suggested Pages" widget.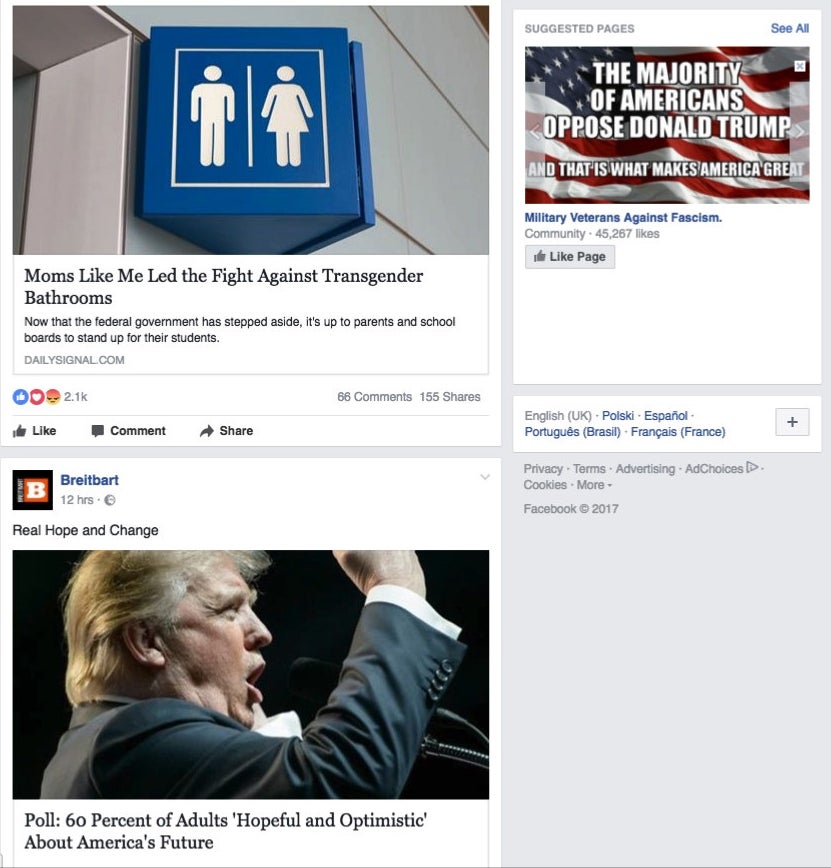 Which gave me my first Illuminati and New World Order sightings. It also threw a few more outliers into my feed, like New York magazine.
The effect was noticeable almost immediately.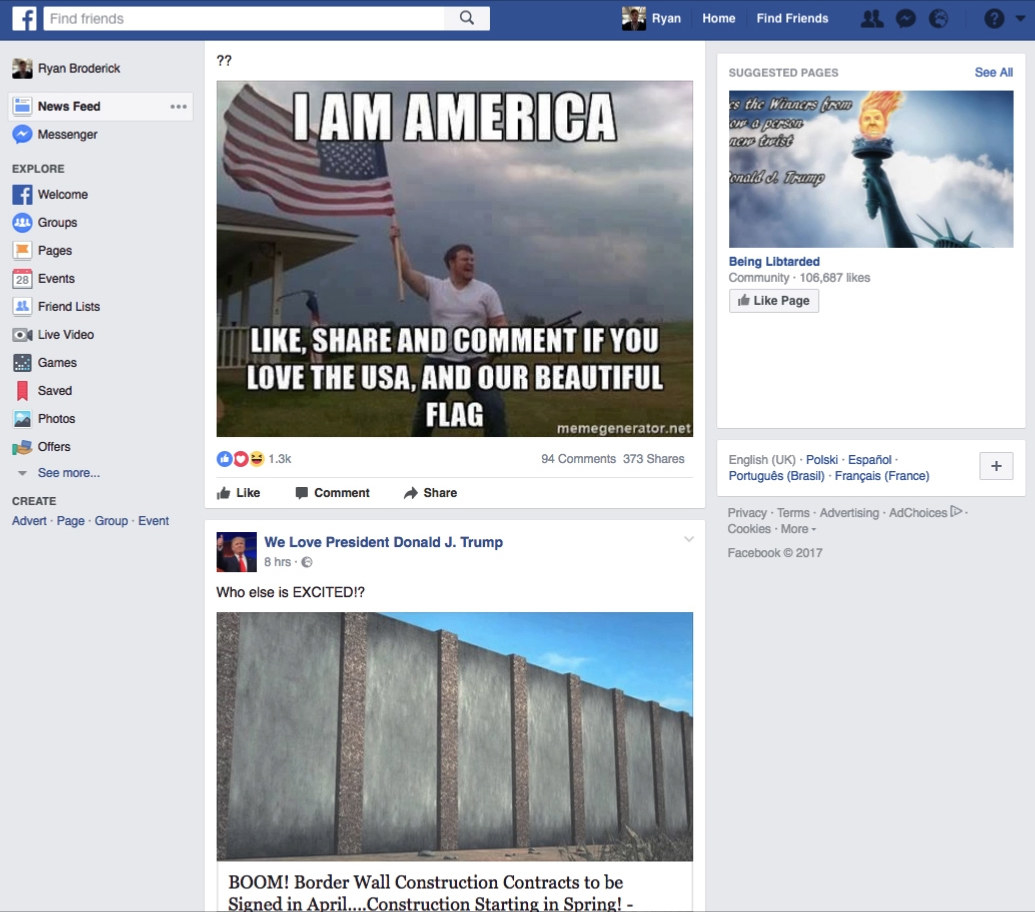 The memes I started getting in my feed at this stage were all fairly basic. A lot of them were image macros that asked users to like, share, or comment with their opinion.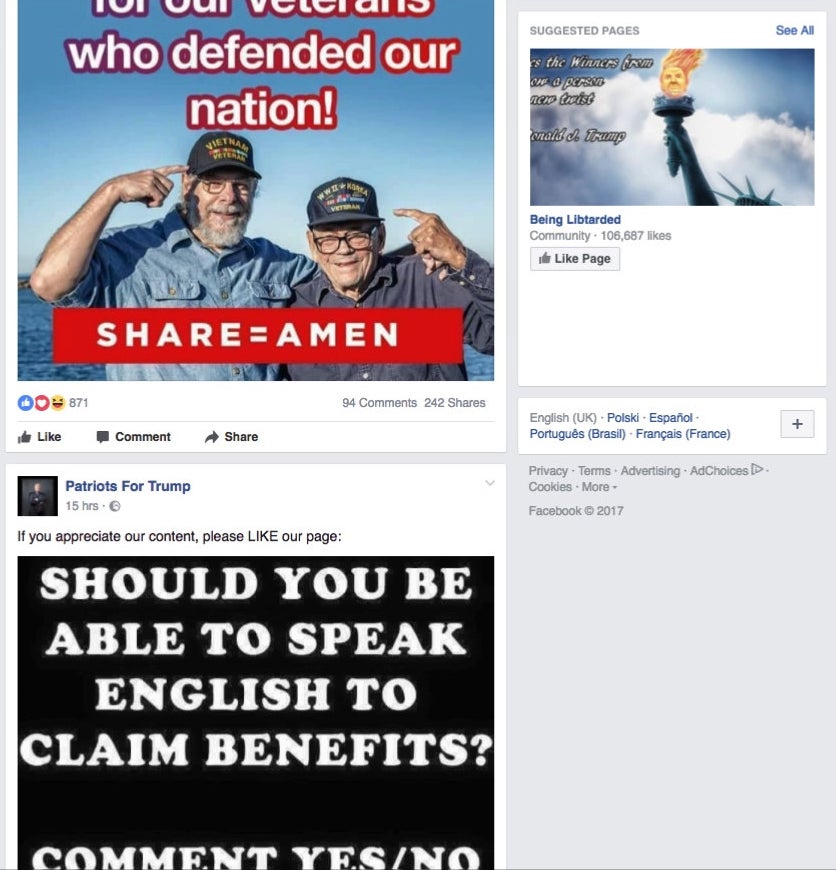 I decided I would start liking any page shared by a page I was already following. When you do that, Facebook generates another carousel. This one is called "Related," and I decided to run through a few of these as well.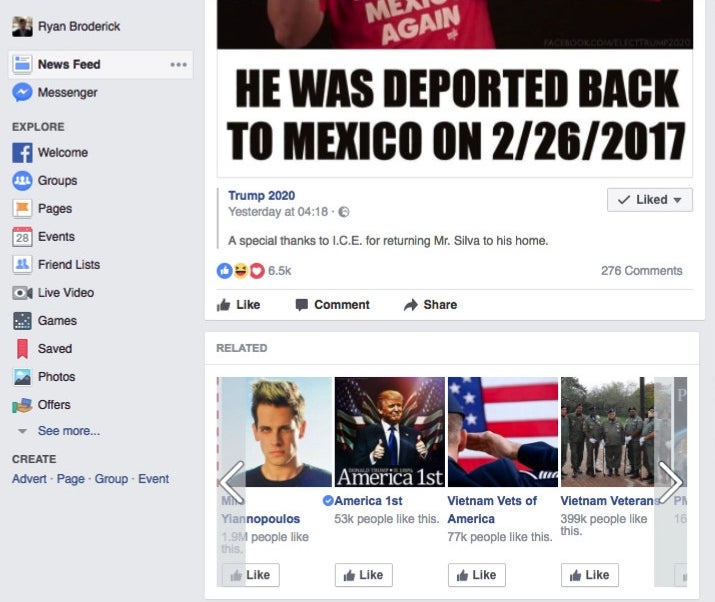 That's when things started getting really weird. I discovered an entire network of pages that create what I can best describe as right-wing softcore pornography memes.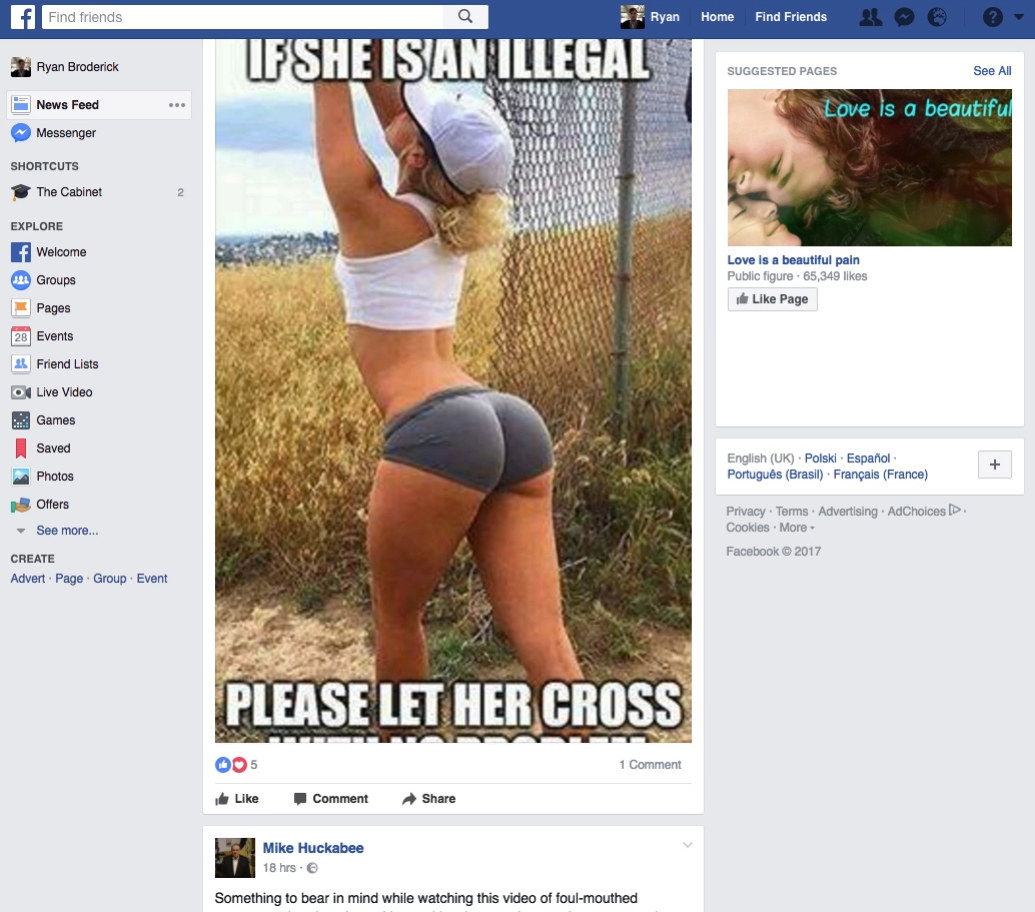 Throughout the week, Facebook kept trying to connect me with others I might have things in common with. For instance, after liking a bunch of conservative humor pages, a link to a community for teen moms and dads appeared in my feed.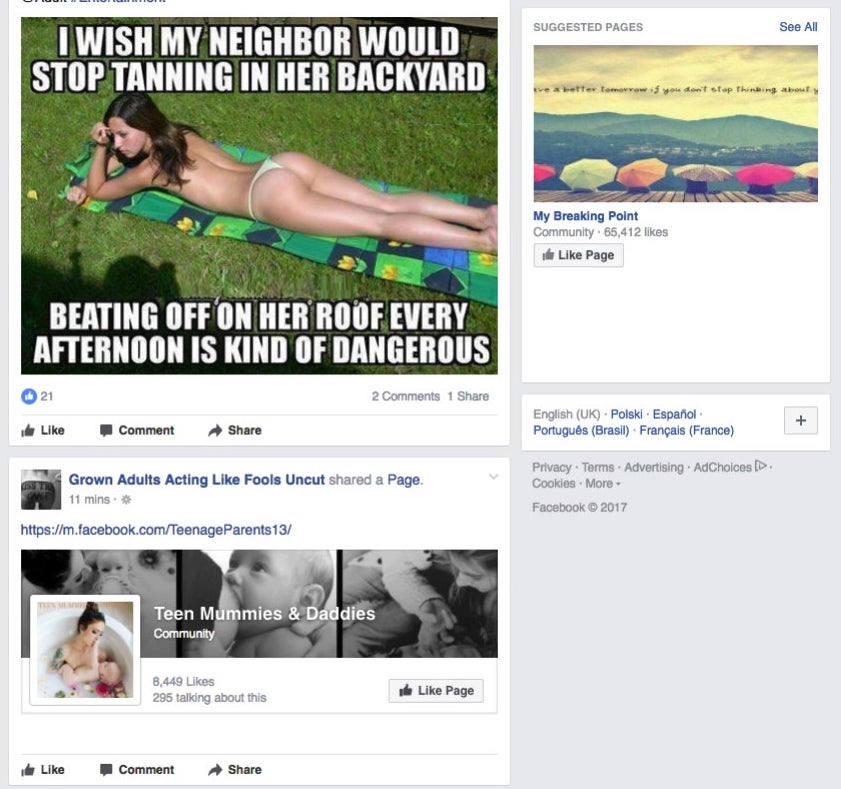 After a few hours of liking and following everything Facebook suggested, I finally got Trending Topics.

But I also got temporarily banned from liking pages...

I started to notice that pages I was following often share the same article. This fake news article about Starbucks, for instance, was shared by both "Donald Trump, The Political Movement" and "President Trump vs New World Order."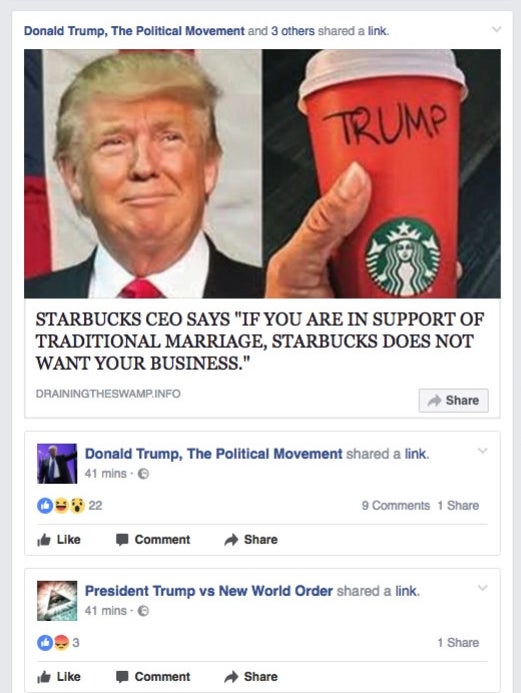 The article is hosted on a website called drainingtheswamp.info, which its about page says is part of the "Deplorables Network" and is in a "fight against Communism and radical Islam." The article heavily cites another article on a website called thewashingtonpress.com.
Which has a write-up of the same story. And the Washington Press actually cites another site, freedomdaily.com, in its version. This sort of deep-layered aggregation is pretty common in most of the articles on my News Feed now.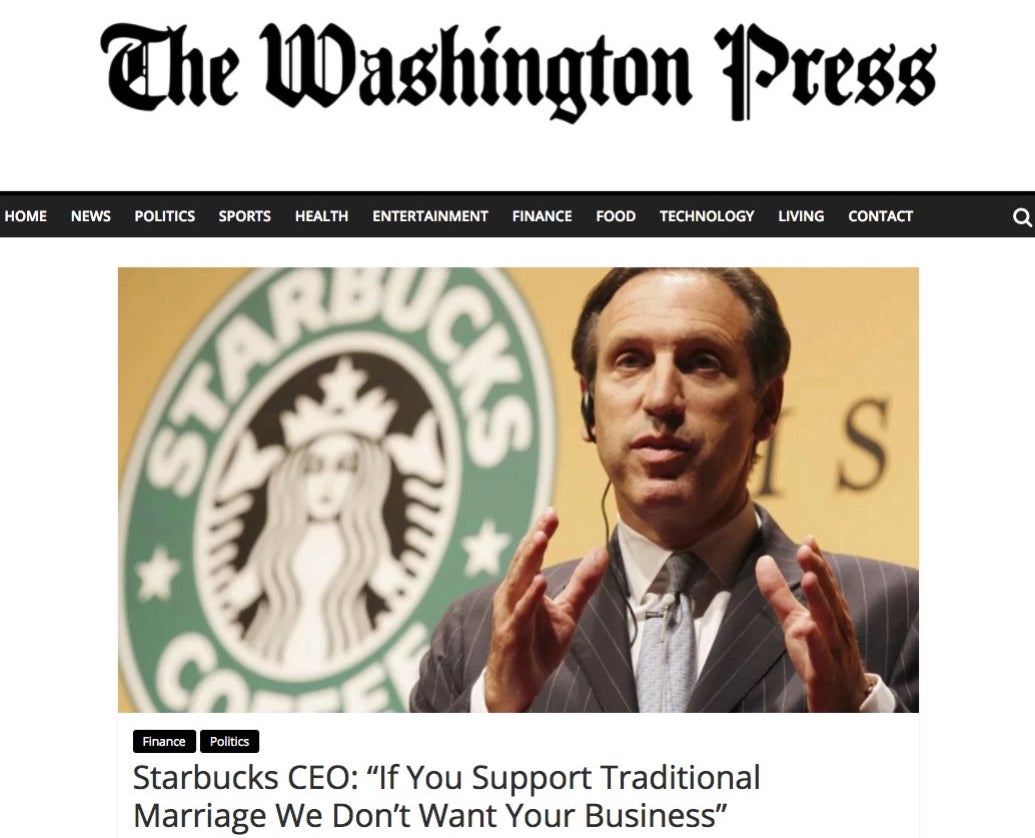 I started trying another exercise: I would share any article that was shared by multiple pages on my feed. I wanted to see if it would affect the intensity of what I was getting.
After a week of poking around, liking things, sharing articles, and joining groups, opening my News Feed is now like peering into an alternate reality.
The types of memes I'm getting now have evolved, as well. When I first started, I was getting a lot of stuff you'd describe as "jokes your uncle would email you," but now, I'm definitely seeing weirder stuff.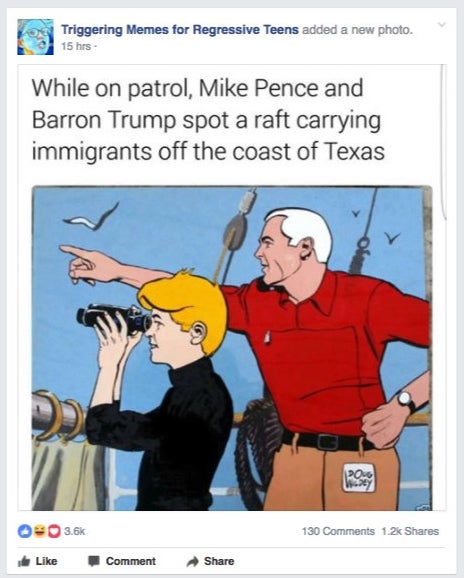 I've also been able to watch conservative talking points spread throughout the course of a day. On Thursday morning, a page I'm following called "The Patriarchy" shared a link to an Info Wars article about a same-sex kiss being featured in the Disney show Star vs. the Forces of Evil.
A version of the same story, written by The Blaze, appeared on my News Feed a few hours later, this time shared by two other pages I follow.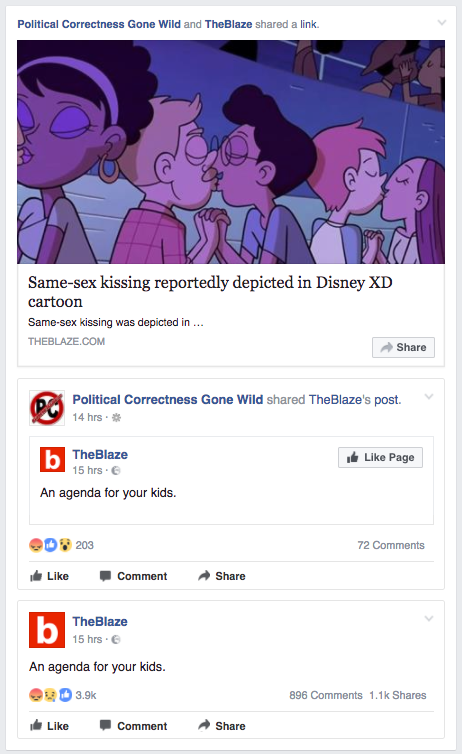 I started this experiment to see how filter bubbles can form. After three days, I started seeing white power memes and was asked to join a Vladimir Putin fan page. By Friday, my News Feed included an article from the Daily Stormer, an actual neo-Nazi website.
Getting a handle on the specifics of how Facebook's algorithm works is really hard, but here are some key takeaways.
If I clicked on an article, I'd be more likely to see the page that posted it more often in my feed. If I hovered over a meme about illegal immigration, for instance, I'd end up with more illegal immigration content next time I refreshed the page.
At one point, my entire feed was photos of scantily clad women with racist meme text written over them. Then it shifted and it was all negative write-ups of the Oscars.
Meme pages appeared as a suggestion almost immediately after I interacted with right-wing media and public figure pages. After I liked Reince Priebus's page, it opened a carousel including the verified Donald J. Trump page, Breitbart, the main page for Fox News, and the pages of conservative TV anchors Sean Hannity and Greta Van Susteren. Then I went to my News Feed, and the first link in Facebook's "Suggested Pages" widget was a meme page called "God Emperor Trump."
My feed has created a wall of Trump content that makes the less fawning Trump coverage from more mainstream media companies look negative and out of touch. For instance, here are five posts in the order they appeared on my News Feed on Thursday:
• An article from conservativeconstitutionalists.com titled "ALERT: UNITED NATIONS HIRING 'DISARMAMENT OFFICERS' TO TAKE AMERICAN GUNS".
• A New York Times article titled "Republican Unity on Health Care Is Elusive, Despite Trump's Support".
* An article from The Blaze titled "40 Days for Life kicks off Lenten prayer campaign outside abortion clinics".
• A screenshot posted to a meme page called "I,Hypocrite" of an Apple News push notification for a Wired story that reads "Want to profit off your meme? Good luck if you aren't white. The meme economy seems to be shutting out creators of color."
• And an article called "Ruther Bader Ginsburger DEAD !!! 1933-2017" from a website called truetrumpers.com. (She's not.)
And lastly, just so you can get a taste of what this all feels like, here's a GIF of what my News Feed looks like on a normal day. Keep in mind, the only thing I ever searched out were Facebook pages for the RNC and Hillary Clinton. Everything else was suggested algorithmically.