The footage that hit Brazilian airwaves on the afternoon of September 4, 2015, was graphic and uncut. A drone hovers over the towering São Paulo Cathedral, before pulling back to reveal that the once-empty square in front of the church is swelling with people. They begin running toward the cathedral, where, at the base of the staircase, a line of police officers stand, guns drawn, behind a barricade of vehicles.
A man in a tattered dark-green jacket and baggy shorts climbs the staircase toward the church's large wooden doors. He has a woman in a headlock, with a gun in the hand he has wrapped around her neck. She flails as he turns to shout at the crowd of onlookers in the square below him. As he drags her to the top of the staircase, the woman attempts to break free, but the man dives on top of her, pinning her to the ground with his knees.
That's when another man, this one in a blue jacket, creeps into frame. He sneaks up behind the man in green and lunges at him. The two men go down as the woman, sprawled across the ground beneath them, covers her head. As the men wrestle, she makes a run for it, the man in green firing after her and missing. He turns his gun toward the man in blue and fires twice. The man in blue stumbles backward into the cathedral doors. Seconds later, the police open fire, as the man in green sits on the edge of the stairs, bullets riddling his body.
"Tragedy always goes viral."
The bloody standoff seemed to be pulled straight from the scenes of a crime drama; yet what happened in front of São Paulo Cathedral that Friday afternoon was all too real. The cathedral sits squarely in the neighborhood of Sé, São Paulo's municipal heart and the nucleus of its homeless population and crack-cocaine epidemic. The man in the dark-green jacket was Luiz Antonio da Silva, a homeless man who lived in the neighborhood. The woman, Elenilza Mariana de Oliveira Martins, had been praying on a bench in the cathedral, before da Silva dragged her outside and took her hostage on its steps. And the man in blue who saved her was Erasmo Francisco Rodrigues de Lima, another homeless man, who tackled da Silva, allowing Martins to escape. According to official reports, de Lima was shot and killed by da Silva, who was then killed immediately afterward in a hail of 19 bullets fired by São Paulo's military police.
Video of the standoff was broadcast by one of Brazil's most notorious true-crime TV shows — Brasil Urgente — which ran it on a loop during its three-hour episode that afternoon. Images of de Lima's body hit Brazilian social media soon after the newscast, catapulting his story into a national talking point.
Brazilian internet culture is a raucous, tragicomic, and unceasing universe of outrageous remixes, memes, and viral stunts centered around a concept known as zueira, an untranslatable word that means "to make fun of" or "to aggressively laugh at." In the aftermath of de Lima's death, many horrified Brazilians on Facebook and Twitter turned video clips and screenshots of the shooting into angry memes. Some users were furious at Brasil Urgente for airing footage of his death. Others were angry that the video appears to show a police execution. By the end of the weekend, de Lima was a martyr and a symbol for Brazilian poverty, jump-starting a national debate about police violence and Brazil's homelessness epidemic.
Six months later, though, the question remains: Once a tragedy goes viral, what does it mean for people like de Lima's family or other members of São Paulo's homeless community? Does anything change?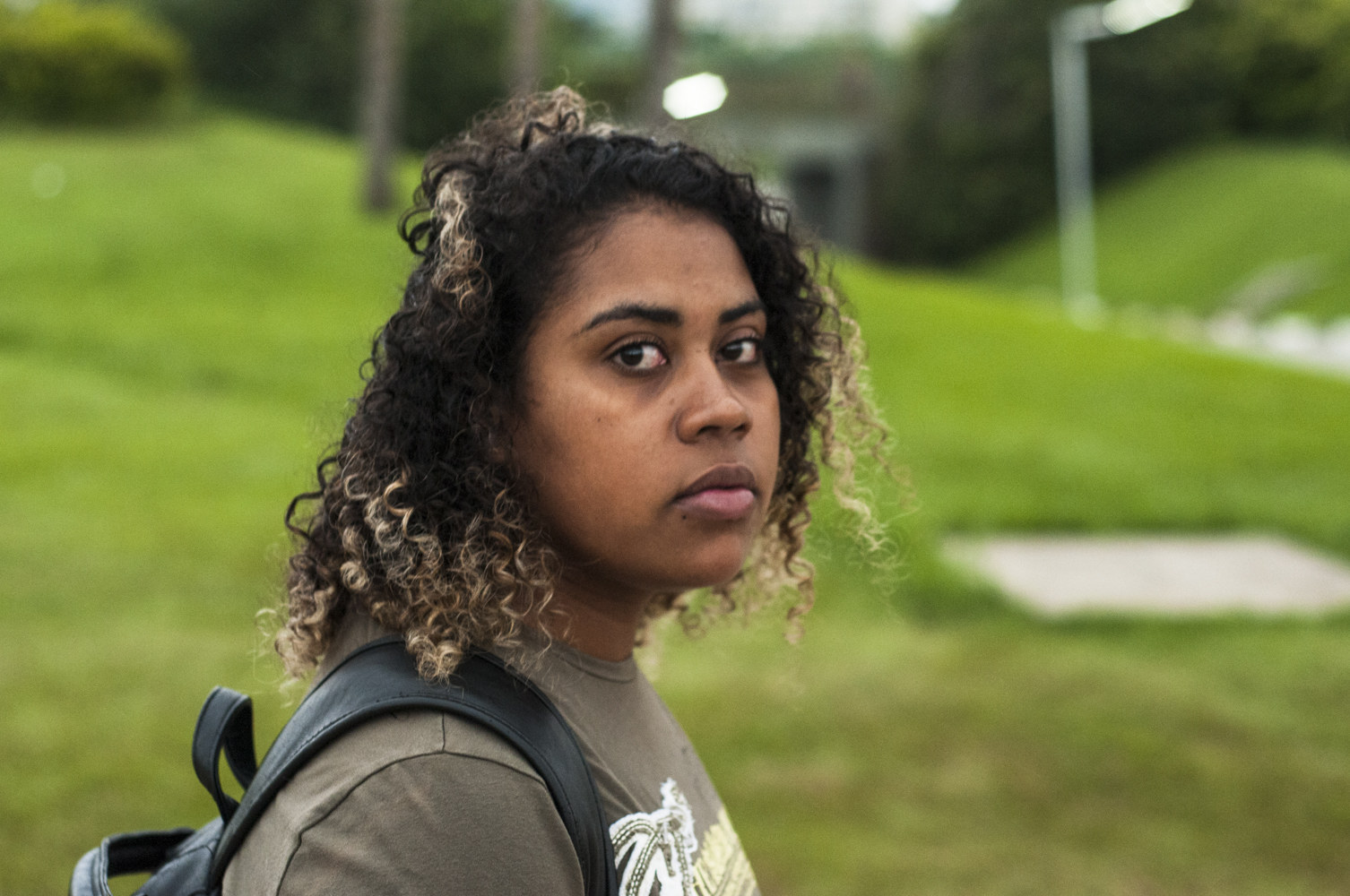 Before his face flooded the feeds of hundreds of thousands of Brazilians, Erasmo Francisco Rodrigues de Lima's family had gotten used to seeing him in short, spontaneous bursts. For the last 10 years of the 61-year-old's life, de Lima would come around and then disappear again, often for weeks at a time. "Sometimes he would bring gifts, maybe something not expensive, but with a meaning," says Ione Gabriela Pereira Reis, de Lima's niece.
Reis, 19, is a law student at University of Mogi das Cruzes in São Paulo. From a bench at Parque Villa Lobos — the sprawling park that stretches lazily along the Pinheiros River a few blocks from the university — she recounts her uncle's life story. De Lima was born in Ribeirão Pires, a touristy tropical region southeast of São Paulo. He was abandoned by his birth parents and adopted by a family in the northern state of Pernambuco, and his upbringing gave him what many Paulistas considered an unusual accent. A few years later, he was working construction when he met a cleaning woman named Izabel, who would eventually become his wife.
"They liked each other," Reis says as she lights a cigarette. "He told her that he did not have a family, and if she wanted, she could be his family."
De Lima and Izabel were married for 25 years and had four children: Juliane, Danilo, Erasmo II, and Kauane. De Lima went by "Baixinho," or "Shorty." He was a fan of the São Paulo FC soccer team, a loyalty he made sure the rest of his family, who rooted for rival Brazilian team Corinthians, never forgot. Reis still laughs as she talks about him.
"He would arrive at my house wearing São Paulo's jersey, sit on the couch, get the remote, and switch to São Paulo's match," she says. "He did that just to mess with us."
According to Reis, de Lima and Izabel led a largely content life until about 10 years ago, when 18-year-old Danilo, with whom de Lima was closest among his children, was murdered. Danilo had gotten into a fight with an opponent while playing in an amateur soccer match at Parque Villa Lobos. A few days later, as he was riding his bike, the other player from the fight shot him.
"When Danilo died, Francisco got very sad," Reis says. "He used to go to the cemetery all the time." According to Reis, de Lima began drinking heavily and losing his temper. "He got angry whenever he drank," she says. "That type of problem that alcohol brings to relationships and to the family."
De Lima separated from Izabel and left home shortly thereafter, but he never disappeared completely. Every year on Danilo's birthday, he would go to the cemetery, even if he didn't have money for bus fares. "He always called on Juliane's birthday, too. And whenever he wasn't able to make the call, he would show up at my house to ask for contacts or to ask if we could call for him," Reis says with a big smile.
However, details about the last decade of de Lima's life outside of his sporadic contact with home aren't as easy to piece together. He worked odd jobs in Sé: construction, plumbing, laying tiles. Reis's mom helped de Lima buy a foam cooler so he could sell water outside São Paulo FC's Morumbi Stadium.
He also amassed a criminal record. According to São Paulo's Department of Public Safety, de Lima had four cases registered with police: one charge for intentional homicide in 1980, endangerment in 1995, arson in 1998, and fencing stolen property in 2000. (De Lima's police records do not include any information about whether he was convicted or served jail time for any of the charges.)
As far as de Lima's family knew, he lived in homeless shelters in Sé. Whenever he showed up for family visits, however, he was always showered and put together. Reis found it difficult to reconcile common images of homeless people with how her uncle looked. "I thought people who lived on the streets were beggars," she said. "But then he would show up clean — he worked."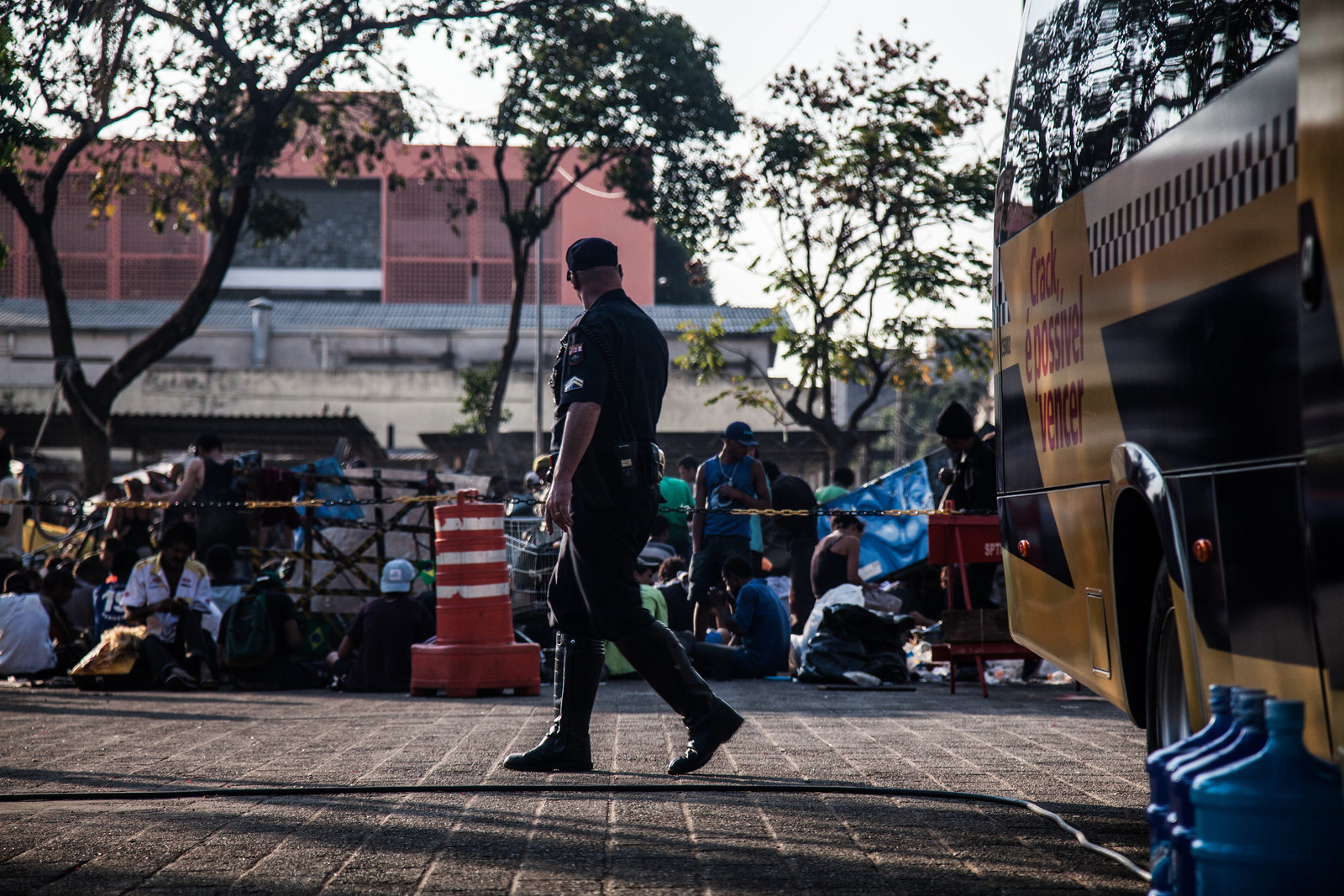 One month after the shooting, in early October, the cacophony of Sé dies down as the neighborhood transitions from day to night. Commuters walk briskly to the nearby Liberdade metro station. The small kiosks dotting the tree-lined square are still selling newspapers and offering shoe shines, but their owners appear anxious, as do the few patrolling police officers. A man stands in front of a small circle of onlookers, rambling loudly and incoherently about Jesus into a microphone hooked up to a small distorted speaker.
The cathedral in Sé lies a few blocks south of Cracolândia, or "Crack Land," a "human zoo" of drug addiction on the doorstep of the Luz metro station. The walk from the station to the cathedral is lined with little parks and clearings bearing the detritus of rampant crack use: homemade pipes; jerry-rigged lighters; filthy, rain-soaked blankets.
At the cathedral, three or four men are stretched out on scraps of cardboard on the steps. Paulo Luíz Ferreira, a security guard, is standing beside the building's large wooden doors, on which there are still visible bullet holes. Ferreira knew de Lima and would often wake him and other homeless men who slept on the steps in the mornings. Everyone liked de Lima, Ferreiro says. "He was a very calm person. Sometimes he would even help collect the trash people leave at the door."
"Homeless people are not all naughty, crazy, drunk junkies. They are human beings."
Ferreira was working at the cathedral the Friday afternoon of the shooting and recalls it bustling with life. Eighty children from a local school were visiting on a field trip. Martins was sitting on a bench by the doorway when, around 2 p.m., da Silva made his way up the steps and through the entrance.
At 49, da Silva was a well-known personality in Sé. According to São Paulo's Department of Public Safety, he had a record dating back to 1987, when he was charged with robbery and attempted murder. He went on to rack up a laundry list of other offenses and served three stints in jail for drug trafficking.
Da Silva was also an infamous fixture among São Paulo's homeless community, members of which he would often terrorize. "He would use this screwdriver to disturb the homeless who were sleeping, to poke their asses," Ferreira says. "He was mean! The dude was mean!" Da Silva spent most of his time hanging around the feira do rolo, an open-air market for stolen goods directly adjacent to the cathedral. One night, according to Ferreira, da Silva got into a fight with an old man who was selling phones at the market and ended up using his screwdriver to stab the man in the eye.
The day of the shooting, Ferreira and his partner watched as da Silva walked to where Martins was sitting on the bench toward the back of the cathedral. "His manner caught my attention, but I didn't know whether he was by himself or not because he was just walking up the stairs," Ferreira says. What Ferreira didn't know at the time, however, was that, in addition to his usual screwdriver, Da Silva was carrying a concealed gun.
Da Silva sat down next to Martins and the two started chatting. Ferreira — who could overhear the two — said it sounded like da Silva was trying to apologize for something. "Let's wait. If he gives us trouble or hits her, we take action," Ferreira told his partner. However, what began as a quiet exchange quickly crescendoed into an argument that Martins looked as though she was trying to get away from. Eventually, Martins walked out of the cathedral and da Silva followed. When the two reached the bottom of the main staircase, da Silva struck her.
By that point, da Silva and Martins had attracted the attention of two police officers patrolling the square. The officers approached them and ordered da Silva to lean against the wall. That's when da Silva pulled out his gun, grabbed Martins, and fired a shot toward the officers, missing them.
The 30 or so homeless men who usually mill about the stairs of the church then ran to its entrance, rushed inside, and helped Ferreiro and his partner close the cathedral's massive doors. Behind them, the schoolchildren, ranging in age from 10 to 14, began to notice the commotion. "I asked the tutors to tell the kids that it was just fireworks, or something like that," Ferreira says.
The school chaperones led the children down into the crypts of the cathedral as Ferreira, his partner, and the homeless men held the doors shut. Da Silva, still holding Martins, tried to make his way back up the cathedral's front steps and into the church. The last thing Ferreira saw before the doors shut was a panicked da Silva turning to face a square that was flooding with police and terrified onlookers.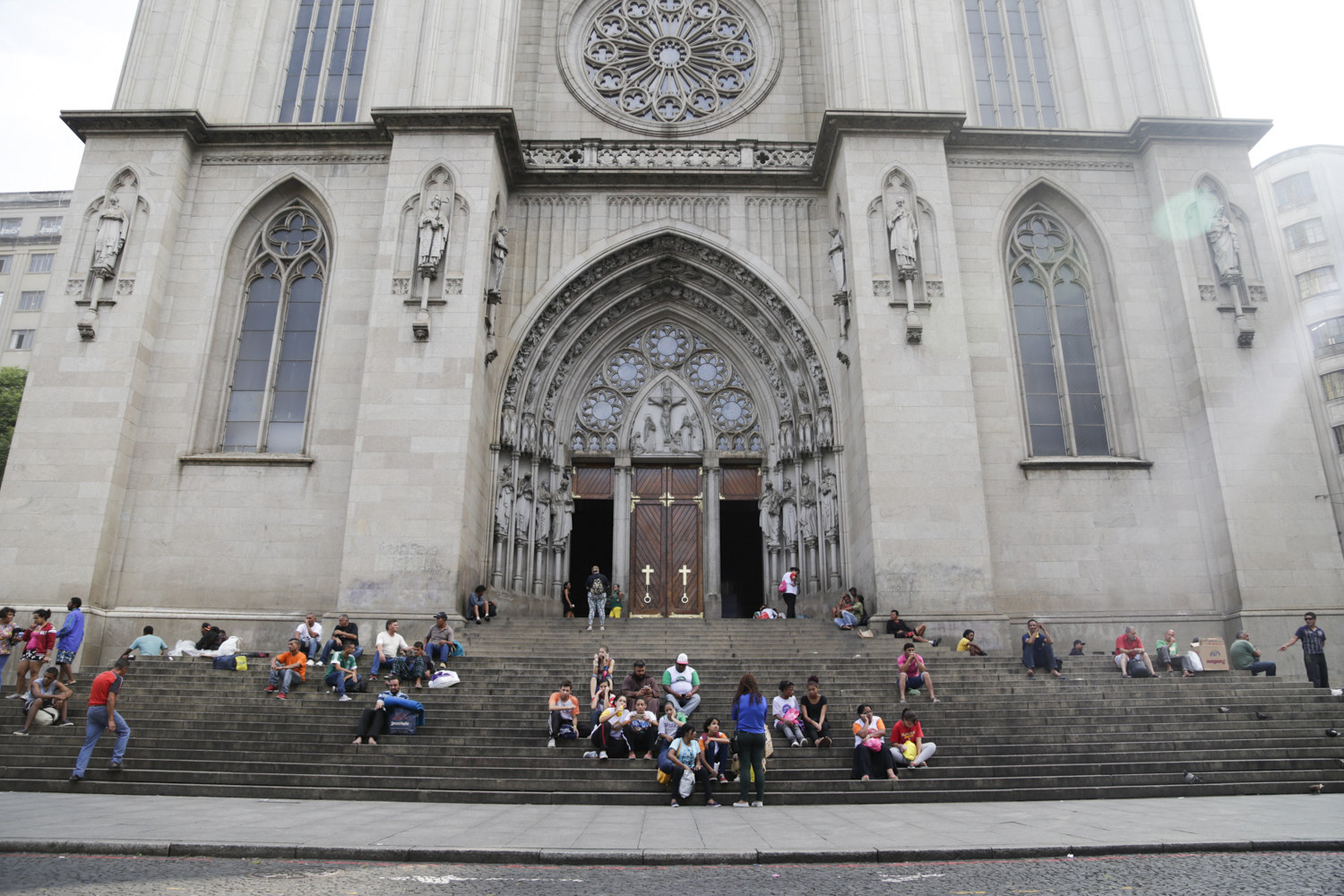 What happened next would end up having a profound effect on the public's understanding of the events in the square. A Brazilian comedy show called Pânico na Band happened to be filming with a model named Mari Baianinha in Sé, around the corner from the cathedral. Pânico — a mix of Saturday Night Live–style sketches and Jackass-like unscripted pranks and stunts — has a reputation for being crude and offensive. Last August, the show had to publicly apologize for filming a Master Chef parody with a character in blackface named "Africano."
Pânico na Band is produced by the Bandeirantes Network, the fourth-largest TV station in Brazil. The network also owns Brasil Urgente, a Nancy Grace-esque sensational live news show hosted by José Luiz Datena, an ultra-conservative TV presenter and journalist who, in 2012, successfully negotiated with a man holding a family hostage at knifepoint on live television. Bandeirantes Network did not respond to a request for comment from BuzzFeed News.
With the use of a drone, as well as another camera at the base of the cathedral steps, the Pânico crew filmed multiple angles of the whole standoff: de Lima's intervention, Martins' dramatic escape, the officers eventually firing 19 shots at both men. They then gave the footage to Brasil Urgente. When the 4 p.m. broadcast of Brasil Urgente went live two hours later, its top story was the standoff in Sé.
As Brasil Urgente aired, phone calls and text messages ricocheted throughout de Lima's extended family. Reis says that she first heard about the standoff at the cathedral via WhatsApp. "A friend of mine sent an audio message — I could tell she had a nervous voice," Reis says. "She said, 'Gabi, it's your uncle! What's happening now?! He is on TV!'"
Soon, everyone had heard the news. At first, there was confusion. Reis says family members started yelling, "Shorty's on TV!" Only gradually did they realize what they were watching.
De Lima's oldest daughter, Juliane, was at work when Brasil Urgente aired. She lives about four hours north of São Paulo, in Ibitinga. She got off work at 5 p.m. and had a message from her aunt — Reis's mother — saying her father was dead.
"I turned on the TV and watched it on the news," Juliane said. "They put the images on a loop and kept saying that he had saved the girl but had died. When I saw it, I thought, It is my dad! My husband even said, 'No, it's not.' I said, 'It's my dad. It's my dad falling.'"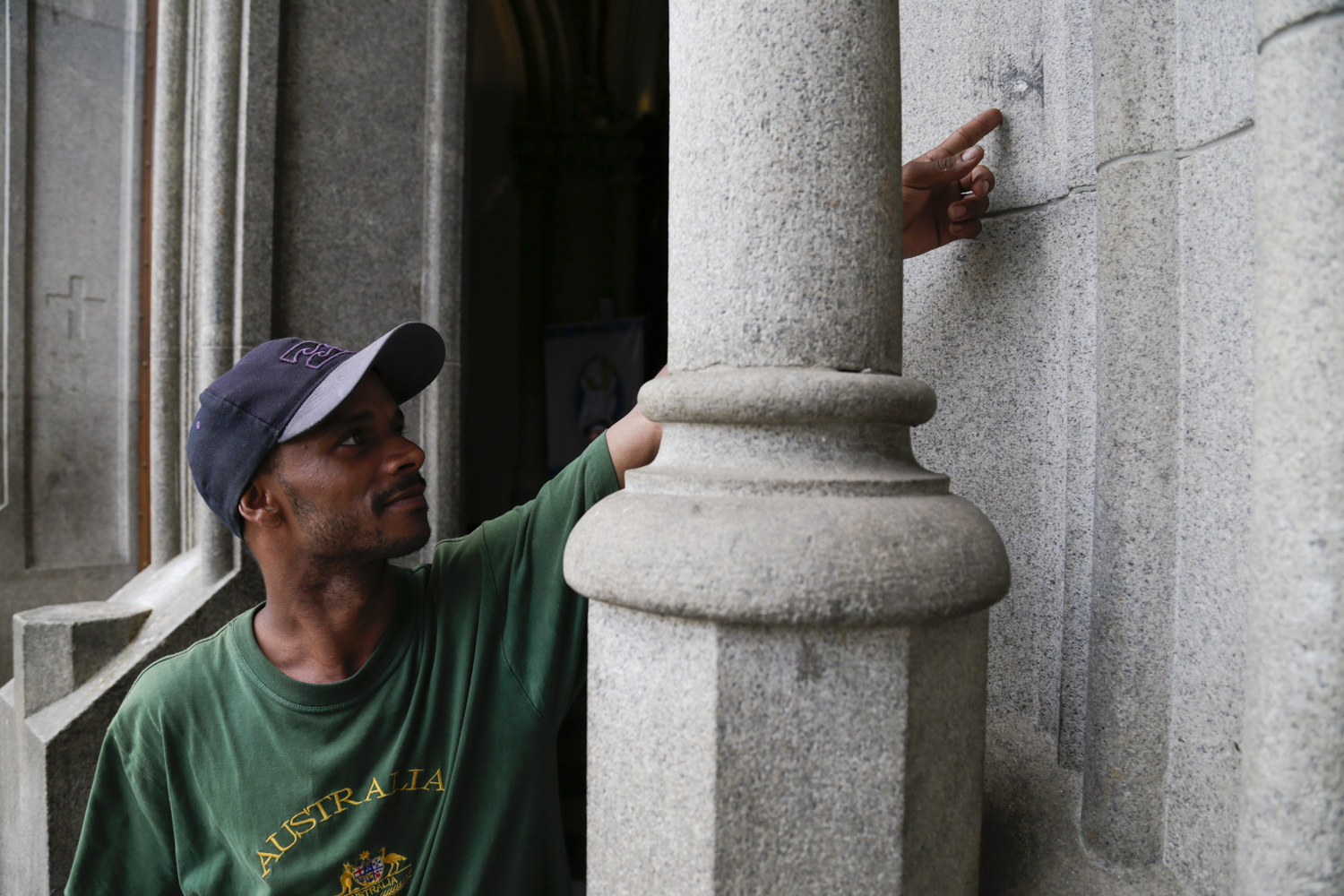 The Pânico crew might have had the best footage of the shoot-out, but they weren't the only ones who managed to film it. In Pânico's drone footage, people can be seen running toward the stairs, filming with their phones. By the end of the evening, the Brazilian internet was inundated with videos of the shoot-out.
Over the next several days, ripped versions of Brasil Urgente's video, bootleg cell phone footage of people filming their TVs, and footage from the other cell phone videos and newscasts about the shoot-out all circulated on social media. The videos were cloned on dozens of YouTube channels. They were remixed, recut, and stripped down, and then uploaded to the massive meme pages that dominate Brazilian Facebook. Screenshots hit Twitter. By the next week, videos of the shooting had made their way to English-language sites like Reddit. De Lima became "The Hero of Sé," and suddenly, people from all over the world knew who he was.
In the comment sections beneath each upload of the video, users began writing the same sentence over and over again: "His name was Erasmo Francisco de Lima." It was a protest against the omission of de Lima's name in the media, where many Brazilian, as well as English-language, outlets referred to him only as a "homeless man." Brazilians wanted the world to know that it wasn't just a homeless man who saved Martins, it was a man with a name and a history.
Many came to know de Lima's name thanks to the efforts of those like Vinícius Lima. A journalism student at São Paulo's Catholic University, Lima is also the creator of Invisible São Paulo, a Humans of New York–style photo project focused on sharing the stories of São Paulo's homeless. When Lima's Invisible partners, Gabriel Marques and César Rota, saw the footage, they immediately headed to the cathedral and interviewed a friend of de Lima's named Lúcio. They also took a photo of the stairs that de Lima died on — still covered in his blood — and posted it to Instagram, where it was liked by nearly 2,500 people.
"It exposed what we've wanted to show since we created [Invisible São Paulo]," Lima says. "Homeless people are not all naughty, crazy, drunk, junkies, and all those bad adjectives. They are human beings."
Another one of the images to go viral that weekend — of de Lima's bloodied and crumpled body adorned with angel wings — was created by Carlos Viniciusy, a 19-year-old college student who lives near the cathedral. "I made the image to bring awareness," Viniciusy says. "He could be poor in material things, but was rich in other ways, and ended up losing his life in a tragic way."
Viniciusy saw reactions about de Lima's death all over Brazilian social media that weekend, as his photo was shared thousands of times with captions like "hero" or "hero without a medal." He thinks that the intense reaction to de Lima's death was the result of the incessantly looping footage. "I live 10 minutes away from where it happened, which made me think about it all. I thought about it for three or four days straight, watching the images again and again," he said. "I couldn't believe it, it was too much. Violent and surreal."
Brazilian social media runs concurrently with television, with memes and trending topics typically created from live newscasts or moments on popular soap operas. In 2013, the Wall Street Journal declared Brazil the "social media capital of the universe," based on what tech executives describe as a "hyper-social culture" and the proliferation of inexpensive smartphones. There are approximately 70 million Brazilians on Facebook, the company's third-largest audience behind the U.S. and India. The country is also one of YouTube's top 10 markets in terms of viewers.
As New York Magazine recently pointed out, the country's meme culture is fueled by trauma. A ubiquitous characterization — "a zueira não tem limite," or "the zueira never ends" — is commonly paired with "rir para não chorar," or "laugh to keep from crying." When the Brazilian real dropped from $1.50 to $4.20 last year, Brazilian Twitter users ironically celebrated with jokes about how their exchange rate was 420 — a number infamous for its connections to smoking weed. More recently, Brazilian social media was flooded with memes about Zika virus–themed carnival costumes.
"Tragedy always goes viral," Lima says. And while de Lima's death was a tragedy in and of itself, it also held a mirror to a number of national calamities Brazilians have been forced to contend with in recent years. A 2011 census report put São Paulo's homeless population around 15,000 people, while nearly a third of the city's 11 million people live in favelas — shantytowns full of squatters — or overcrowded tenement housing. One percent of Brazil's adult population — more than a million people — are crack users, with so-called Cracolândias such as the one in Sé swelling in cities across the country, particularly around the favelas.
The growing police presence meant to curtail the drug trade has effectively turned many of these areas into war zones. In August, one local news agency reported that São Paulo's police force killed 358 people in just the first half of 2015, the highest number in a decade. The majority of São Paulo's violent street crime stems from police clashing with organized prison gangs, which has fostered what the New York Times deemed a "grim acceptance" that police killings are just a part of Brazilian life. And to top it all off, Brazil's current recession — forecasted to be the country's worst since the turn of the 20th century — has rendered it difficult to effectively address the country's snowballing social issues.
Thus, news of police pumping 19 bullets into two homeless men in Sé, though horrifying, wasn't likely to linger long in most Brazilians' minds. But de Lima's death, beamed across the country and depicted so vividly on television and online, forced viewers to face realities about police violence and crack addiction and urban poverty all at once. "I don't know if his death went viral because of the shooting between the cops and [da Silva], or it went viral because of his act of justice," Lima says. "But in my opinion, this event may have changed something in the way that people see the homeless."
Yet for all this heightened awareness, the aftermath of the shooting yielded no new government initiatives to combat homelessness, nor was there a push to investigate what happened. Six months later, it's still unclear why da Silva took Martins hostage or if de Lima was killed by da Silva's bullets or the police's.
And unfortunately for de Lima's family, Brazilian web culture doesn't always lead to the happy — if manufactured — endings one might expect in America following a similarly viral story of heroism. "Inspirational" stories about homeless people do go viral in Brazil, like the story of the "Mendigo Gato," or "Handsome Homeless," a homeless man named Rafael Nunes whose photo in front of a Brazilian basilica was shared thousands of times last August, with most comments expressing shock at his attractiveness. But there's a pessimism around these kinds of stories that dates back to the '90s, when Sunday night variety shows would air inspirational segments about the homeless, which audiences found exploitative. So, nowadays, there are no Kickstarters or visits to The Ellen DeGeneres Show or Good Morning America for a surprise sponsorship or modeling contract. De Lima's family was left to simply sit down and watch, horrified, as their estranged father was shot to death on television, only to be bombarded online with video clips and photos of his death.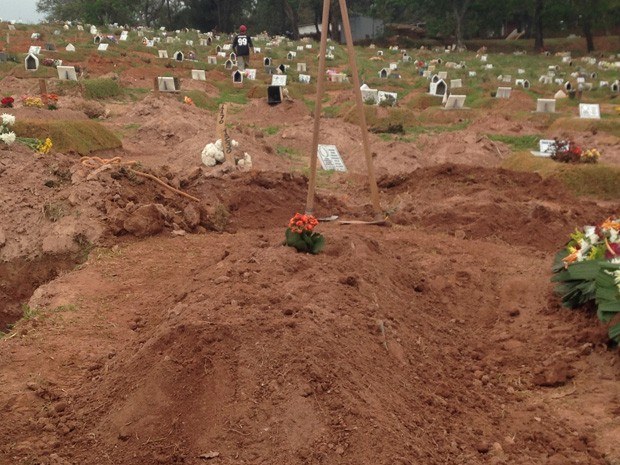 September 24, 2015, would have been Erasmo Francisco Rodrigues de Lima's 62nd birthday. His family didn't have anything planned, though. De Lima's ex-wife and extended family don't live in São Paulo, and they'd made a trip to the city from the northern state of Fortaleza once already in September to bury him. Reis had classes all day, so she couldn't visit the cemetery. Lighting another cigarette in Parque Villa Lobos during a break from class, she explains that de Lima's youngest daughter, Kauane, also lives in the area, but didn't have time to visit the cemetery either. "Before the Day of the Dead, she wants to go there and prepare a little garden," Reis says. "She said she will take care of it."

The last time de Lima's family members met in São Paulo was the Saturday after his death. Nine of them — including Reis, Reis's mother, de Lima's ex-wife, and his daughters Juliane and Kauane — went to the morgue to identify his body. "When we got to the morgue, Francisco's body had already been prepared," Reis says, her voice rising bitterly as she remembers it. "You could see [his] stitches, there was no fabric inside the coffin, the shirt was irregular around his neck. It was all poorly prepared."
The next day, on a cold and cloudy morning, the family attended a funeral service. A combination of family members and a couple of reporters — 11 people in all — attended. There was no open-casket service, which is customary in Brazil. De Lima was dropped off by law enforcement at 11 a.m. and buried by 12 p.m. "The coffin was made out of cardboard," Reis says.
"For all the publicity, all the sharing on the internet, all the repetition on TV, he did not have the funeral he deserved."
The funeral ended up costing de Lima's family 3,000 Brazilian reals (about $830) — money they didn't have. Reis is a student, as is Kauane. Juliane, de Lima's eldest child, was a cashier at the time. De Lima's ex-wife was working as a housekeeper, and his son, Erasmo II, doesn't live in the state and couldn't contribute. "People from the largest TV channels did not ask if we needed help," Reis says, referring to the Globo network, Brazil's largest TV channel, which had reporters covering the funeral and interviewing the family. "They sent a driver to take us to Globo, but did not offer a flower ring saying 'From Globo to Francisco.' So yeah, it reflects how people see the homeless." (Globo did not respond to requests for comment.)
Reis has to get back to class soon. All her classmates know de Lima was her uncle, and a picture of her attending his funeral was shared widely within the university on WhatsApp. People also started tagging Reis in Facebook posts about the shooting. That, she says, was the extent to which de Lima's online fame was felt by his family in real life. When Reis recounts that weekend, she oscillates between anger and pride. "For all the publicity, all the sharing on the internet, all the repetition on TV, he did not have the funeral he deserved."
Yet seeing de Lima's death on TV gave his family a complicated type of closure they might not have had if he simply vanished one day. "If he went to the shelter and never showed up again, it was going to be bad," Reis says, "but there would always be hope that he might come back."
And while social change in Brazil can't be realized as fast as stories spread online, Reis believes de Lima's story did make a difference."He was a hero! He was badass," she says. "I think this helped to get more empathy from people whenever they look at the homeless. They are worthy. They have a history. My uncle had a history, and in the end people saw how much he was worthy."
Want to read more stories like this? Sign up for our Sunday features newsletter, and we'll send you a curated list of great things to read every week!