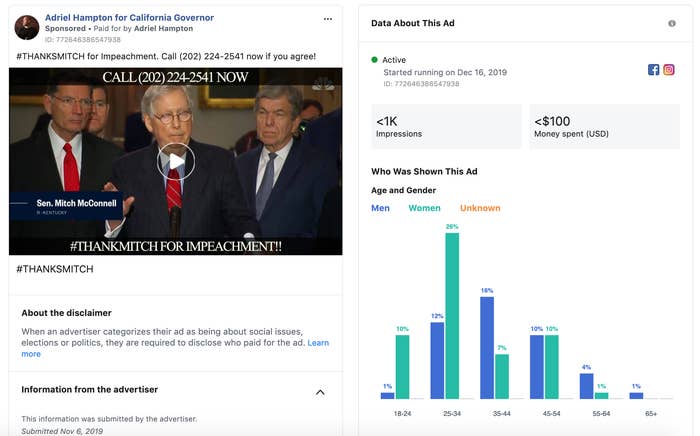 Facebook will not be removing an ad falsely claiming that Republican Senate Majority Leader Mitch McConnell endorses the impeachment of Republican President Donald Trump from its platform. The ad was posted and promoted by leftist activist Adriel Hampton, who registered as a California gubernatorial candidate in October and began running bogus political ads in an effort to test the limits of Facebook's fact-checking policy.

Hampton's current ad, created by a volunteer video editor working for his campaign, is tagged #ThanksMitch and features footage of McConnell spliced together to make it appear the senate majority leader is calling for Trump's impeachment. According to Facebook's ad library, the ad has received over 1,000 impressions and was boosted for a few hundred dollars.
Hampton told BuzzFeed News that he spends very little money boosting the ads with false information and typically only micro-targets journalists on Facebook.
"We'll keep doing them as long as we can draw attention to Facebook's broken policies around political ads," Hampton said of the misleading ads. "We think the net benefit outweighs them being harmful in themselves."
Facebook's policy exempting politicians from fact-checking of their ads has been in practice since last year. It applies to politicians at the executive, national, and regional levels, including those running for office. It protects Facebook from making content moderation decisions that might drag it into a contentious presidential election in 2020 — and from taking all kinds of heat from all sides for doing so. The company currently does not allow third-party fact-checkers to use Facebook's tools to fact-check candidates and parties.
In August, the company changed its rules about misinformation and gave third-party fact-checkers the power to remove ads that contain false statements — something many contractors only learned about in October during Mark Zuckerberg's congressional testimony in October. Facebook's fact-checkers are independent and decide without the company's input which content — including ads — they review.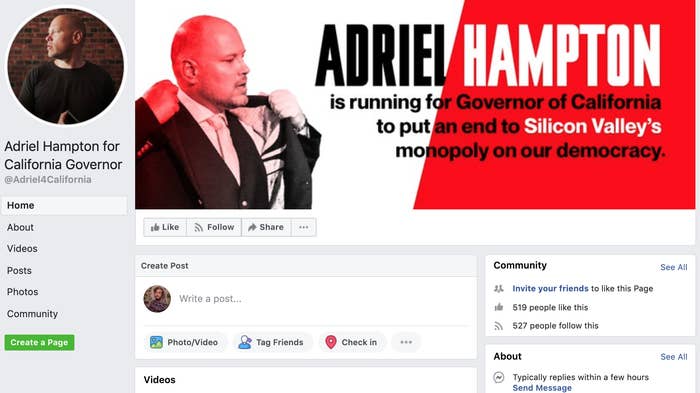 In September, as the country waited for House Speaker Nancy Pelosi to announce a formal impeachment investigation into Trump, Facebook's vice president of global affairs and communications, Nick Clegg — the deputy prime minister of the United Kingdom from 2010 to 2015 — took to the stage at the Atlantic Festival in Washington, DC, to reiterate that Facebook would continue to exempt politicians from third-party fact-checking and allow them to post content that would otherwise be against community guidelines for normal users. Clegg's announcement caused as much confusion as it was designed to quell.

Facebook sent BuzzFeed News a statement the company drafted when Hampton first announced his candidacy, saying he would not be exempt from independent fact-checking. The company's stance on Hampton has not changed since October.
"This person has made clear he registered as a candidate to get around our policies, so his content, including ads, will continue to be eligible for third-party fact-checking," the statement reads.
Still, Hampton's ads will remain on the site unless flagged by a third-party fact-checker.
"This is absolutely weaponized lying."
Hampton's last misleading Facebook ad claimed that Trump would be making Fox News host Sean Hannity his vice president. He was able to run it for a week straight before turning it off.
Hampton said he regularly works with about a dozen volunteers, and his team creates ads with fake information as well as legitimate ones, like one promoting Sacha Baron Cohen's "Silicon Six" speech from last month.

Hampton said that he has yet to be contacted by anyone at Facebook about what he's doing, adding that his efforts pale in comparison to the scale of other politicians pushing unvetted misinformation on the platform.
"It is a massive problem that Trump can spend hundreds of millions of dollars on Facebook," Hampton said. "You add that to the fact that he's able to micro-target ads to reach influenceable groups of people with different messages. This is absolutely weaponized lying."
Hampton insisted he's running a genuine gubernatorial campaign and that shining a light on Facebook moderation is just part of it, along with things like a Green New Deal for California.
As for how long Hampton intends to keep this up, "the election is in 2022," he said.
UPDATE
This post has been updated with additional information from Facebook concerning the company's fact-checking program.