On Saturday, a man accidentally shot himself in the leg at Gettysburg National Military Park in Pennsylvania, where dozens of people had assembled to protest reports of a group allegedly planning to desecrate Confederate graves and burn flags — except it turns out all those reports were a hoax.
The first reported article about a July 1 Gettysburg antifascist protest was from a Facebook page with only a few hundred followers called Harrisburg100. It published its story on June 14.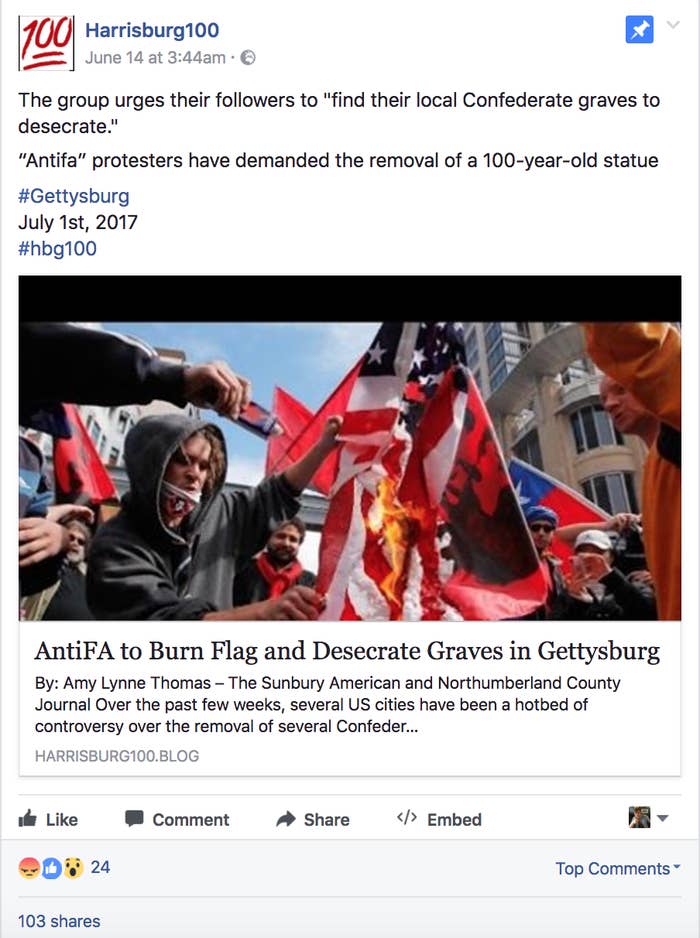 The Harrisburg100 article also links to a Facebook page called Harrisburg Antifa, which has about 100 followers. In May, they warned that they were going to be at Gettysburg National Military Park on July 1.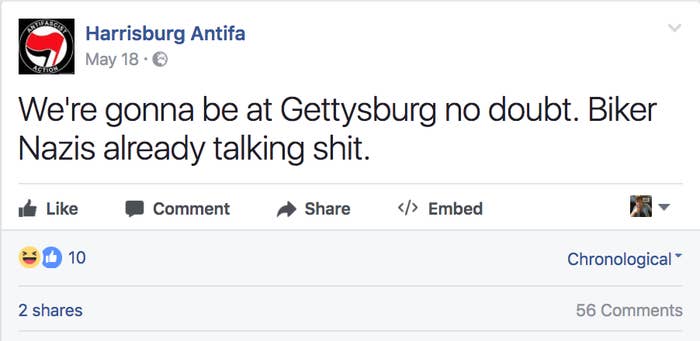 A few days later, a YouTuber named TheDelawarePatriot picked up the hoax, urging his followers to "make a stand against Antifa" on July 1.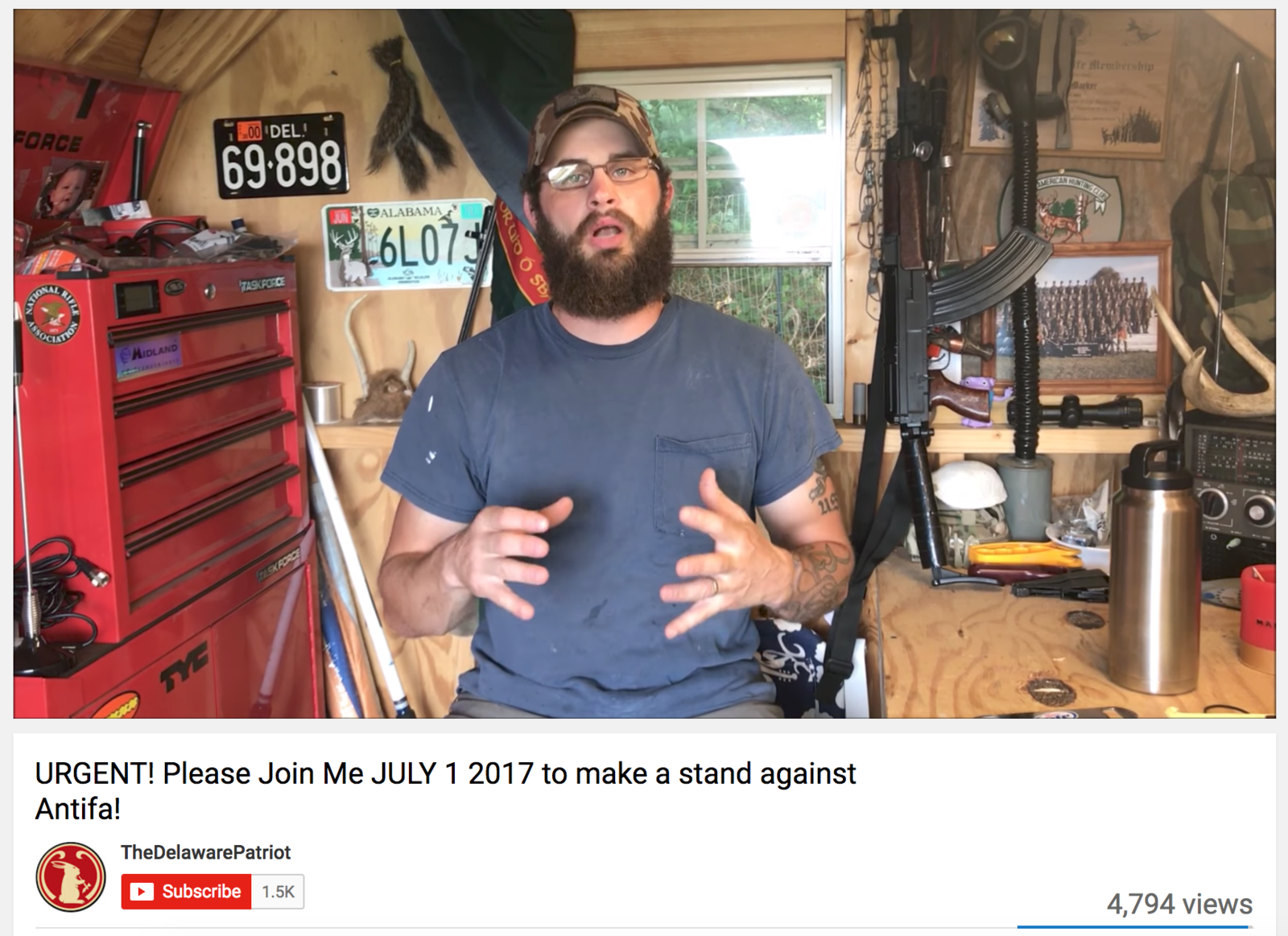 On June 21, an anonymous user claiming to be a member of the Harrisburg Antifa posted the Harrisburg100 article on 4chan's politics message board, /pol/, writing, "Gettysburg is OURS July 1st!!"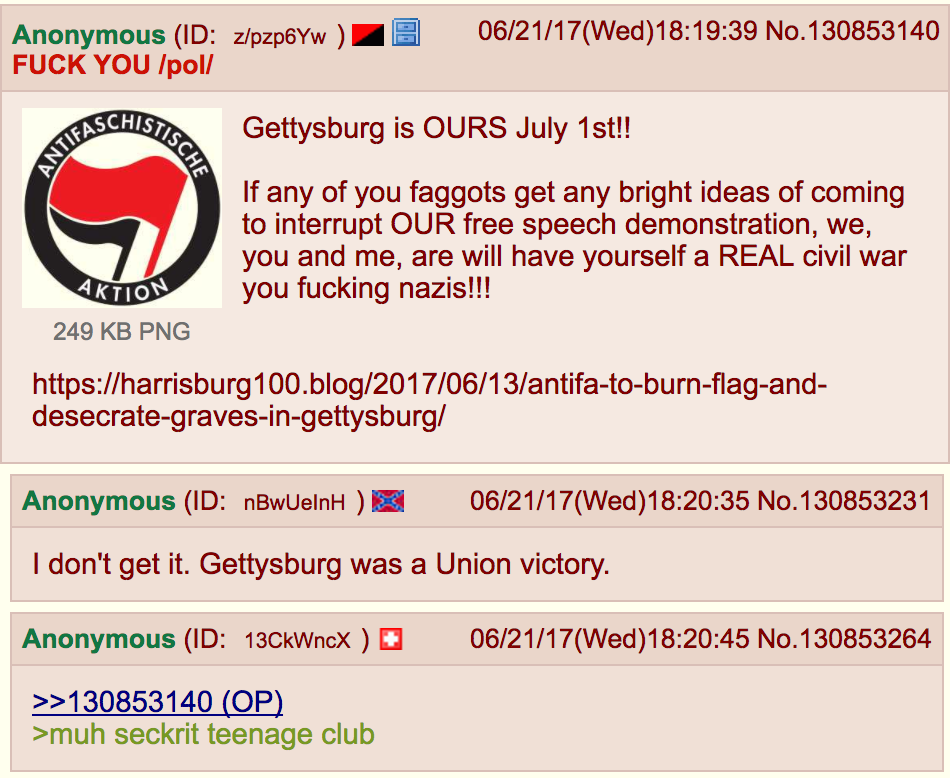 The next day, far-right writer Jack Posobiec posted a screenshot that described a Facebook event for a counter-protest called "Support America and Her History, Rally! If You Hate US, Leave!"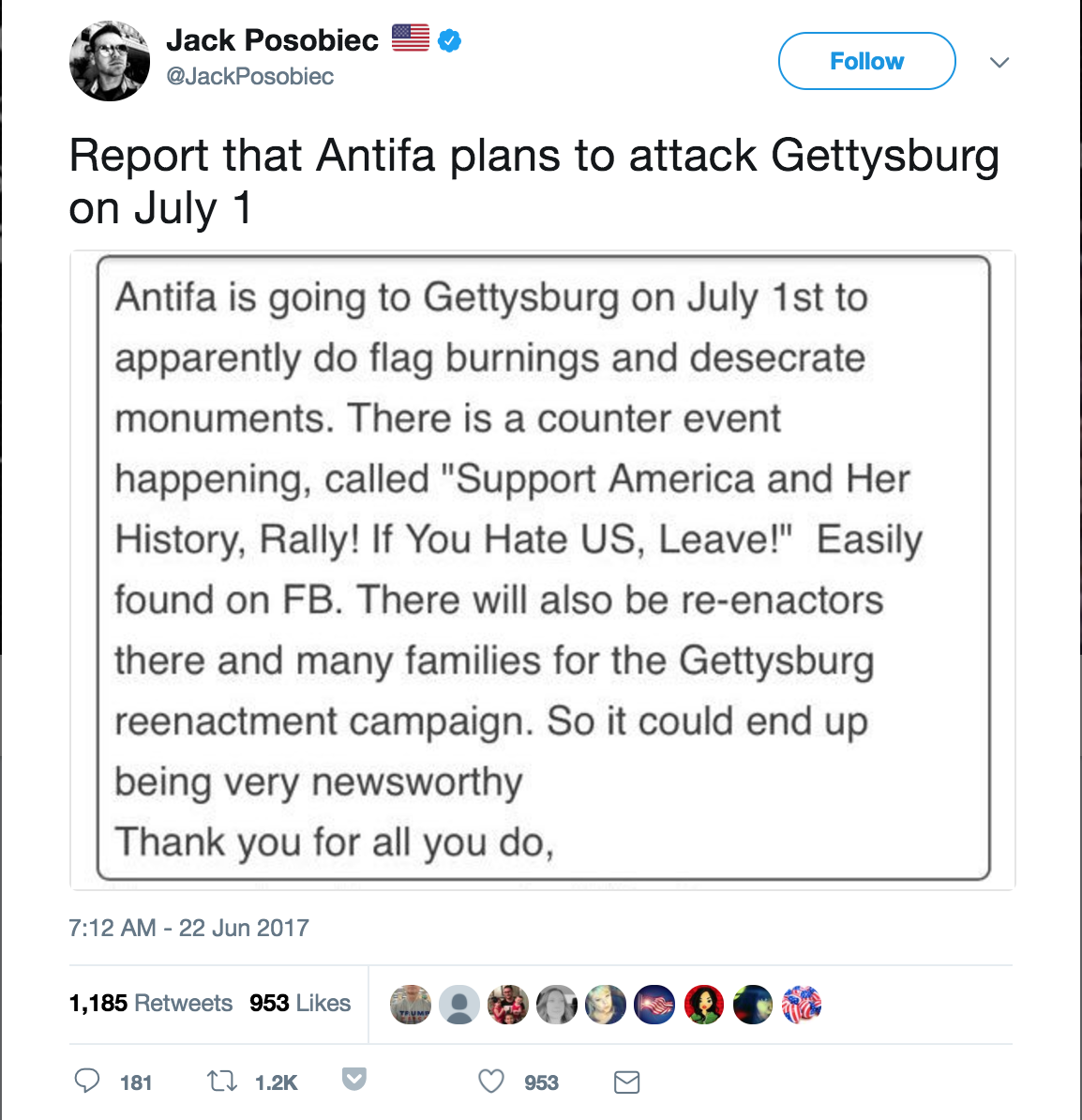 A day after that, the Gettysburg Times, a local Pennsylvania news site, wrote a story about how Confederate groups had applied for permits to demonstrate at Gettysburg National Military Park after seeing social media chatter about antifascists' plan to desecrate the park.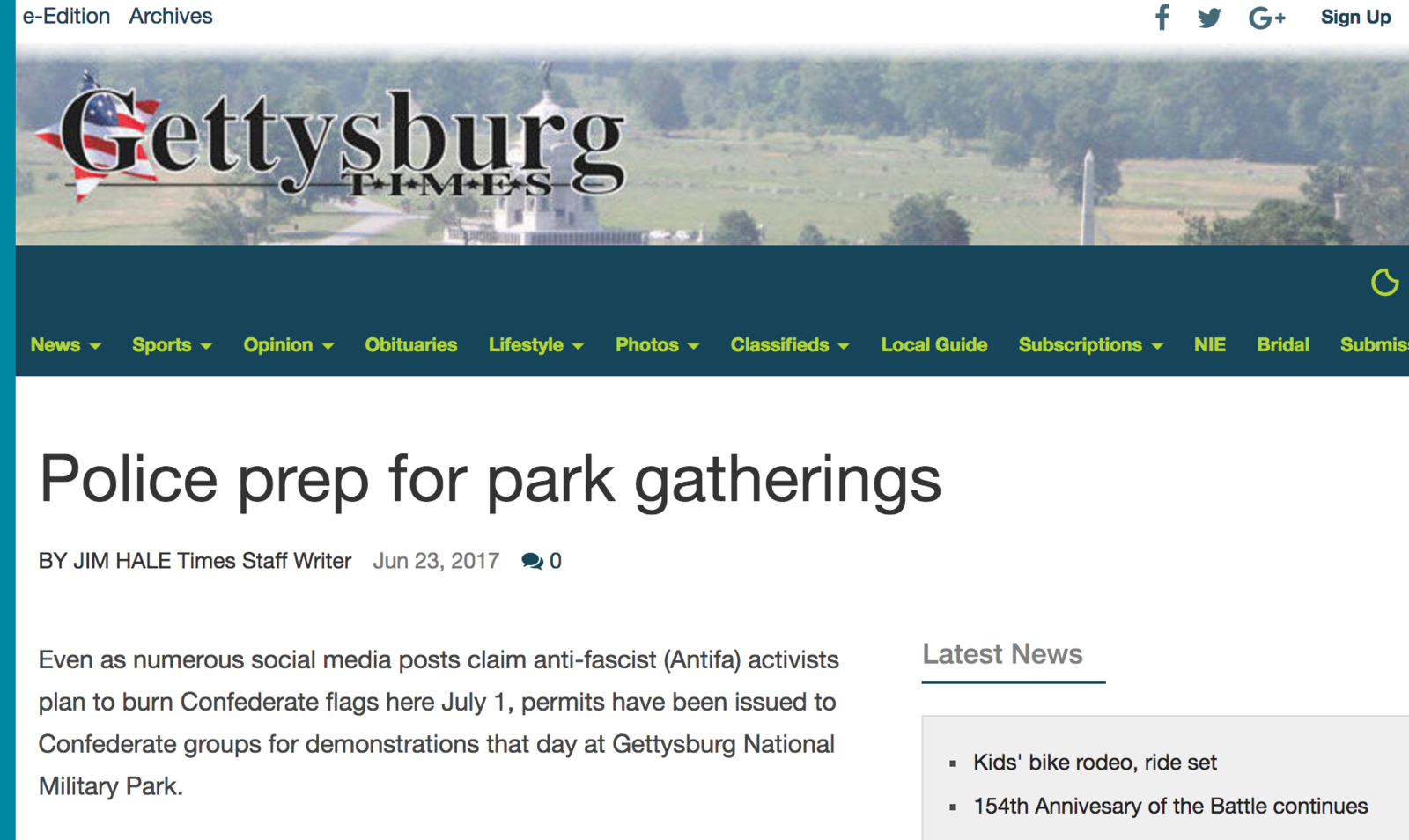 That same day, the Central PA Antifa Facebook page warned its followers that the rumors of an antifascist protest at Gettysburg were fake, instead telling them to meet and demonstrate in Philadelphia on July 2.
Gateway Pundit aggregated Harrisburg100's story a few days later, on June 26, and its version was then upvoted 3,000 times on the /r/The_Donald subreddit.
Breitbart picked up the story the following day, on June 27, writing that "members of the so-called 'Antifa' movement are promising to 'desecrate' the graves" at Gettysburg.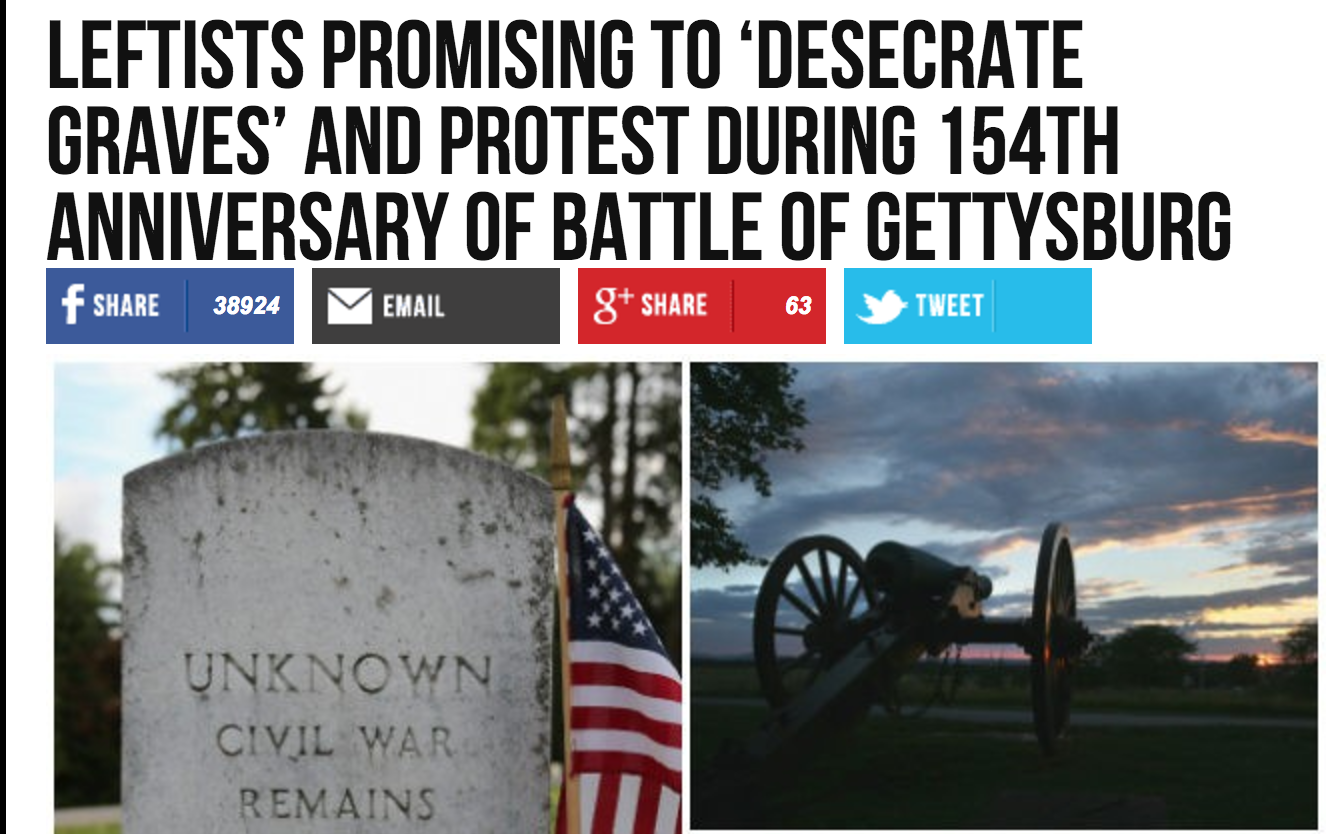 Sons of Confederate Veterans had shared the Harrisburg100 story to its 70,000 followers on June 18.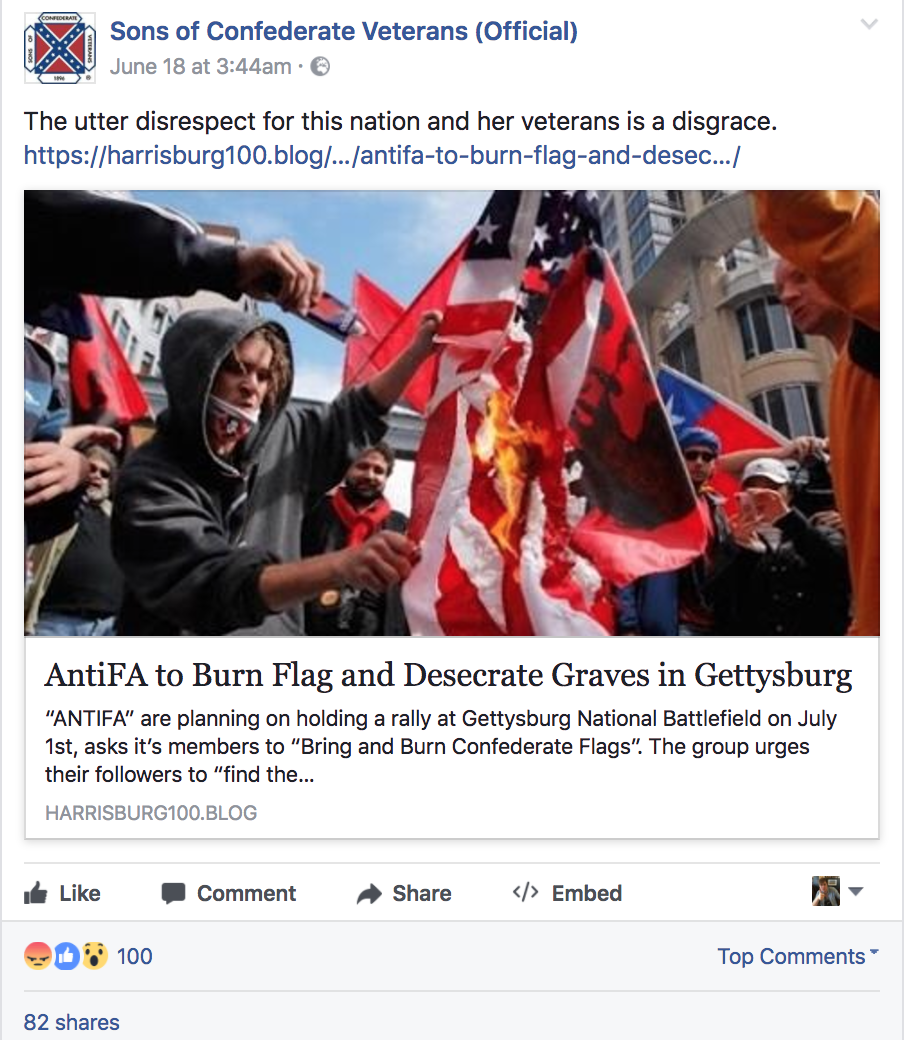 Once articles about the hoax protest and counter-protest were published by Breitbart, other far-right internet personalities, like Cassandra Fairbanks, promoted them. Fairbanks' tweet is embedded in various right-wing articles, but it appears as though Fairbanks has since deleted the original.

The Breitbart article hit 4chan as well. One user pointed out that parts of it didn't make any sense. For instance, the only marked graves at Gettysburg National Military Park belong to Union soldiers.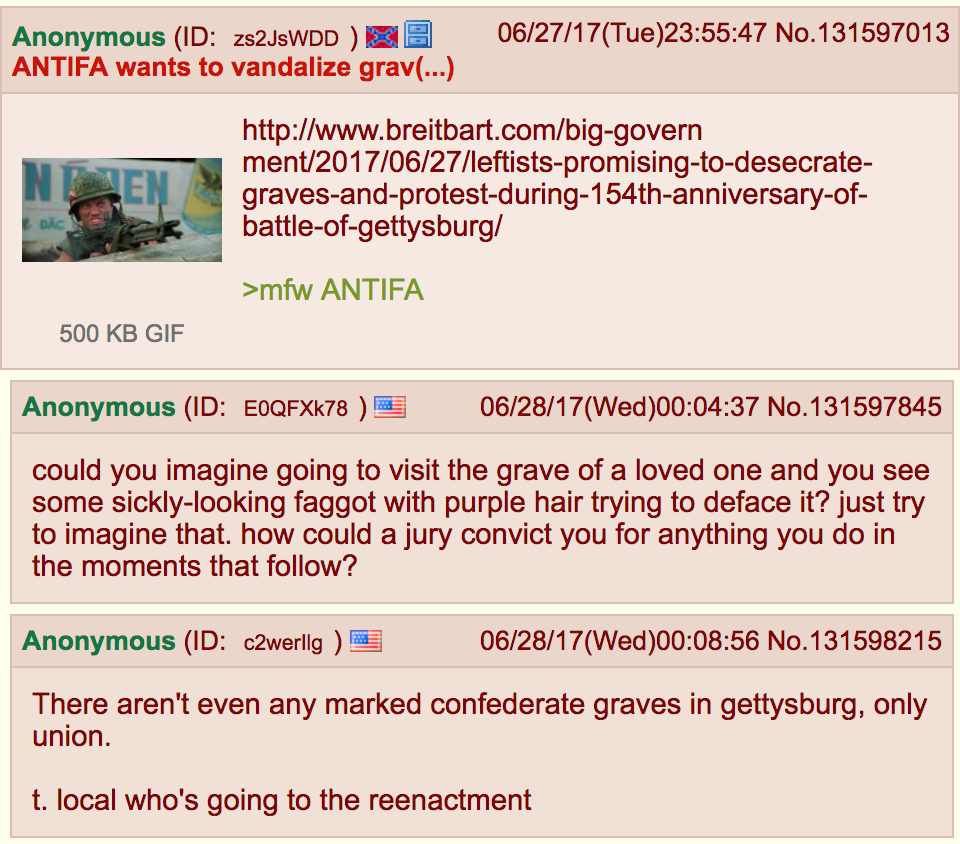 Which brings us back to July 1, when dozens of far-right and confederate protesters showed up to defend Gettysburg from antifascists who were never going to actually show up in the first place.
"Our movement today is going to send a message to Antifa that we're not playing around," one man said to the crowd from a loudspeaker. "And if you're going to come to our national parks and cause problems we're going to be here to meet you."
Then to cap things off, Benjamin Hornberger, 23, shot himself in the leg.
Hornberger accidentally triggered his revolver as he briefly rested the bottom of his flagpole against the holster it was in, Penn Live reported. Park police applied a tourniquet until he could be transported by paramedics.
The Central PA Antifa Facebook page wrote about the whole incident, accusing PennLive.com of creating hysteria.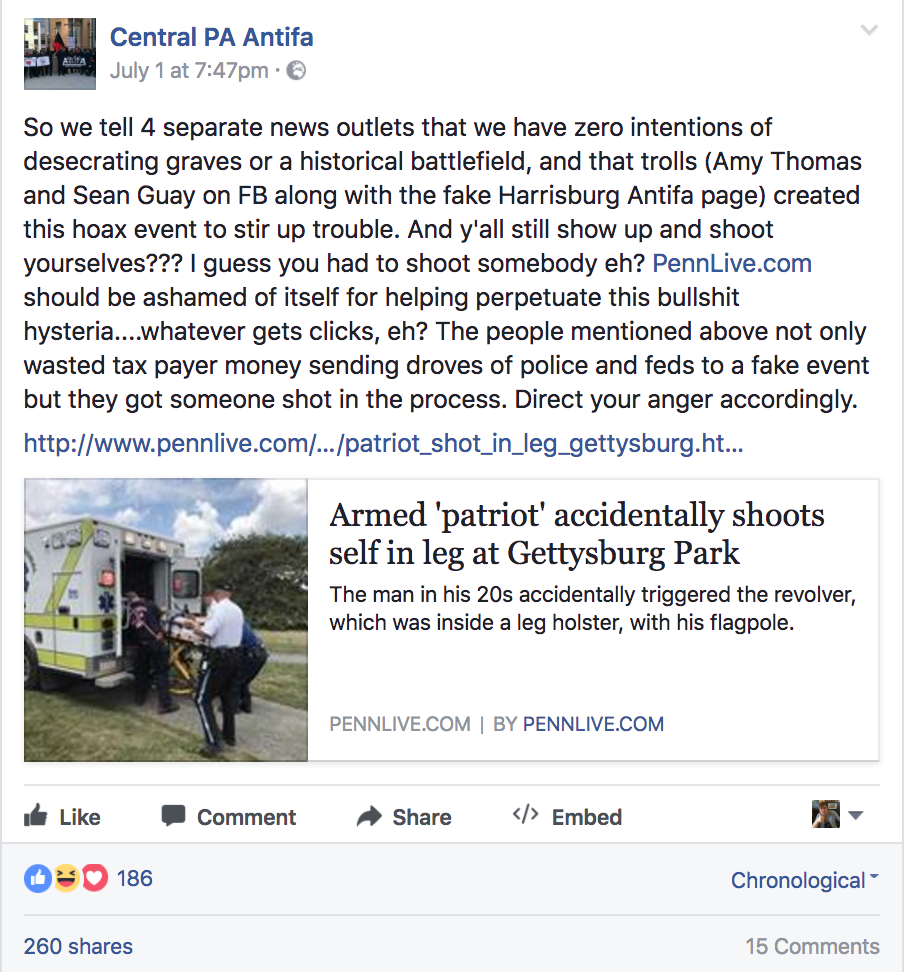 The whole thing was recounted the next day on 4chan, where users weren't exactly sympathetic.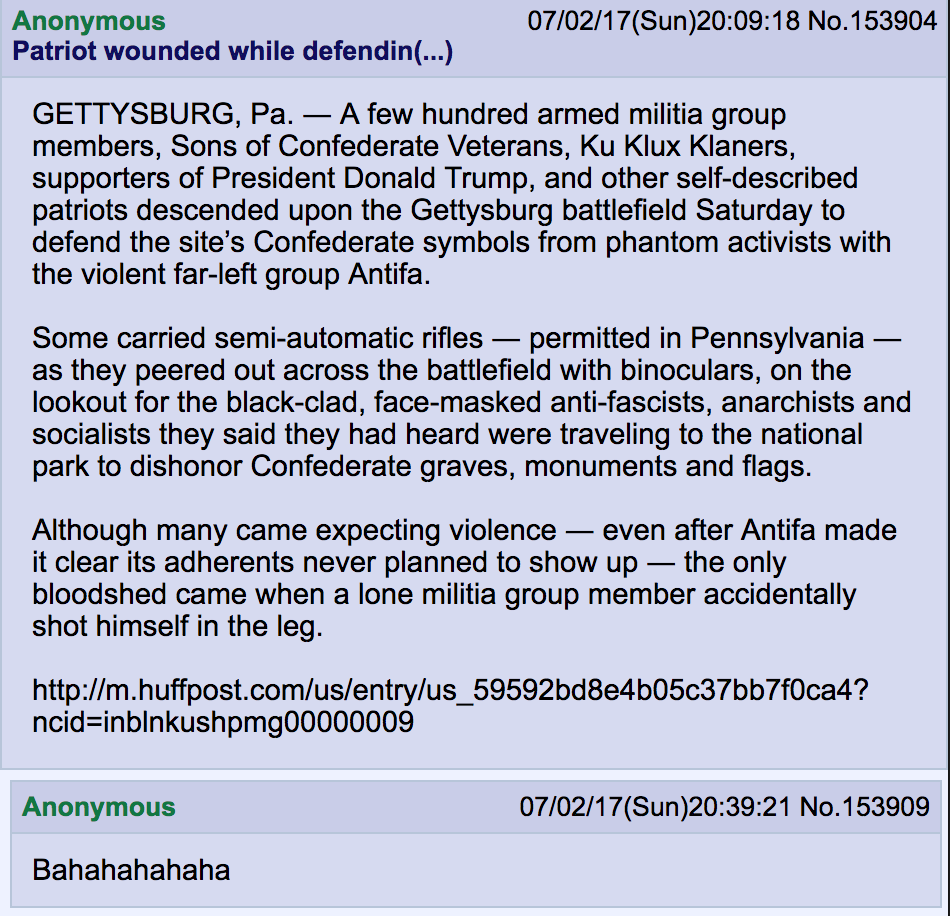 UPDATE
This article has been updated with a statement from Jack Posobiec.