In the last few weeks, a handful of mayors in southern France have banned the "burkini" — a form of swimwear popular with Muslim women.
The center-right mayor of Cannes, David Lisnard, banned burkinis earlier this month with a ruling that stated: "Access to beaches and for swimming is banned to anyone who does not have [bathing apparel] which respects good customs and secularism."
The ruling continued, "Beachwear which ostentatiously displays religious affiliation, when France and places of worship are currently the target of terrorist attacks, is liable to create risks of disrupting public order which it is necessary to prevent."
On Monday, a Twitter user shared a video that appears to show a Muslim woman on a beach in Nice — where the burkini is banned — being forced out of the water by a police officer, even though she wasn't wearing a burkini at all, just a hijab.
The video, which was posted by Feiza Ben Mohamed, the spokesperson for the Federation of Muslims of the South, shows a woman wearing a hijab coming out of the water and walking towards the police officers waiting on the beach.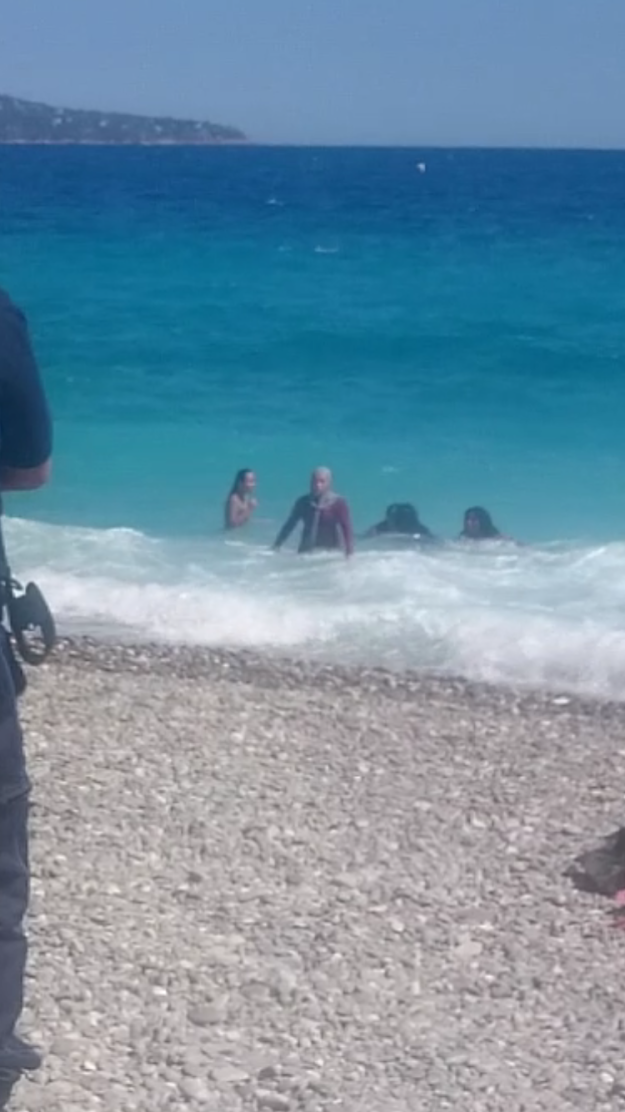 The video was given to Ben Mohamed by a woman named Sarah who wishes to remain anonymous "for fear of reprisals." She told BuzzFeed News that she saw the police fine the young women.
"It was around 2 o'clock," she said. "Several police officers approached a lifeguard, who pointed out a group of four girls, one who was wearing the veil. The police asked them to leave the water, and I saw that the officer was writing on a piece of paper. After the offense was reported, I went over to them. The veiled girl was in tears and could barely speak."
The Twitter user said that her girlfriend, who was not veiled but was wearing a T-shirt and shorts, also received a procès-verbal — a type of incident report used by French police. The two other girls, who wore two-piece suits, were not cautioned, she said.
A spokesperson for the city of Nice told BuzzFeed France that the young veiled woman was fined, but denied that her girlfriend wearing a T-shirt and shorts was fined as well.
"Since there was a religious connotation to the woman wearing a veil, she was spoken to," the spokesperson said.
In another incident on a beach in Nice, two municipal police officers (seen in the video below wearing white t-shirts) speak to another woman in a hijab.
In the video the police officer asks the woman to leave the beach or remove her hijab before issuing her with a warning ticket.
"It's to avoid problems like in Corsica where people got stoned. I mean, we don't give a fuck. But the thing is there are some people that are bothered, some people that call us, and that's why there's an arrêté (local law). And then every city on the coast did the same, so there's no problem," the officer explains to the woman, who has not been named.
The woman replies: "I've been living here for years, I never had any problem."
In yet another incident, also in Nice, police fined a woman wearing a headscarf and long-sleeved top and also appeared to require her to remove some of her clothing.
Her ticket, seen by French news agency AFP, read she was not wearing "an outfit respecting good morals and secularism," The Guardian reported.
In nearby Cannes, a mother of two told French media Tuesday how she had been fined on the beach for wearing leggings, a tunic and a headscarf.
"I was sitting on a beach with my family," said 34-year-old Siam, who declined to give her last name. "I was wearing a classic headscarf. I had no intention of swimming."
"Racist speech was hurled openly. I was stunned," she told the magazine. "I heard things no one had ever said to my face, like 'Go home!' 'Madam, the law is the law, we're tired of these stories,' 'Here, we are Catholic!'"
A witness, Mathilde Cousin, confirmed the incident. "The saddest thing was that people were shouting 'go home', some were applauding the police," she said. "Her daughter was crying."
By-laws in Nice do not specifically prohibit the burkini, however. Instead, they only refer to vaguely defined "proper attire".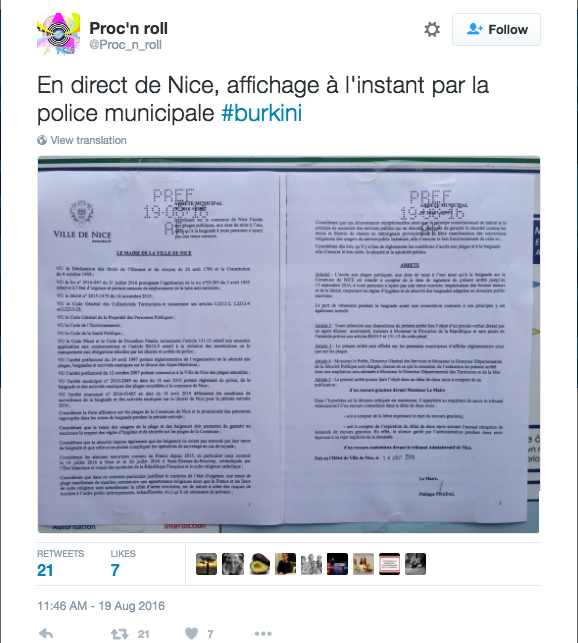 So far, in Nice, eight women have been fined Monday for failing to comply with the by-law, and then another eight on Tuesday, according to a spokesman for the city.