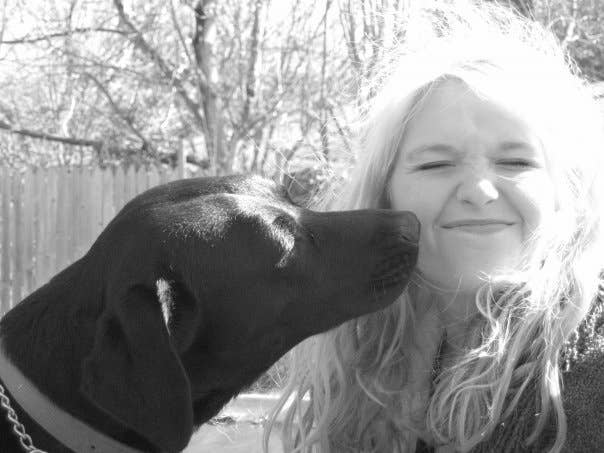 Helene Sula is a blogger from Dallas. On her website, she writes about her life and things she does fun, and posts the photos she takes. She also currently has a couple thousand followers on both Facebook and Twitter.
Sula said she started the blog in 2012 after a rock-climbing accident where she fell 20 feet to the ground, shattering her leg. She was out of work for a long time and blogging gave her something to focus on, she said.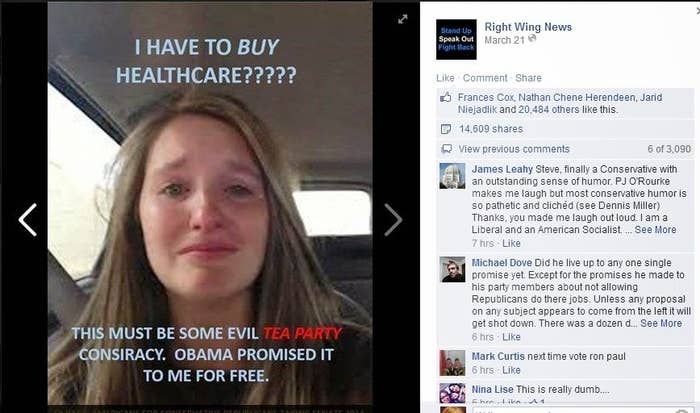 Last Saturday morning, however, her idyllic corner of the internet got a lot more hateful when she woke up to a surprising amount of Facebook messages.
"I was in Las Vegas, I woke up to check my blog's Facebook page and I noticed I had a few extra messages than normal," Sula told BuzzFeed. "When I looked at the messages they were all the same: 'Hey your face is now a viral meme.' And when I clicked on it it was on a right-wing Facebook page."
The "viral meme" was an anti-Obamacare image macro that was posted on the Facebook page for Right Wing News, a conservative fan page that has almost 350,000 likes.
The image they used was a selfie from Sula's blog that she took as a joke after a bad hair-coloring experience.
"Basically this image was a selfie I posted on my blog after a stylist botched my hair color," Sula said. "I blogged about it, kind of letting people know to make sure you're very specific about how you tell someone to do your hair. I laughed at myself about the fact that I was crying."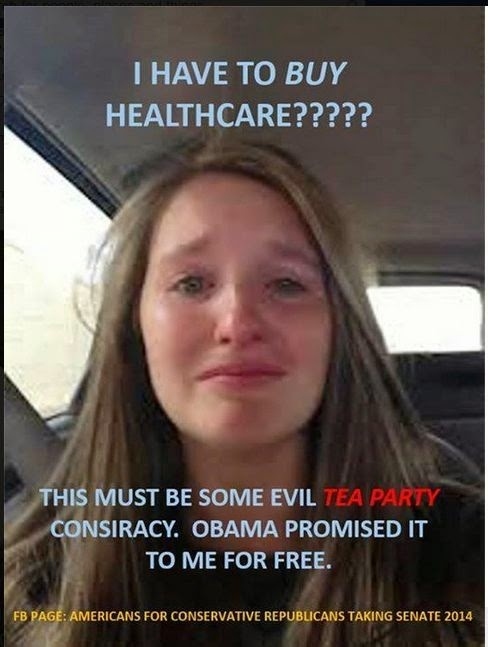 By the time she had seen the image on Saturday morning, though, it had been shared over 13,000 times across multiple fairly large conservative Facebook pages. She also noticed that the original version spelled the world "conspiracy" wrong, which was later corrected and shared even more.
"A lot of the backlash I had at first was pretty hysterical. They thought that the woman in the image truly believed that she could get free health care," Sula said.
She ran into even more anger when she attempted to get the image removed from their Facebook pages. Many users made fun of her for being a woman and for her taking a selfie and putting it on the internet in the first place, she said.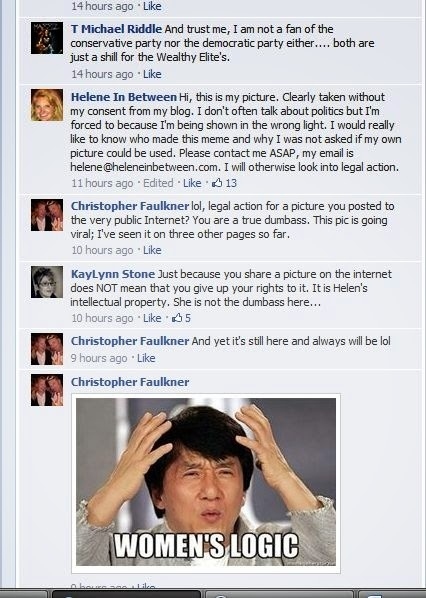 "The larger sites that have the post, I have tried to contact them, as well. I have not heard from any of them," Sula said. "Every time I've posted I've gotten pretty extreme backlash from some individuals in particular, some pretty misogynist @replies."
Sula said she hit a real roadblock in trying to get the picture removed, especially because of the closed nature of individual Facebook pages.
She wrote about the incredibly frustrating experience on her site, and she also described her situation on a post for BuzzFeed's community section. She says the whole thing is perplexing.
"Whoever made it didn't know how to save the image correctly because it's pretty grainy. If they had clicked and gone on my blog they probably would have gotten a clearer image," Sula said.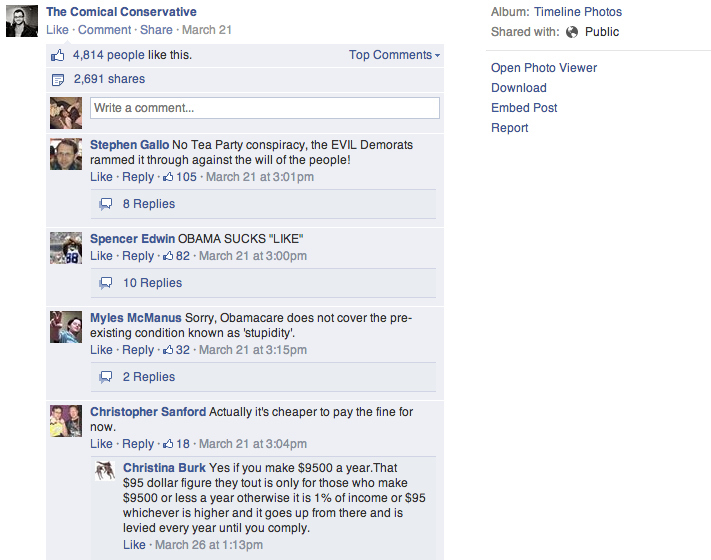 Sula said she enrolled for Obamacare and is incredibly happy with it. She said she typically leans to the left politically and voted for Barack Obama in both elections.
"Obamacare for me wasn't even a question," Sula said. "My sister had leukemia six years ago and my parents were worried that she wouldn't be covered but she was under Obamacare because she can't be refused coverage because of preexisting conditions."
The crying photo was actually taken right after her accident, and she said she thanks God she had health insurance when it happened.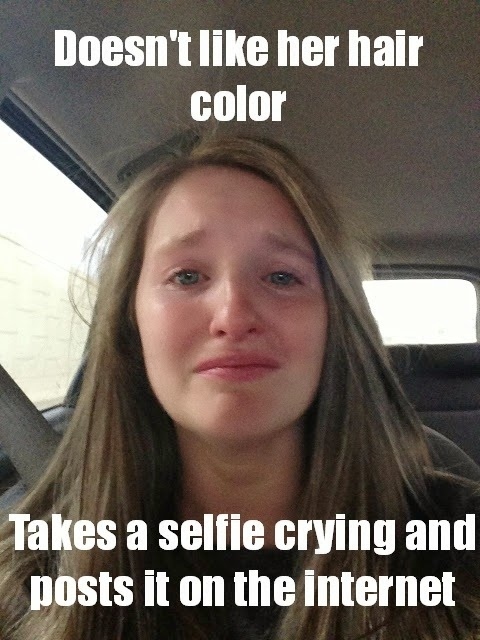 Sula hasn't found a way to slow down the meme she's unfortunately become part of. After a week on Right Wing News' Facebook page, the original photo has gained 20,000 likes and been shared almost 15,000 times.
Though, as news of Sula's selfie theft has spread, a lot of recent comments are from users visiting the page to defend her. One of the top comments currently is from a man named Shaun who wrote, "BUSTED you Tea Bagging morons!"
Sula understands, though, that as frustrating it may be, it's hard to stop a meme once it starts getting shared.
"You cannot take someone's image or likeness and put [your] own ideals on it," Sula said. "We don't really have clear-cut regulations about what people can do with our images."
Update — March 28, 7:51 p.m.: Right Wing News has removed the image from its Facebook page.
In an emailed comment to BuzzFeed, the owner of Right Wing News, John Hawkins, wrote the following:
Right Wing News didn't create the original image, we picked it up from another conservative Facebook page and so we were unaware of the origins of the picture. Getting beyond that, after receiving this email, I looked through the 3,000+ comments on the picture and did see a message from Helene asking for the picture to be removed. However, I get so many thousands of comments per day on my Facebook page, I don't see them all. Additionally, after double checking, I don't see any Facebook or email messages from a Helene Sula, so I was unaware there was an issue until I received this email from Buzzfeed. If any were sent, perhaps they ended up in a spam folder.

In any case, since her image is used in the picture and I've learned from she wants it removed, it's now gone. Helene, sorry for any inconvenience it may have caused.