A Lot Of Voters Are Still Undecided About The Kucinich Vs. Cordray Primary
"It's possible that you could see an upset by Kucinich if progressives turn out in Cuyahoga County area."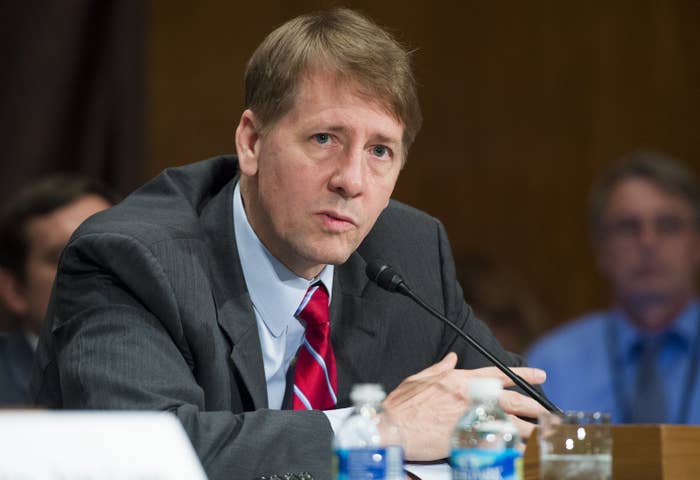 Ohio's tighter-than-expected Democratic gubernatorial primary is still tighter than expected just days before voters head to the polls.
The race between Richard Cordray, the former head of the Consumer Financial Protection Board, and Dennis Kucinich, the firebrand progressive and former member of Congress who's pitched himself as a progressive Donald Trump, has garnered national attention this spring — as yet another example of Democrats deciding what the party should prioritize.
How close it is depends on which poll you're looking at.
A late March poll from SurveyUSA showed the candidates tied with 21% each, among 509 likely voters. A mid-April poll from the 1984 Society showed Cordray in the lead with 27% of the vote and Kucinich with 13% among 500 likely Democratic primary voters. The latest polling — of 333 likely Democratic voters from the Community Research Institute at Baldwin Wallace University — gives Richard Cordray 31% to Kucinich's 15%, but 41% of voters are still undecided just days before Election Day.
That one remained constant across all of the polling: an unusually large pool of undecided voters, leaving the race up in the air.
This is not for want of persuasion efforts from of the party's most prominent figures and groups that have thrown their support behind the two candidates. Sen. Elizabeth Warren endorsed and stumped for Richard Cordray, who also pulled endorsements from a sizeable portion of Ohio's unions, while the Sanders-aligned group Our Revolution endorsed Kucinich (though not Sanders himself), along with the National Nurses Organizing Committee, and Rep. Tulsi Gabbard (who previously accompanied Kucinich on a much-scrutinized trip to Syria).
"Now, this election could be very close," Gabbard tells Ohio voters in her endorsement video. "Every single vote matters."
Tom Sutton, the director of the Community Research Institute, agrees.

"There's only about a 15-point spread between Cordray and Kucinich," Sutton told BuzzFeed News over a phone call. "It's possible that you could see an upset by Kucinich if progressives turn out in the Cuyahoga County area."
"Primary voters here see Cordray as the safe choice but are attracted to Kucinich's message, but they're concerned that Kucinich brings a bit of baggage," said Sutton.
The primary has seen the two candidates attack each other on everything from NRA records to tax filings. The Kucinich campaign has regularly reminded voters that in 2010, Cordray had an A rating from the NRA while the Cordray campaign has talked about Kucinich's trips to Syria to visit Bashar al-Assad and his paid speeches for pro-Assad groups (Kucinich says he's returning the $20,000 speaking fee).
The race has left some Democrats in the state nervous that if Kucinich can inch out a victory in the primary, it would greatly reduce the party's chances of winning the general election. Others have criticized Cordray around this same line of electability — given his campaign pitch has practically been "a safe pick, who's looked out for Ohioans as the CFPB director" — and worry he doesn't have enough flair to turn voters out.
"Maybe Richard Cordray is boring," said Sandy Theis, the executive director of ProgressOhio. "But you know what? Maybe after electing Donald Trump boring is good."