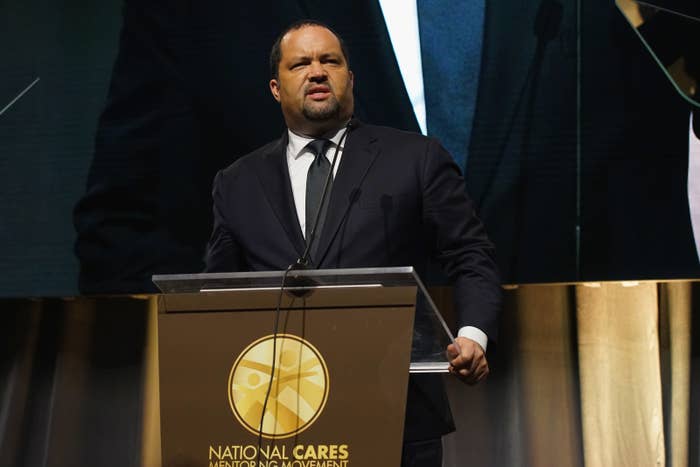 Ben Jealous, the Democratic nominee for governor in Maryland, was one of the biggest progressive success stories from this year's Democratic primaries. But now progressive activists are accusing Maryland Democrats of ignoring, if not outright sabotaging, his campaign and the state's chances of flipping a Republican governor's seat.
Jealous, the former NAACP president, ran hard to the left of a crowded field of opponents in the Democratic gubernatorial primary, campaigning on a host of progressive issues like legalizing marijuana, free college tuition, and a state single-payer health care system. He won, capturing 40% of the vote over establishment candidate Rushern Baker III, with the backing of a group of progressive organizations that helped turn out the vote.
But as Jealous has fought through the general election against incumbent Republican Gov. Larry Hogan, he's struggled to unite his party behind his ticket. A recent Washington Post poll had Jealous trailing Hogan by 20%.
"There's a 2-to-1 Democratic majority in Maryland and national energy doesn't favor Trump or the Republican Party," Larry Stafford Jr., the executive director of Progressive Maryland, told BuzzFeed News. "We're absolutely frustrated with political establishment in Maryland and how they've behaved. They're behaving in a way that national Democrats accused the Bernie wing of the party of behaving, which I don't believe was actually the case, after the [presidential] primaries."
While national Democrats like former president Barack Obama and Sens. Cory Booker, Bernie Sanders, and Kamala Harris have all backed Jealous's campaign to become the first black governor of Maryland, Jealous has struggled to gain support from some local Democrats who have campaigned on their ties to Hogan, sat out of the race, or endorsed Hogan's campaign outright.
Progressives organizing for Jealous have also griped about a flyer the Maryland Democratic Senate Caucus Committee is mailing to voters to promote state Sen. Kathy Klausmeier, which shows her sitting next to Hogan despite not endorsing him.
"They're legit just propping up a Republican governor in a state that we know we can win," Stafford said of state Democrats who have sat on the sidelines.
Hogan, despite being a Republican in a Democratic state, is one of the most popular governors in the country (67% of Marylanders approved of Hogan in an October Morning Consult poll). In a year in which Democrats could potentially flip a handful of governors' offices in the Midwest, and with high-profile Democratic campaigns from Stacey Abrams in Georgia and Andrew Gillum in Florida, Democratic energy has been focused elsewhere.
Jealous's campaign has largely been defined by Hogan's campaign and the Republican Governors Association, which have blanketed the airwaves with ads accusing Jealous of being too far to the left of Maryland's voters.

In an ad called "Introducing Ben Jealous," Hogan's campaign attacked Jealous as "too extreme" and "too risky" for Maryland, singling out programs he's backed like single-payer health care. While ads from the RGA have attacked Jealous, progressives have argued that they've seen little help for Jealous from the DGA which has spent heavily on races in Georgia and Florida throughout the election.
Jay Hutchins, the Maryland Working Families Party director, said that Republicans have been flooding the market in support of Hogan. "National Democrats need to act as a counterbalance and I don't know what resources or support has been happening so far," Hutchins said.
Democratic Governors Association spokesperson Jared Leopold said that the organization has been attacking Hogan's record through social media ads, and the DGA released opposition research on Hogan earlier this month. On Thursday morning, a DGA-backed group released a 30-second ad attacking Hogan on education cuts in the state and promoting Jealous as an "education governor." Leopold says he expects the group to spend nearly $300,000 on television ads through the end of the election on the ad with its affiliate group, Democratic Action.
"The DGA has worked closely with the Jealous campaign and invested in the Maryland gubernatorial race. We worked with Maryland Democratic leaders to hold Larry Hogan accountable during the primary, and we've partnered with the Jealous campaign to provide assistance in the general," Leopold said.
That spending, however, pales in comparison to DGA spending in other closely watched races where nominees have the opportunity to become their state's first black governor, like the $6 million the DGA has spent in Florida on Gillum's race and the $3 million it's spent in Georgia.
Former Maryland State House delegate Tim Maloney is one of the Democrats who has endorsed Hogan, who he counts as a longtime friend. Maloney supported Democrats Martin O'Malley and Anthony Brown in their campaigns for governor, but is among those who think Jealous and the progressive movement have shifted the Democratic Party too far left for Maryland.
"Maryland is a state of middle temperament," Maloney said. "Unfortunately our primaries tend to produce people that exist on the political extremes."
Maryland State Senate President Mike Miller, a Democrat, offered a half-hearted endorsement of Jealous's campaign in August, only mentioning Jealous by name once in a speech that focused primarily on education.
Jealous campaigned on building a progressive coalition of working class and minority voters, but a recent Goucher poll shows Jealous only leads Hogan by 10 points among Democratic voters in the state.
"People always talk about a progressive backlash, and I think that this year what we're going to see is a backlash of the moderates," Maloney told BuzzFeed News.
A spokesperson for Jealous's campaign didn't immediately respond for comment.