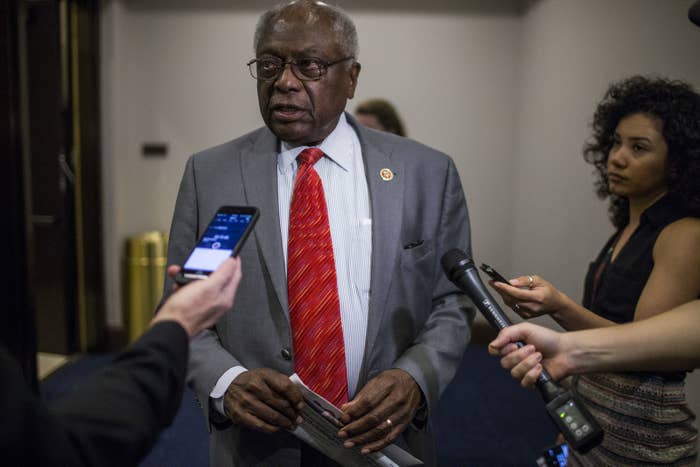 When allegations of domestic violence in divorce filings surfaced against South Carolina congressional candidate Archie Parnell last summer, national Democratic leadership swiftly condemned his campaign and called on him to drop out of the race. He did not. And now two prominent Washington Democrats are supporting his campaign in the final days of the race.
Rep. Jim Clyburn, the assistant leader for House Democrats, will appear with Parnell at a fish fry on Nov. 5 in Sumter, South Carolina, Parnell campaign spokesperson Michael Wukela confirmed to BuzzFeed News.
"We approached the congressman on this, and we're thrilled he said yes," Wukela told BuzzFeed News over a phone call Tuesday afternoon.
A spokesperson for Clyburn didn't immediately respond for comment.
Early in October, Rep. Cedric Richmond, the chair of the Congressional Black Caucus, donated $1,000 through his campaign to Parnell's campaign amid a round of contributions to Democratic House candidates across the country. A representative for Richmond did not immediately respond for comment.
Parnell was once considered South Carolina Democrats' best hope at flipping a congressional seat in the state, where Clyburn is the only Democrat in the state's congressional delegation. Parnell narrowly lost to Republican Rep. Ralph Norman in a special election in 2017 to fill Mick Mulvaney's seat.
The Democratic Party's congressional campaign arm added the district to its list of battleground districts earlier this year, and national and local support coalesced behind Parnell's campaign. But that all flipped once the Post and Courier reported on the allegations that Parnell had broken the glass door of a friend's apartment and physically abused his ex-wife while in college in the 1970s. After the allegations surfaced, local and national Democratic officials fled the race, including the Democratic Congressional Campaign Committee, the state Democratic Party, and Clyburn.
"What Archie Parnell did is inexcusable and deeply disturbing, and he should drop out of this race immediately," Meredith Kelly, the communications director for the DCCC, said in a May statement following the allegations. A spokesperson for the DCCC told BuzzFeed News on Tuesday that the committee's stance on the race has not changed.
"Forty-five years ago, while still a college student, I did something that I have regretted every single day since. In response to actions I feel unnecessary to specify, I lashed out and became violent with other people, including my former wife, which led to a divorce and monumental change in my life," Parnell said in a statement to the Post and Courier.
Parnell refused calls to drop out of the race ahead of his June primary and won with more than 60% of the vote. He called the results a "clear message" that "you don't have to be defined by your worst mistake. You don't have to be cast aside."
In August, End Citizens United, a PAC that supports candidates in favor of campaign finance reform, contributed $2,500 to Parnell's campaign, according to Federal Election Commission filings. ECU rescinded its endorsement of Parnell's campaign in a May letter provided to BuzzFeed News, and asked that its contributions be returned to the PAC. Parnell's campaign mistakingly returned too much money to ECU resulting in a $2,500 contribution in August to his campaign.
In South Carolina, voters are divided — largely along generational lines — about what to do with Parnell. Some Democrats — mostly older ones — say that he is the duly elected Democratic nominee, so Democrats should forgive him and support his campaign. Younger voters have been more reticent to do so, saying there is no place for a confessed domestic abuser in politics at this moment.