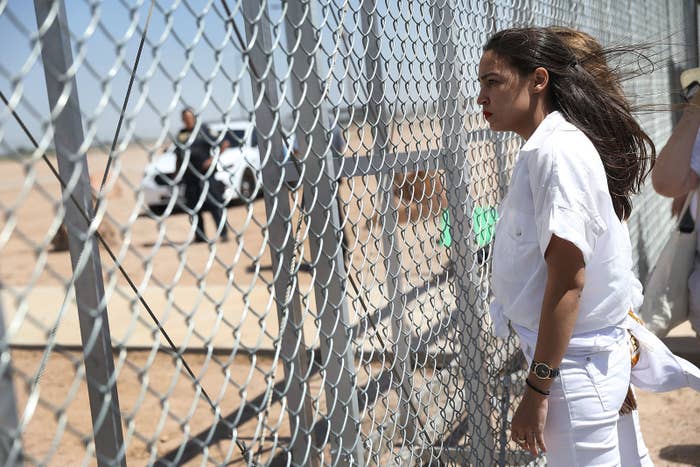 No one gave an anti-establishment candidate running a primary campaign against a top House leader a chance of winning in 2014. A similar situation is playing out now — virtually no one expects a young, progressive activist challenging Queens boss and House Democratic Caucus chair Joe Crowley to pull off the upset Tuesday.
But Tea Party candidate Dave Brat beat Republican House majority leader Eric Cantor in 2014. Now Alexandria Ocasio-Cortez is hoping to do the same in 2018, and pull off the biggest anti-establishment upset of the year.
The race has presented Crowley, who has represented the district since 1999, with his first primary challenge since 2004.
Ocasio-Cortez — who's running her campaign on a host of issues popular among the newer, progressive wing of the Democratic Party, including Medicare for All, abolishing Immigration and Customs Enforcement, and getting corporate money out of politics — is emblematic of a larger, national movement frustrated with the slow-moving progress of establishment-backed Democrats like Crowley.
"I think at the end of the day in our races, we are so used to voting for the lesser of two evils that we're not even used to voting for the better of two options, and I think that's what we've got here today," Ocasio-Cortez told 14th District voters in the final debate of the race at the Jewish Center of Jackson Heights last Thursday.
Ocasio-Cortez has garnered endorsements from national progressive groups like Our Revolution, Justice Democrats, and Democracy for America. Those groups, though, have had a tough year so far: Our Revolution, the group backed by Sen. Bernie Sanders, has had more losses than wins so far for candidates they've endorsed on both the federal and local levels.
But Ocasio-Cortez is betting that running against the establishment will work in Queens, where changing demographics have shifted the electorate.
"I can't tell you how many people in New York politics who I've met with that tell me, 'if this was about me and not being afraid of power I would've endorsed you a long time ago,'" Ocasio-Cortez told BuzzFeed News before recounting that a New York politician who'd endorsed Crowley had quietly asked one of her campaign volunteers for one of her purple campaign posters.
Early Monday morning, Ocasio-Cortez joined another insurgent grassroots candidate taking on an establishment Democrat — Cynthia Nixon, who is presenting herself as a standard-bearer for progressive politics in her campaign against Gov. Andrew Cuomo. In endorsing each other's campaigns, they cited "a shared interest in taking on centrist, corporate Democrats." The move complicates things for the Working Families Party, which endorsed Crowley in his race against Ocasio-Cortez but has tied itself to Nixon. "People were really boggled by the Working Families Party endorsing him," Ocasio-Cortez told BuzzFeed News.
Like many of the insurgent, progressive challengers taking on establishment Democrats, New York Democratic strategists say Ocasio-Cortez's chances of unseating Crowley are slim. Despite the groundswell of energy from progressive activists that has garnered national attention for her campaign and changing demographics in the district, Ocasio-Cortez still faces an uphill battle in her attempt to unseat Crowley, who's known as the "king of Queens" for the dominant role he plays in New York City politics.
"Obviously Joe's going to win, but she's run a very energetic campaign and managed to gain some traction," George Arzt, a New York political operative and Rep. Carolyn Maloney's campaign spokesperson (who's facing her own primary challenge), told BuzzFeed News. "The race is going to come down to turnout, and there's no one who can get the vote turned out like the Queens Democratic Party and the Bronx Democratic Party."
"He's the heavy favorite in the race and she's gotten some attention from some media outlets, but it's not sticking well enough," said New York Democratic strategist and former aide to Kirsten Gillibrand Jon Reinish. "People in that district have been represented by Crowley for a long time. They know who he is and I think that her assertion that he's not progressive enough falls on deaf ears."
Crowley has pointed to his experience representing the district in Washington since 1999 as one of his key pitches to voters, while other Democrats have pointed to the fact that if Crowley becomes speaker of the House, his district could see outsized benefits.
"When it comes to power, we can't just be tempted by power and money alone," said Ocasio-Cortez. "What we need to do is be bold enough and courageous enough to choose leadership that takes no corporate money and advances health care, education, and housing for all."
Crowley's also pointed to his support for legislation like the Dodd-Frank financial reform law and the Affordable Care Act. But Ocasio-Cortez has criticized him for being far too close to the pharmaceutical and real estate lobbies, his influence over Democratic politics in New York, and for not actually living in the district (Crowley has raised his family in Virginia while also owning a home in Queens).
"In this administration, we don't need a hedge-your-bets Democrat on where they're going to be on progressive policies," Ocasio-Cortez told BuzzFeed News. "Don't get me wrong, he's a good guy, but I think maybe if he ran in Virginia he'd be a better fit for his district there. I've lived through the financial and housing crises here and I don't think that's something my opponent understands. He doesn't connect with people here because the machine got him elected."
Crowley's campaign team maintains they're not worried. "The people of Queens and the Bronx have elected Joe Crowley to represent them in Congress each and every time his name has appeared on the ballot. This year will be no different," campaign spokesperson Lauren French told BuzzFeed News.
Despite Democratic strategists thinking Crowley should coast to victory Tuesday, he's still spent $1.09 million fending off his primary challenger between April 1 and June 6 and has lined up a series of endorsements from Democrats like Cuomo, Gillibrand, and a host of unions important in Democratic primaries in New York.
"In this era of Democratic politics, it's wise for an incumbent to take any primary challenge seriously," said Hank Sheinkopf, a New York Democratic operative. "No one believes Joe Crowley's gonna lose but with the changing demographics in that district this could be an attempt to soften him up to take on more progressive positions."