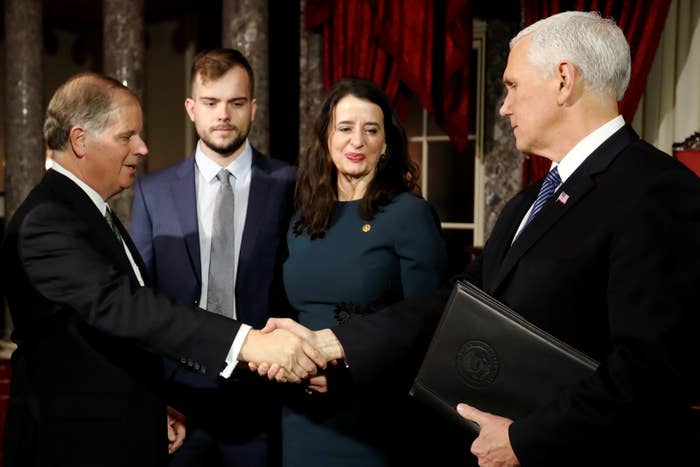 Alabama isn't keeping track of the number of felons who've registered to vote following the implementation of the Definition of Moral Turpitude Act, according to a spokesperson for the Alabama Secretary of State's office.
"The reason that there is not [an official record] is because the state does not track felon data in the Secretary of State's Office. Information is delivered on an as-needed basis to the county registrars when reviewing each registrant," a spokesperson told BuzzFeed News.
Alabama's recent move, along with former Virginia governor Terry McAuliffe's decision to restore voting rights individually to more than 200,000 convicted felons, came amid some major changes in the way some view criminal justice policy in American politics. A growing and bipartisan group of people have generally supported a mix of changing sentencing laws, especially around nonviolent drug offenses, and reexamining the way prisons are administered, with some also calling for the restoration of voting rights.
But one political question that remains unanswered is, how many felons whose ability to vote is restored actually do vote?
The Sentencing Project estimates that in 2016, 286,266 people were subjected to laws that bar felons from voting in Alabama, while the Southern Poverty Law Center speculated that nearly 250,000 people in Alabama regained the right to vote after Republican Gov. Kay Ivey signed the Definition of Moral Turpitude Act into law.
The act gained national attention after Democratic Sen. Doug Jones' surprising and narrow win in December; Kenneth Glasgow, a grassroots activists in Alabama, claimed to have helped thousands of felons navigate the process of registering to vote.
The law clearly defines the types of "crimes of moral turpitude," as it's used in part of the state's constitution to bar people certain criminals from registering to vote. Before the Moral Turpitude Act went into effect in August, the types of crimes in the "moral turpitude" category were left to the discretion of county election officials.
The implementation of the law first ran into issues when county registrars said they were confused about how the law should be implemented and how it applied to their duties, according to a report from AL.com.
CORRECTION
Kenneth Glasgow's name was misspelled in an earlier version of this post.