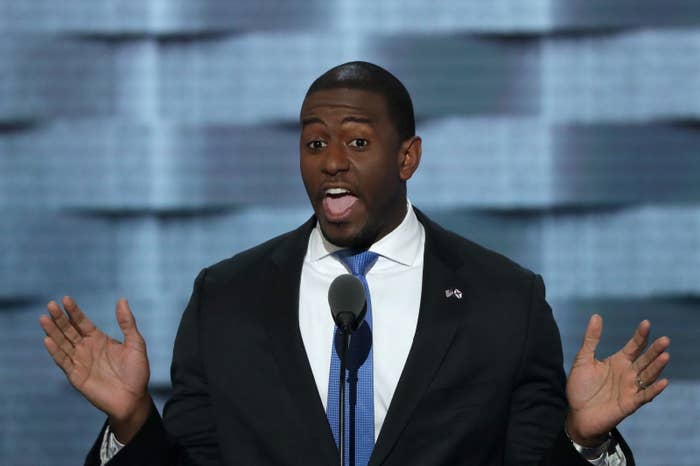 A group of black Democrats who've raised concerns about the way the party's institutions support candidates of color will soon meet with both the Democratic National Committee and the party's congressional campaign arm as they try to recruit and send more money to black candidates.
"We've seen a lot of excitement over the past few months for candidates across the country, and these are great Democrats — but we also want to see that same excitement for candidates like Stacey Abrams in Georgia and Andrew Gillum in Florida," said Quentin James, the cofounder of Collective PAC.
Over the last month, Collective PAC has sent letters to both the Democratic Congressional Campaign Committee — asking why the congressional arm has not endorsed any black candidates in its target red-to-blue program — and most recently, the DNC and other national Democratic groups, asking the groups to commit to funding and supporting candidates of color.
"I'm encouraged that we're meeting so quickly, we think the commitment from the DNC and DCCC is there but we're still waiting to see what these other groups are going to do," James told BuzzFeed News.
Black grassroots organizers have criticized the party's approach to outreach as an afterthought rather than a priority.
Increasing black voter turnout continues to loom large for Democrats. Black voter turnout was somewhat down during the 2016 presidential election compared to voter turnout in 2008 and 2012. Grassroots activists have pushed that investing in black-led organizations that focus on voter mobilization and education, and engaging with black communities early and often, are key factors to increasing black voter turnout.
Democrats have touted the support of black voters and political organizers — and black women in particular — as paramount to the success in special elections like Alabama's senate race, where groups led by black women, like BlackPAC and Woke Vote, mobilized black voters ahead of Election Day.
In an email to BuzzFeed News, press secretary Michael Tyler said the DNC looks forward to working with Collective PAC on the DNC's new voter outreach initiative, IWillVote. "Our victories in 2017 are proof that when we lift up black candidates and invest in black communities, Democrats are successful at the ballot box. Democrats were successful in places like Alabama, Virginia, New Jersey, Atlanta, and Charlotte because of groups like Collective PAC."