Top Hillary Clinton Ally Makes The Case Against Bernie Sanders
Ahead of the first Democratic debate, David Brock casts Clinton as the party's "real progressive" with "real plans that work" in a speech delivered in San Francisco.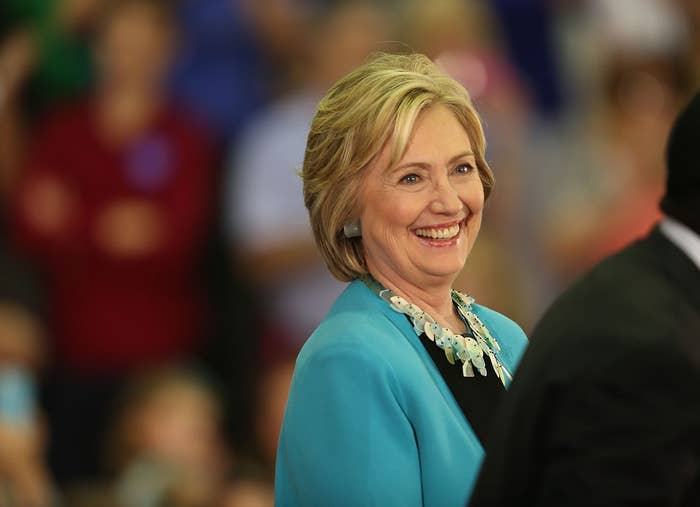 For six months, Hillary Clinton's campaign has approached the nomination along two distinct, nearly opposite tracks: with an operation focused on the Democratic primary — and a message built to contrast almost exclusively with Republicans. At her town halls and rallies, Clinton only rarely mentions her Democratic opponents and compares her policies with theirs. Her focus remains on the other party.
But on the eve of the first Democratic debate, one of the candidate's most trusted defenders, linked formally to the campaign through a coordinated super PAC, is set to sharply outline the case to progressives for Clinton — and against Sen. Bernie Sanders.
David Brock, the conservative-turned-liberal who has become a central player in the frontrunner's campaign, will deliver a speech on Monday in San Francisco that casts Clinton as a lifelong progressive with the best platform, rooted in achievable proposals and decades of service to the Democratic Party at every level.
Brock's speech does not mention Sanders by name, according to an advanced copy provided by his pro-Clinton research group, Correct the Record. But his point is clear enough. The pre-debate appeal is a kind of tour through Clinton's strengths — undergirded throughout by allusions to Sanders, the Vermont socialist polling competitively with Clinton, and to his likely weaknesses as a nominee.
One by one, his speech runs through each implicit contrast.
There's Clinton, the "strongest possible messenger for a progressive vision." (And Sanders, the impractical nominee.) Clinton, the candidate with "real plans that work." (And Sanders, with larger proposals that would likely fail in Congress.) Clinton, the Democrat who claims a "broad coalition" inside a party "she's spent three decades building" — many, Brock adds, from the Senate seat occupied by Democratic icon Robert F. Kennedy. (And there's Sanders, the registered Independent who, until this summer, had never attended a party-wide meeting.)
"Hillary is the real progressive champion in this race," Brock will tell the crowd on Monday afternoon at the Commonwealth Club of California, citing what he calls her "ambitious, specific, and realistic plans" to raise incomes and tackle problems like college affordability, mass incarceration, and immigration.
"Hillary isn't moving in a progressive direction. She's been there all along," Brock will say. Clinton, too, has argued while campaigning this year that her "record of standing up and fighting for progressive values" takes a "backseat to no one." (Last month, however, Clinton said she pleaded "guilty" to being a "moderate.")
With the start of debate season on Tuesday, and the first caucuses and primary some 100 days away, Brock's remarks reflect a wider attempt by Clinton and her supporters to move past the controversies that have weighed on her campaign since before it even began. Brock, whose research group has spent months responding to the developments of the controversy surrounding Clinton's personal email account, does not plan to mention the controversy on Monday.
Instead, Brock attempts to present a forceful, forward-looking pitch — outlining Clinton's record all the way back to her "humble beginnings" as a child.
In the speech, Brock also makes special note of Clinton's newly staked positions against the Keystone XL pipeline and the Trans-Pacific Partnership. For months, Clinton declined to comment on the pipeline. And as secretary of state, Clinton played a role in negotiating the TPP trade deal — and has praised it broadly in the past. Both projects are bitterly opposed by progressives. As Brock describes it, "Hillary sided with workers in opposing the Trans-Pacific-Partnership... And she sided with environmentalists in opposing the Keystone pipeline."
And to Democrats who question Clinton's commitment to or belief in the causes dear to progressives, Brock invokes the Republican Party: "If your hesitation in supporting Hillary isn't about her message, but rather about her as a messenger, ask yourself if you're falling into their trap."
In the '90s, conservatives, including Brock at the time, would attack Clinton as a lefty — a secret radical, a "Marxist" liberal" and disciple of the organizer Saul Alinsky. But in this campaign, Brock says in his speech, the Republican Party has sought to "undermine Hillary's support among Democrats: raising doubts, dampening enthusiasm, driving a wedge."
Brock also suggests that it's Republicans, not Democrats, who are "salivating" most at the calls for alternative choice such as Vice President Biden, whose entry would weaken Clinton's standing. "It would be silly to suggest that other candidates in the Democratic field are running as a favor to Republicans — even if that would be a political effect." (His prepared remarks even include an apparent reference to the Draft Biden group, which was parodied on Twitter with a Dukakis 2016 account: "Hey," Brock asks, "anyone here have a phone number for Michael Dukakis?")
But the thing Republicans fear most — more than losing the next election, more than Clinton in the White House? In Brock's message to Democrats it's the implementation of her progressive vision. "Some on the left may not yet believe that Hillary would be a truly transformative progressive president," Brock acknowledges. "But make no mistake. Everyone on the right believes it."
"And it scares the hell out of them."