White House Scandals Could Help Immigration Bill's Chances, Supporters Argue
"Sometimes with the spotlight constantly on it as an issue can make it tougher," says Rep. Castro.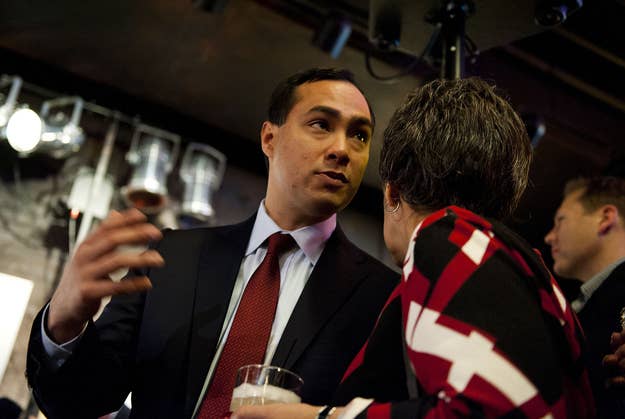 WASHINGTON — Rep. Joaquin Castro and pro-immigration reform policy analysts said Tuesday that the recent flurry of scandals dogging the Obama White House wouldn't distract from the immigration effort — in fact, they said, it could even actually help.
While the Senate's so-called gang of eight pushes forward with a comprehensive immigration reform bill, President Obama has had his hands full with the continued fallout from the attacks last year in Benghazi and, more recently, with controversies surrounding Internal Revenue Service practices and the Department of Justice's investigation into the Associated Press.
But asked by BuzzFeed's Ben Smith whether the incidents could hurt the immigration bill's momentum, observers on both sides of the aisle said no.
Castro, a Democrat from Texas, said, "You could actually argue that either way," but added that with the media's attention on the IRS and DOJ stories, members of Congress could "go behind the scenes and work."
"Sometimes with the spotlight constantly on it as an issue can make it tougher," said Castro.
"I think these distracting scandals actually help its chances of passing," said Mickey Kaus, a left-leaning pundit and contributor to the site, The Daily Caller. "Every time [the bill] is at center stage, its chances of passing go down."
Mario Lopez, the president of the Hispanic Leadership Fund, agreed, arguing that it could only be a positive development that the White House is engaged in what he called "their own long list of failures."
"The only time I worry about immigration not pasing is when the White House gets more involved," said Lopez. "When they perk up, it only hurts the bill."
Clarissa Martinez, of the nonpartisan Council of La Raza, said only that the scandals would not have an effect on the bill. "I think [the bill] is gonna pass. The moral, the economic, and the political imperatives are aligned."