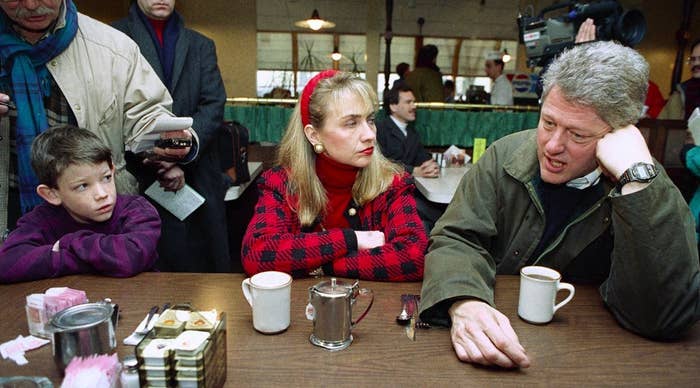 When Ann Henry opened her hardback copy of Living History — a memoir by her old friend, Hillary Rodham Clinton — a faded magazine clipping fell out. The page, ripped from a 2003 edition of Newsweek, bears the headline "Say Goodbye to the Virago." Henry has kept it tucked inside the book's front flap for 11 years.
The column, written by Anna Quindlen, casts Clinton as the "damned if she does and damned if she doesn't" leading woman, pilloried by the press, "expected to be tough as nails and warm as toast." For Henry, the column still rings true.
"I actually looked up the definition of 'virago,'" she said during an interview at her home in Fayetteville, Ark. "Well, there are two: One is a strong woman who has a vision, but the other is a harridan screaming bitch."
Henry first met Clinton 40 years ago at a University of Arkansas reception for new law faculty at a Holiday Inn. Since that August day, Henry has watched with exasperation and resignation as Clinton, at the hands of reporters or right-wing critics, has been treated like the virago character again and again, she said.
In the Clintons' home state, Henry isn't alone. Friends bemoan what they describe as an unending fixation on the first family. No dispute, they say, is ever put to rest; no portrait, they say, is ever full enough, intimate enough, to yield a satisfactory picture of the "real Hillary Clinton" the media has hunted, in books and magazines, articles and television interviews, for years.
During Clinton's first presidential bid, Henry was one of dozens asked to record videos testifying to the candidate's "softer side." The project — "The Hillary I Know" — captured a long-standing discord between the friends who have known Clinton for decades, and the people still trying to know her decades later.
The search for the next scandal, or for a more revealing glimpse of the woman who could, again, be the country's next president, is what Max Brantley calls "the eternal question." The Arkansas Times editor has covered the Clintons since 1974. "It's a continuation of the same," he said. "Everything old is new again."
"It never ends," Henry said.
The latest descent back into the 1990s came in February, when a cache of documents housed at the University of Arkansas sparked a familiar chain reaction of coverage and controversy. The Washington Free Beacon, a conservative site, published selections from the archives in what the Drudge Report teased as an explosive story on the Hillary "Sex Files."
The papers belonged to Diane Blair, a political science professor at the university who passed away in 2000. Blair was Clinton's best friend in Arkansas. The 109 boxes of documents, donated posthumously to the university by Blair's husband, Jim, include her record of phone calls and conversations with Clinton, then first lady. The writings offered an account of Clinton's disdain for Washington, her distrust of the media, and her reaction to the Monica Lewinsky scandal — but they offered little in the way of revelations.
Brantley, the Arkansas Times editor, said the notes provided were a rare "window" into Clinton's thoughts on the affair. "But did they finally catch the road-runner? Well, no." Still, after the Free Beacon report, the Blair papers became front-page news, and reporters from national outlets flew to Arkansas to leaf through the boxes themselves in the harshly lit Mullins Library basement.
The media stir rattled the network of Arkansan Clinton friends, who knew Blair too. They talk about the proceedings of the 1990s — about Paula Jones and Gennifer Flowers, Whitewater and Travelgate — with a special kind of acuteness reserved for those who experienced the blow-ups at close range.
When David Brock, the former conservative reporter who once sought to upend the Clinton administration, returned to Little Rock last month to deliver a speech extolling Hillary, few were quick to forget the scandals he first helped ignite. "They're very much seared onto my brain," Bruce Lindsey, Bill Clinton's White House lawyer, told the Washington Post.
Friends at home are now wary of the next onslaught, delivered by conservatives like Sen. Rand Paul, who earlier this year invoked Bill Clinton's affair with Lewinsky, characterizing the relationship as "predatory behavior."
"I knew Diane Blair. She was a brilliant kind thoughtful woman who obviously seemed to be palpably supportive of the Clintons," said Don Ernst, who worked for Bill Clinton in the governor's office. "This is a matter of people looking for anything to conjure up the old arguments. It's another grasp at the same stuff."
More than a month after the initial uproar, the Blair papers were still a topic of speculation and dismay in Arkansas. Had Diane intended to make public the 40 or so pages of detailed notes about Clinton? Had Jim, her widower, read the papers before giving them to the university? Bill Clinton himself placed a call to Jim Blair in February to find out.
Vic Nixon, the Methodist minister who married the Clintons in 1975, suggested that Clinton never suspected Blair's writings would be made available. "We can reserve judgment about whether or not that was appropriate," Nixon said, "but I would certainly think that Hillary would have been speaking to her as an intimate friend, without ever thinking that one day this would be available."
Reached by email, Jim Blair, 78, said he was "nonplussed" by the attention precipitated by his late wife's documents. "The papers had been in the public domain since at least 2010 and I didn't see anything in them that hadn't been written about countless times," said Blair, a retired attorney, since remarried.
Blair also said he made "no attempt" to read the 109 file boxes of papers before donating them. "When I gave the papers to the university I was totally grief stricken and trying to fulfill one of Diane's dying wishes," he said. (He and Henry both suspect Diane kept such careful notes for a book project of some kind.)
After the Free Beacon printed excerpts from the documents online, Blair said he received the call from the former president, whom he considers a "close personal friend" and sees occasionally for dinner in New York.
"When the initial story broke on the Free Beacon or whatever it is, he called me asking if there was something new that the Clintons or their staff didn't know about," Blair said. "I told him no."
On Feb. 15, just a few days after Blair's name hit the headlines, the former president made a trip to Fayetteville for the anniversary celebration of the University of Arkansas' national basketball championship.
There, friends joined Clinton for a private reception. Blair, who attended, said he had a brief conversation with Clinton about the documents. Henry also approached Clinton and reassured him about the papers. "'There's not anything there that hasn't come out a million times,'" she recalled telling him.
Henry was a close friend of Blair's too. The two shared weekly lunches. Their kids were in each other's weddings. Henry recalls summer afternoons at the pool, sitting beside Diane and Hillary. She has not read her friend's papers, but said she sees what's coming. "It's a whole thing ginning up. That's what really bothers me."
For the Clintons and their friends, it's the same refrain as before.
We've been answering questions for years, Hillary Clinton once told Barbara Walters. "And eventually they're answered and they go away, and more questions come up, and we'll just keep doing our best to answer them," she said. "We'll just keep plowing through and trying to get to the end of this."
That was nearly 20 years ago, amid the investigation over the real estate deal known as Whitewater.
Beyond the scandals of the 1990s — Whitewater would become one of many — there remains the constant, unresolvable public pursuit to capture who exactly Hillary Clinton is. It's an obsession Clinton herself characterized just Tuesday as the "relentless scrutiny that now stalks" people in public life.
"It gives you a sense of being kind of dehumanized," she said. "You really can't ever feel like you're just having a normal day. And you have to get over that."