Vermont Governor Looks Back On A Marriage Equality "Revolution" At Home
For Gov. Peter Shumlin, chair of the Democratic Governors Association, the fight for same-sex marriage all started in the Green Mountain State. A movement "hatched in Vermont."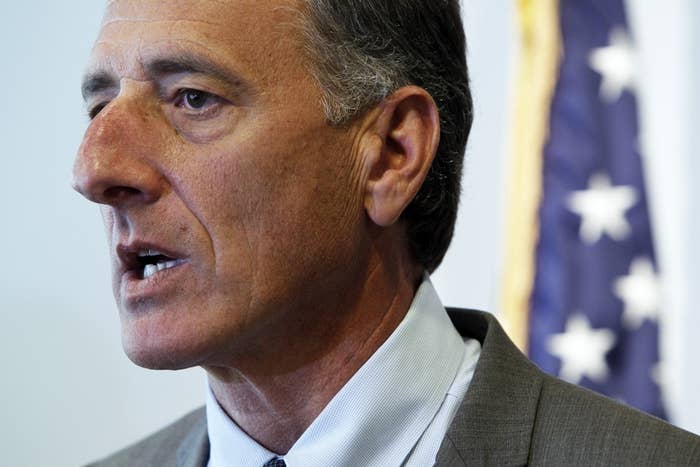 Peter Shumlin, the governor of Vermont and new chair of the Democratic Governors Association, has been in the marriage equality fight from well near the beginning.
In 2000, as president pro tempore of the state Senate, Shumlin helped then-Governor Howard Dean make Vermont pass the first same-sex civil union law in the country with a slim Democratic majority in the legislature — a response to a 1999 Vermont Supreme Court ruling requiring the legislature to pass equal benefits for same-sex couples or face the imposition of the court.
The backlash, though, was no small order: Opponents launched a vigorous "Take Back Vermont" campaign, and legislators who voted for the bill lost their seats. Shumlin remembers months of angry phone calls — there was even an anthrax scare one day in his office — as he just barely kept the law from repeal with a two-seat majority in the Senate during the next legislative session. A decade later, just before Shumlin became a candidate for governor, he sponsored the bill that would make his state the first to legalize full marriage equality through legislative action.
"One might argue that marriage equality was hatched in Vermont," said Shumlin, in an interview Monday at BuzzFeed's New York office.
The two-term governor identified the shift he has witnessed over the last 13 years in Vermont public opinion — and in his own — as reason enough that same-sex marriage will sooner than not "be a non-issue" at the national level, as LGBT proponents wait this spring for the country's most pivotal ruling on marriage equality yet: United States Supreme Court decisions on the Bill Clinton-era Defense of Marriage Act and California's Proposition 8 same-sex marriage ban.
"I watched civil unions just ravage our state," said Shumlin. "Vermonters are civil and decent as any people you'll find anywhere on the face of the Earth, but when we passed civil unions, it was a revolution, and it really divided the state, generally, among two groups of people — those above and below 50 years old, and men and women."
Older white men, he added, "were particularly opposed to civil unions and particularly threatened by it."
When he describes what changed in Vermont — from the fierce opposition of the 2000 fight for civil unions to the 2009 marriage equality bill, which he says he wasn't "even questioned" on during his gubernatorial campaign — Shumlin points to the growing number of constituents who have an out gay relative.
The then-state Senator remembered getting a call in the heat of the civil union debate from a woman named Janie Baker, whose family goes back four generations — "a wonderful, flag-flying Republican family" — in Brattleboro, Vermont, the town where Shumlin was born. "They were moderate Republicans — not like the Republicans you see around Congress," Shumlin said. "But these folks are fiscally conservative and socially accepting, but you know, Republicans."
"And Janie Baker called me during the civil union debate and said, 'Hey, Peter, I just want you know that we're behind you all the way ... You pass that bill and sign it, and I'm gonna stand with you from every election from now on.'" Shumlin, shocked, hung up the phone only to pick it back up a moment later and call her for an explanation. Her son, she told him, was gay. "I just went, 'Bingo!' You know, there it is — that is exactly why this issue is going to evolve very quickly.
Shumlin, 57, said he had his own "bingo" moment on marriage equality after being raised in a Vermont that just didn't talk about being gay. "When I was growing up in Vermont, many of us were just uncomfortable with the whole issue of gay and lesbian relationships," the governor said. "That's just the best way to put it — that's the most honest way to put it. Even the most open-minded people were uncomfortable with it."
"If I went to school with gay and lesbian kids, no one talked about it, and no one admitted it. It was not possible for me in school to have the same experience that my kids had in that same Vermont school 30 years later," Shumlin said. "If you had told me that you could have two moms or two dads when I was growing up in Vermont, I would have said it was impossible."
Shumlin, who is divorced from his wife, joked that he initially couldn't understand why gay couples would even want to "hop onto that bridge," he said. "Heterosexuals are only getting it right half of the time, or less — myself included — so if you have half of the people getting across a bridge and the other half are falling into the river, you wouldn't lure more people onto it."
"That was sort of how I looked at it, and it wasn't until I heard the families — the moms and the moms, and the dads and the dads — talking about the real struggles they faced, and I thought, Of course, of course," Shumlin said. "A real lightbulb went off in my head, and I suspect that's going to happen to the rest of America over time."
Shumlin, whose new role heading the DGA has put him more frequently in the national spotlight, condemned this year's two Republican gubernatorial candidates — Virginia's attorney general, Ken Cuccinelli, and incumbent Gov. Chris Christie — for both opposing marriage equality.
Since helping pass Vermont's same-sex marriage law three years ago, Shumlin has appealed the Senate Judiciary Committee to repeal the Defense of Marriage Act and became the first sitting governor to officiate a same-sex wedding — he paid $100 out-of-pocket to get a temporary marriage license — to preside over a lesbian couple he met on the campaign trail in 2010.
As the movement continues on a national level, Shumlin argued, more and more Americans will "state by state realize that they've got families that play with their kids just like you play with your kids. It's going to be a non-issue."

This article has been updated to include more context about the Vermont Supreme Court's 1999 ruling requiring equal benefits for same-sex couples.