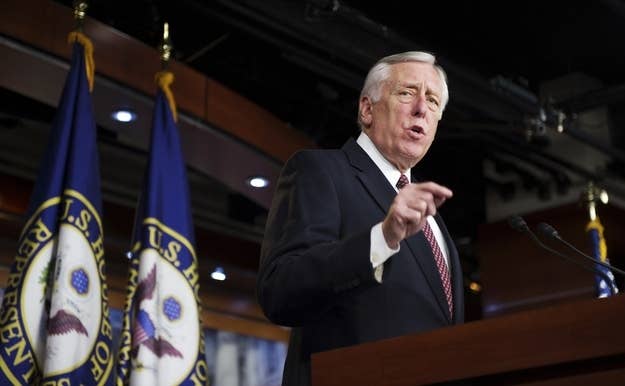 House Minority Whip Steny Hoyer predicted Tuesday that Hillary Clinton would "clear the field" of potential Democratic rivals for the 2016 presidential nomination were she to throw her hat in the ring, deterring runs for the White House from Maryland Governor Martin O'Malley, New York Governor Andrew Cuomo, and even Vice President Joe Biden.
"I don't know that anybody would run against Hillary," Hoyer said in an interview with BuzzFeed. "If she runs, she clears the field. If she doesn't run, I think Cuomo is a leading candidate and O'Malley is a leading candidate."
Asked if he believed Biden was considering a run — the vice president joked last year that 2012 wouldn't be the last time he voted for himself — Hoyer said, "I think Joe is really thinking hard about running. If Hillary doesn't run, Joe will run. I don't know that Joe runs against Hillary, though."
In a Democratic field without the former secretary of state, said Hoyer, O'Malley would emerge as a potential front-runner whose success with progressive ballot measures — voters in the state passed both marriage equality and the Maryland DREAM Act last year — would make him an attractive candidate to the party's base.
"O'Malley is definitely focused on it. He's got a very good record as governor with very sound accomplishments from the perspective certainly of the base of the Democratic party," said Hoyer. "The governor has had real success in terms of policy."
"I think the reason we're all talking about O'Malley is that O'Malley has created a national buzz about O'Malley," said Hoyer. "He's got a lot of experience, he's a singer, he's an exciting guy, he's got charisma," the veteran Maryland Democrat said of O'Malley, who is lead singer and plays guitar for his Celtic rock band, O'Malley's March.
"And he's mentioned by a lot of people. He must be doing something right," he added.
When asked if he'd support his governor in the 2016 race — Hoyer has served Maryland's 5th district in the House for more than 30 years — the Congressman said only, "Sure, he's my governor. But I'm assuming he doesn't run if Hillary runs."
"Once we get through the 2014 election, that's when it starts moving," said Hoyer. "I think she's gonna make a decision at that time about what she'll do. But I don't think it's a guarantee that she's going to run."