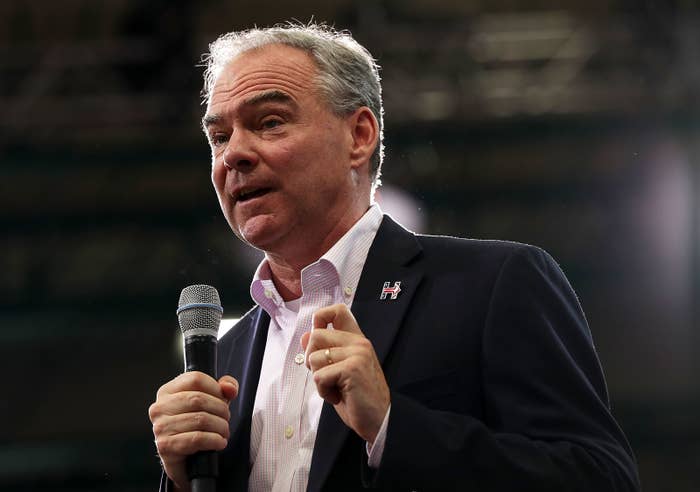 ERIE, Pa. — Hillary Clinton's running mate criticized Donald Trump's health disclosures on Tuesday afternoon, arguing that the doctor's note his campaign released last year is short of "credible" and the latest instance of his effort to "con" voters.
"The Trump campaign just feels like Trump's next big con," Sen. Tim Kaine said, linking what he described as an insufficient doctor's note, reportedly written in five minutes by a personal physician, Dr. Harold Bornstein, to Trump's refusal to release his tax returns or shed light more light on his financial dealings abroad.
The Democratic vice presidential nominee launched the new broadside on Trump at a small campaign rally here in Erie, his first event on a four-day swing through Pennsylvania and Florida. With a folksy and warm way with voters, Kaine is an unlikely attack dog on the trail, but his speech here Tuesday amounted to the Clinton campaign's sharpest critique yet of Trump's personal health as well as his business dealings abroad, including 120 international projects and his former campaign manager Paul Manafort's reported ties to the Russian government.
"He's hiding his financial bill of health. He's trying to cover up his web of foreign engagements and conflicts and interests. And he won't even release credible information about his health," Kaine told the crowd of 300 gathered here on a pier overlooking Lake Erie.
"Donald Trump, it's time for you to come clean. Release your tax returns. Explain your business interests. Start telling the truth!"
Kaine also addressed accusations, fueled at various points this year by Trump campaign surrogates and some right-wing websites, that Clinton, 68, is suffering from a lack of stamina or an unknown disease. These claims, Kaine said Tuesday, are simply "conspiracy theories from the fringes of the internet."
"Can I give you an up close and personal on this? I have been on the trail with Hillary for five weeks and I can barely keep up with her," he said to scattered laughs across the pier, calling Clinton "one tough and healthy person."
"She has been running on full speed for 17 months."
At length, Kaine, cited the report about Trump's physician by NBC News that Dr. Harold Bornstein who, reclining in his office chair with a satisfied smile, told the network that he wrote his four-paragraph letter in just five minutes as Trump's limo idled outside his Manhattan office.
Bornstein's note does not address Trump's family medical history or cholesterol level — details typically released by presidential candidates — but the letter does state "unequivocally" that Trump, a 70-year-old, would "be the healthiest individual ever elected to the presidency."
"I'd like to see him go one-on-one with President Obama, but that's for another day," Kaine said. "This is either too funny or too true to be funny, I can't decide," he added of the NBC News interview. "[Bornstein] says the words he used, he used them because 'he thought they would make his patient happy.' I mean, is that the standard for what the American voter is entitled to?"
Trump has disclosed nothing further about his health, and his campaign aides have said he has no plans to do so unless Clinton discloses more. Clinton released a more detailed doctor's note last year, which provided information about her 2012 concussion, but has not disclosed details about her health since.
The level of disclosure from both candidates breaks with recent precedent. In 2008, for instance, Republican nominee John McCain, at age 72, allowed reporters to view 1,100 pages of his medical records. Trump and Clinton are 70 and 68, respectively.
Kaine argued on Tuesday that Clinton had already released "proper" and "detailed" medical information and has so far "met every test of disclosure we expect of a presidential candidate, and in many cases has gone even further."
While Clinton has faced questions about disclosure — regarding, for instance, paid speeches she delivered — she has released 39 years' worth of tax returns, and since this spring has questioned Trump's decision to keep his own private as proof that he is hiding something nefarious or unflattering from voters.
Or as Kaine put it to the crowd in Erie: "It's like he thinks we're gullible. It's like he thinks we're suckers. It's like he thinks we're larks and that he can con us."
"So, Erie, I'm here to say. Don't get tricked by Trump."