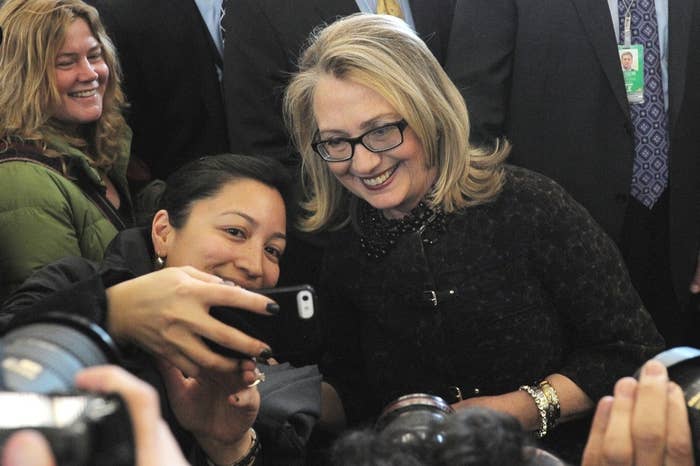 That Hillary Clinton hasn't announced or even hinted at her plans to run for the presidency in 2016 doesn't unsettle the minds of the three individuals who have, to varying degrees of dedication, already launched political action committees this year in support of her candidacy.
With the first presidential primary contest more than 1,000 days away — and with Clinton's possible participation in it still unclear as it's ever been — founders readily admit that putting together a super PAC in earnest so early in the game demands a level of blind faith and borderline delusion.
Allida Black, chairman of Ready for Hillary, the most legitimate of the three groups, has already thrown her own money and hundreds of hours into the PAC since registering it with the Federal Election Committee in January. If Clinton doesn't end up running in three years, Black said, "it'll break my heart."
"I'll pull myself up and I'll support whatever project she's in next, but I just want to say that I don't think that's gonna happen," said Black, adding that, although she knows Clinton, she hasn't spoken with her or members of her inner circle about the PAC or the next presidential race. "I just think that Hillary's gonna run. I wouldn't spend this money and spend all of these sleepless nights if I didn't think she was right for the job and think she was gonna do it."
While Clinton's political future remains unknown, no other potential presidential candidate — many of whom have been more forthright about their presidential ambitions — has a super PAC set up in support of their candidacy, according to FEC searches for a wide sampling of the leading contenders from both parties.
Black, 61, is a teaching consultant who ran George Washington University's Eleanor Roosevelt Papers Project for 12 years. She says she spends at least 30 hours a week working from her Northern Virginia home on the PAC while holding down her full-time job.
It's a routine she's used to from the 2008 election, when she campaigned tirelessly, and on her own dime, in support of the then-senator; in 18 months, Black traveled to 14 states, hosted 500 house parties, raised $15,000, knocked on 5,000 doors — and when Clinton ultimately lost to Barack Obama, she circulated a petition at the Democratic National Convention to put her name in nomination.
She spent just four weekends at home during the campaign, and often slept in her car as she crisscrossed the primary states. Asked how she paid for it all, Black said, "I got a new credit card, and it took a while to pay it off."
The Ready for Hillary PAC already has four part-time volunteers working with Black, including the her cofounder, former Clinton aide Adam Parkhomenko, and the group has two full-time staffers on board — Seth Bringman, a former communications director for the Ohio Democratic Party, and Nickie Titus, who was director of digital media on Sen. Tim Kaine's campaign last year.
The PAC doesn't purport to rival the big fish of the political fundraising world — she calls her group a "grassroots effort," and a "lean, mean operating machine" — but in its nascent stages, aspects of the operation take on a shade more amateur than grassroots.
Black says she is not yet paying her two staff employees, and won't be able to "until the money comes in." And with little to do so early in the process for a Clinton campaign that might not ever launch, the group appears to focus largely on building a presence on Facebook and Twitter, where they often post pictures and themed Photoshopped graphics meant to rally support — Clinton's name over a four-leaf clover on St. Patrick's Day, or more recently, a cartoon Easter bunny carrying a painted "HRC 2016" egg and a note that reads, "Ready!"
Black, though, says the group's popularity online is measure enough of its early success — Ready for Hillary has an email list of 100,000 and about 60,000 followers on Facebook and Twitter, and 30,000 on Instagram. (A graphic posted to the Ready for Hillary Facebook page proudly points out that Restore Our Future, the foremost pro-Romney super PAC, had just 2,600 followers by the end of last year's election.)
And with Black's experience in the political arena, the Ready for Hillary group is already better established than any other pro-Clinton effort.
Nigel Wallace, a resident of Davenport, Iowa, was the first to file paperwork with the FEC to create a group in support of Clinton's candidacy. His PAC, named HillaryClintonSuperPac, is inactive save for a website whose homepage promises, "Future home of something quite cool." Wallace runs an antique store with his mother, who is listed as PAC's bookkeeper, and said his reason for launching the group was to reserve the name "HillaryClintonSuperPac," which he thought could have been snapped up soon by some other supporter had he and his mother not taken it themselves.
"We knew it was a great idea, and from a business stand point," said Wallace, "HillaryClintonSuperPAC would be, like, the name."
Wallace, who has volunteered locally for Democratic campaigns in years past, said that even if Clinton doesn't run, he'll use the group to advocate for issues that matter most to the former secretary of state. "Obviously we would want to support her, but it also stands for her ideology. It'll be more of a whole brand," Wallace said, when reached by phone.
"We are an anti-negativity campaign, as we feel slander is spite and only success in our de-evolution. :)," Wallace added later in a text message.
A group called HillaryFTW — or Hillary for the Win — is the most recent PAC filed with the FEC in support of the possible candidate. Hector Pacheco, the group's founder, is a 26-year-old entertainment litigator living in Los Angeles. Asked why he decided to launch his group, Pacheco said, "I'm a registered Democrat, so I'm definitely on 'team blue,' and I was a Barack Obama supporter in 2008 when I was still in college. Now that I'm a professional, I'm still looking for ways to stay politically involved."
Pacheco, who says he has about four volunteers working with him on the project, has plans to purchase ad space for the group, funded by contributions, on billboards in Los Angeles and in publications like LA Weekly and Hollywood Reporter. "Since she hasn't even announced her candidacy yet, but we want to try to let her know that there are people her on the West Coast that want to see her run," Pacheco said.
There is even a group now, registered late last month with the FEC, that wants to make clear there are people who don't want Clinton running. Republican lobbyist Laurence Socci founded the Defeat Hillary Super PAC along with as many as six other political operatives he declined to identify but did say three were "at a national level" and "the kind of people who have been down this path before and know what they're doing."
Socci, who said the group wouldn't be making any public statements for at least a few weeks, seemed convinced that Clinton would indeed be launching a presidential campaign between now and 2016. "Anybody who's been around politics and knows the Clintons knows that she's going to run, so we managed to start something early," he told BuzzFeed. "Besides, there are already several super PACs supporting her."
For now, though, Black's Ready for Hillary PAC remains the only serious effort underway. Their website will launch in the coming weeks, and the group has continued to grow in following and in staff; most recently, Bringman said, they brought on Matt Felan, Clinton's deputy finance director in 2008, to run the operation's fundraising arm.
But all it takes, of course, to start a PAC like Black's or Wallace's or Pacheco's is a mailing address, a bank account, and a single six-page form signed and mailed to the FEC in Washington, D.C. And with the speculation surrounding Clinton's candidacy at a fever pitch following her recent statement in support of marriage equality, more committees are bound to roll in before the former secretary of state makes up her mind one way or the other about 2016.
As Pacheco said, "I saw that pretty much anybody can do it. So I thought, 'Why not me? I'll give it a shot.'"