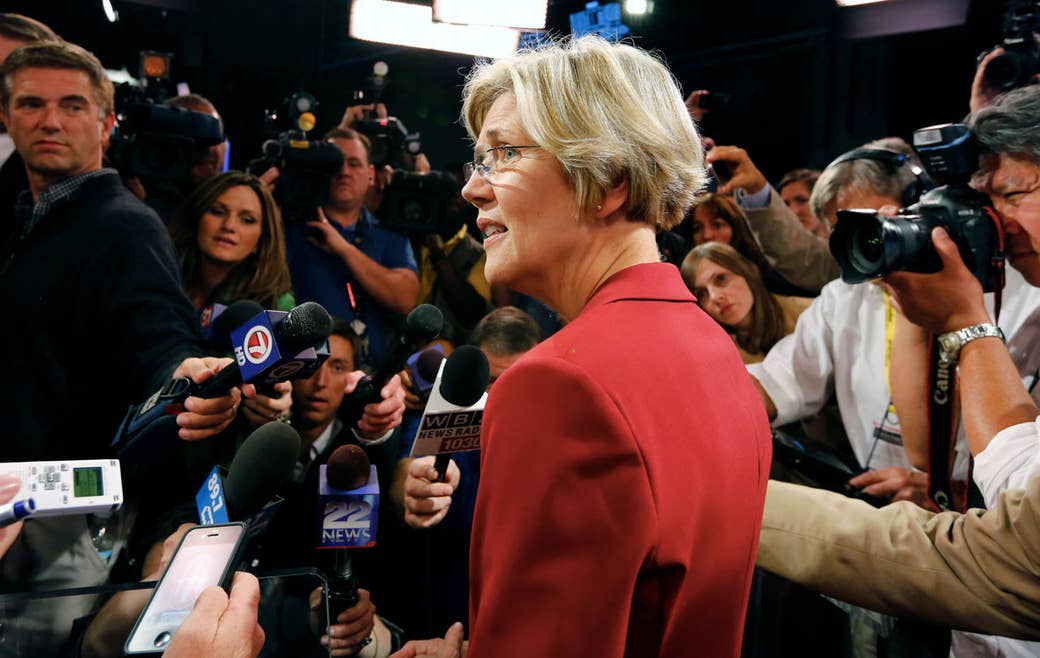 She has said it in newspapers and magazines. She has said it on the radio and on national television. She has said it at public events and book signings; in prepared statements to reporters and in quick exchanges with the press. She has said it four times in a single interview — twice. Since last fall, Elizabeth Warren has said it a total of 49 times.
"I am not running for president."
She has also committed, on two occasions now, to complete her first term in the U.S. Senate. The "pledge" would keep her on Capitol Hill until 2019. Still, the question almost always gets asked. And it doesn't matter how, where, or by whom: Warren sticks to her answer with studied discipline, only sometimes adding a special flourish.
"I am not running for president. Period."
"No means no."
"No, no, no, no."
"No, no, no, no, no."
But earlier this month, when organizers from MoveOn.org, the largest progressive group in the country, contacted Warren's office to let her staff know about their plan, the reply they received was neutral and dispassionate, taking some activists by surprise.
The organization was about to launch a campaign to convince Warren to run for president. MoveOn officials expected support from the majority of their members — there are 8 million spread across every state, county, and zip code. And they intended to spend at least $1 million on the effort, opening offices and hiring staff in New Hampshire and Iowa, the states that begin the presidential nominating process every four years.
"When we gave them a heads up, they said 'thanks' and 'we've appreciated the work we've done together in the Senate,'" said Ben Wikler, MoveOn's Washington director.
The response, the group later maintained, referred only to the advance notice — not the draft effort itself. MoveOn officials said they had, in fact, asked Warren's team "not to respond on the substance," so as to avoid "coordination," based on legal advice the group had received.
After MoveOn took the project public, Warren reverted to her go-to line. A spokesperson reiterated Warren's pledge to serve a full Senate term. And her staff circulated audio from an event in Boston, where Warren told reporters again that, no, she isn't running.
Still, some organizers working on the campaign to draft Warren — who has become an avatar of the party's progressive flank — found it significant she didn't go further.
"The response was just 'OK,' not a statement up or down," said one progressive operative involved in the campaign. "If Warren or her team had been dead set against a draft from a big movement player like MoveOn, there was an easy way to make that clear."
"It would have stopped it dead," this person said. "MoveOn would not have done it."
Progressives have spent months parsing this distinction: weighing what Warren has said against what she has stopped just short of saying to close the door on 2016. Some supporters wonder what more Warren could possibly say to put an end to the speculation. But others see enough room to justify a draft campaign. They believe she hasn't ruled out a presidential run. They believe she can still be convinced.
It's a void that, fair or not, Warren has helped create. And now the big players are heading toward it with their own methods, motives, and expectations.
Two other groups, Democracy for America and Ready for Warren, have glommed on to MoveOn's draft. The campaign, barreling into the New Year with no certain end-date, has become a growing, shifting thing that inspires some progressives but troubles others.
In interviews this month, more than a dozen liberal strategists and activists said the movement will carry consequences good and bad for each party in this dance: Warren, the paragon, and a wider progressive community that, angling to push the party to the left and recoup influence, has consigned its brand and future to a single figure.
Most of the people at RootsCamp, an annual gathering of progressive campaign aides and organizers, had their own theory or hunch about why Warren might run.
For some, it's the fact that Warren won't use the future tense, only the present, when ruling out a 2016 bid. For others, it's the one time she didn't stick to her script, vaguely telling People magazine about the "amazing doors that could open." And for one activist, Sean McKeown, the first volunteer to sign up for the Ready for Warren group, it's page 212, chapter six, of her book, A Fighting Chance — the part where the Harvard professor and bankruptcy expert decides to become a candidate for the U.S. Senate.
The 34-year-old activist manned a table of "Run Liz Run" postcards last weekend at RootsCamp, the so-called "unconference" in D.C.'s immense convention center where MoveOn and the two other pro-Warren groups held their first event together.
McKeown has committed to memory the memoir's key page number and chapter.
"It's like she gave us a manual," he said. "It's how to convince her to run."
But put aside the book and the People magazine interview. Put aside the fact that, for all 49 times she has said she's not running, she hasn't issued a "Shermanesque statement" vowing she won't run in the future… Warren's actions are far less ambiguous.
Democrats close to Warren's operation, including ones familiar with her network of donors, said they see clear signals indicating one thing: It's not happening.
Since the midterm elections, the senator's financial gatekeeper, Paul Egerman, has told inquiring Democrats that she is still not considering a run, according to several people who have spoken with him late this year. (He has also reasoned that the sweeping Republican wins last month made 2016 even less appealing for Warren, one person said.)
Egerman served as Warren's campaign finance chair, helping her raise $42 million. He is a board member of the Democracy Alliance, a network of top liberal funders, and is seen by many of those donors as the go-to contact for matters pertaining to the senator. Late last fall, after a New Republic cover story floated the idea that Warren would challenge Hillary Clinton in a primary, Egerman assured donors that she wasn't running.
Warren's lawyer, Marc Elias, also warned in a letter earlier this summer that any draft efforts should "not confuse donors about a non-existent run for president."
Months later, progressive financiers are still picking up the same message.
"Nothing has changed that I can see," said Steve Phillips, a California-based donor and member of the Democracy Alliance. "No side meetings, no whispers, no movement."
Warren hasn't made moves on the staff side, either.
Her political operation, for all the interest, remains lean. She has one main strategist, Doug Rubin, based in Boston. There is no communications director in her Senate office, just a press secretary and deputy. And Mandy Grunwald, the ad-maker with decades-long ties to the Clintons, is still her media consultant. (Grunwald worked on Bill Clinton's 1992 race and Hillary Clinton's campaigns in 2000, 2006, and 2008.)
"Warren has not made gestures toward running for president that a seasoned political professional could see and embrace," said one senior Democratic strategist.
"It's become too cute by half."
Warren is building a widening platform in the Senate, instead. One week after the midterms, she secured a minor but custom-made leadership post following a series of private talks with Harry Reid, the top Senate Democrat. Warren's role has been described as unofficial "liaison" with the liberal base of the party.
Few Democrats interpreted the move as a step toward a national campaign.
"Everyone knows she is beloved by the left and has a big voice," said Mike Lux, a veteran liberal strategist who has worked with Warren. "She hasn't changed what she has said about the race one iota. So nothing has changed."
"Elizabeth Warren likes being a senator," said Ari Rabin-Havt, a longtime progressive operative who hosts a show on Sirius XM. "She just joined leadership in the Senate."
"You just don't do that if you're going to run for president."

The draft movement started more than a year ago, on a listserv.
In those early email exchanges, the project was just an ill-defined idea. In turn, that morphed into Ready for Warren, a super PAC some progressives have eyed as ineffective. MoveOn would come later, followed by Democracy for America, forming a three-legged collaboration that still hasn't figured out its own mechanics. But even last year, at the beginning, progressives worried about how a draft would work — and the impact of an evolving 2016-focused movement over which Warren would have no control.
At the time, the "Warren for President" talk was shifting into a higher gear. One group, the Progressive Change Campaign Committee, branded the senator their "North Star" and unveiled the slogan, "I'm from the Elizabeth Warren Wing." The appeal was and remains clear, even if Warren still lacks a major legislative victory. No other figure speaks as effectively, or frequently, about the slate of economic causes she has made her signature: easing student loan debt, expanding Social Security, reinstating stricter regulations on banks. Warren assumed the progressive mantle easily and early.
She had been in office just nine months when Billy Wimsatt, a liberal organizer, started a Facebook page called Ready for Warren.
Wimsatt sent the link to "Game Changers Salon," a private mailing list where he moderated messages between the estimated 1,200 progressive subscribers with access: activists, pundits, operatives, fundraisers, donors, and a handful of journalists.
The group was "for fun," Wimsatt wrote. "Holler if you want to play with it."
About two weeks later, Wimsatt sent another email to the thread: A journalist had contacted him about Ready for Warren. Wimsatt hadn't even publicized the Facebook page. (It only had 12 likes.) "I'm debating what to do," Wimsatt wrote. He proposed he promote the group and find a team to helm it. "Unless I hear any majorly compelling objections, I think we're going to go forward with this and give it a try."
Immediately, replies filed in. Some liked the idea. But many worried about the effect on Warren. It might look like she is playing along, even if she isn't, one strategist said. It might politicize her efforts in the Senate, said another. It might be a burden for her staff, might overexpose her national brand, might hurt in some unexpected way.
Wimsett eventually handed the page over to three volunteers. They maintained Ready for Warren's quiet, prenatal internet existence until the summer, when the group went public with a website and campaign manager, Erica Sagrans, a digital strategist who worked on President Obama's reelection.
What launched, several movement progressives said, was a high-visibility, fledgling group that didn't initially loop in Warren's camp or other liberal stakeholders. "It was a surprise to everyone when stories started leaking about this," said one progressive strategist. (In an interview, Sagrans said she hadn't reached out to Warren's office, either.)
The week of the roll-out, Sagrans hadn't registered Ready for Warren with the Federal Election Commission, or decided how to structure the entity. But the group debuted later that week at Netroots Nation, the biggest progressive gathering of the year.
At the conference, volunteers passed out signs and plastic boater hats, each one decorated with an "Elizabeth Warren for President" sticker. (In the months that followed, more than one progressive operative joked with a shrug, "Well, they had hats!")
Ready for Warren has since faded into the mix, letting MoveOn take a central role, along with Democracy for America, which joined the draft movement last week. But at the RootsCamp conference, the trio of groups still appeared disjointed and scattered.
It's not clear how the three will work together.
"Talking to each other all the time is a good first step," said Wikler, the MoveOn official.
Inside the convention hall, MoveOn and Ready for Warren set up separate tables and peddled stickers bearing opposing slogans: "Run Warren Run" vs. "Run Liz Run." At the panel the two groups co-hosted, along with Democracy for America, officials from each organization pitched attendees to visit their own respective websites, where the groups are collecting their own respective lists of donors, volunteers, and email addresses.
There is no central hub online for the larger Warren draft movement.
Instead, organizers have encouraged supporters to start their own projects, create new social media pages, and host events independent of the existing campaign structure.
At the RootsCamp panel, Sagrans described the Warren effort as a "do-ocracy" made up of many entities. Join Ready for Warren, she said, but also "start your own Facebook page, record a video, do an event, do a meet-up… whatever you want to do."
Wikler chimed in. "We're all the protagonists in these stories," he said. "You're gonna see an explosion of Facebook groups, of different organizations, of endorsement votes, of announcements and press releases, of visibility actions, of photo petitions, of tumblrs."
The political director of Democracy for America, Eden James, said the three organizations should embrace the disorder. "[We're] building a foundation for the grassroots to empower themselves as much as we empower them," James said.
"So as soon as we lose control of this movement, we will have won."
Near the crêpe stand at RootsCamp, a fight broke out.
It didn't get physical — but two operatives exchanged harsh words about a short video, produced by MoveOn, to promote the launch of the draft effort this month.
The film, about four minutes in length, closes with a clip from David Muir's interview with Warren from the spring. When the video reaches its final frames, a title screen asks in all caps, "Are You Ready?" Then a voice-over. "This may be Elizabeth Warren's moment." Then Muir's face. "Are you gonna run for president?" he asks. Then there's Warren, staring blankly, silent, seeming to hesitate. Finally, she blinks. Then a "Run Warren Run" logo flashes across the screen. And that's it — the video is over.
The actual interview went like this —
DAVID MUIR: Are you gonna run for president?

ELIZABETH WARREN: I'm not running for president.

DAVID MUIR: There's nothing that could change your mind?

ELIZABETH WARREN: I'm not running for president.
— and that's why the one activist was so upset. The ad, he argued, his voice loud in the convention hallway, willfully misleads people about Warren's intentions.
There have been other disputes over the methods and messaging driving the movement. Some progressives bristle, for instance, when officials aligned with the campaign make public reference to Warren's verb tense, or talk about her unwillingness to issue a "Shermanesque" denial. "The parsing," said one, "is blurring on offensive."
The arguments evince a wider and deeper rift in the progressive wing about the consequences of a presidential draft movement, particularly for MoveOn.
Now, Warren is seen as an ideal presidential candidate and a potent megaphone in the race. But people inside the progressive community have expressed concern that a movement focused on a figure who is so singularly fixed on one issue — income inequality — could narrow the policy lens of MoveOn and its partners.
"It's surprising how organizations with such a breadth of concerns have focused this campaign so narrowly," said the senior Democratic strategist, citing other significant progressive priorities like abortion rights, immigration, and civil rights.
More than a decade ago, MoveOn's singular, clear, cutting voice made it the most influential liberal outfit in the country. The group, founded in 1998, rode a rising progressive sentiment against President George W. Bush. By the spring of 2003, MoveOn was enough of a force in Democratic circles that the group's officials decided they would hold their own presidential primary, online, and endorse the candidate who cleared 50%. (John Kerry actually purchased ads on Yahoo! urging people to participate.)
Since then, MoveOn's membership has grown by millions, but its power has dwindled.
In 2014, the group has something to gain from Warren's voice and platform. She is a viral commodity. When she confronts a banking executive in a Senate hearing, the YouTube clip of the exchange will draw hundreds of thousands, sometimes millions, of views.
This fall, on average, three times as many Facebook users talked about Clinton than Warren. But two weeks ago, during the three-day period around her heated speech against a provision pushed by Citigroup, Warren's interactions exceeded Clinton's twofold, according to data provided by a Facebook partnership with BuzzFeed News.
Given Warren's following, a movement to draft her into the race, regardless of the outcome, happens to carry obvious advantages: list-building and fundraising.
Wikler, the MoveOn official, dismissed the idea that those realities motivated the campaign. "Ridiculous," he said. Progressives who have worked with MoveOn agreed.
"They're not that cynical," said Rabin-Havt, the longtime progressive operative. "That's a benefit. But there's a legitimate belief on their part that they are doing this because they believe it's a good idea. They can build lists and raise money without this."

Elizabeth Warren knows how to use the media, so long as she can control it.
Even before her run for Senate, when she was still teaching bankruptcy law in Cambridge, Warren made a study of the press — the way a perfectly crafted line or a national television interview could affect lives across the country if executed just right.
She wondered in her memoir whether her 2003 taping on Dr. Phil McGraw's syndicated talk show, viewed by millions, "might have done more good" than an entire year as a professor. "Maybe that was a better way to make a difference," Warren writes.
But as she moved into the political arena, she grew cautious. In 2012, Warren gave an embarrassing interview about the Occupy Wall Street movement, and vowed thereafter to speak to reporters with discipline. "The old way of talking with the press — long conversations and lively discussions — was gone," she writes in her book.
"Now I needed to change: I needed to measure every sentence."
In the Senate, that's what Warren does. She avoids unforced errors, evading reporters in hallways on the Hill. But when it works to her benefit, Warren seizes the spotlight.
Citing Warren's media savvy, several progressives reasoned that she is unlikely to rule out a campaign completely — until it stops helping and starts hurting. (Warren has played along before: During her book tour this spring, inquiries about 2016 were included among pre-screened audience questions at several events.)
But Warren is now dealing with something she can't control: a swirling, swelling coalition of progressives who could either raise her profile and buoy her legislative fights — or co-opt her platform and sidetrack her efforts in Washington.
Wikler, the MoveOn official, said the group would continue to support her Senate work as before. Warren's spokesperson did not return a request for comment about whether the draft campaign would deter the senator from working with MoveOn.
Last weekend, after Warren delivered her Citigroup speech, MoveOn members made "thousands of calls to Congress" ahead of the House vote, according to Wikler.
Meanwhile, that same day in Washington, RootsCamp began, marking the unofficial start of the "Run Warren Run" campaign. It was proof, Wikler said, that a draft movement would only "amplify," not divert from, the main attraction.
"The existence of a draft campaign strengthens her hand. Her candidacy would give her an even stronger hand. The presidency would give her the strongest-possible hand."
But while Warren waged one of her biggest, most public fights in the Senate, headlines kept rolling about the 2016 movement developing downtown — where, inside the convention center, next to a table full of bumper stickers, one MoveOn member turned to another and whispered, "She's acting so presidential this week!"
Update:
This story has been updated to reflect additional information clarifying a conversation between Warren's office and MoveOn officials before the launch of the draft campaign. In a statement released on Tuesday, a MoveOn spokesman stressed that the group is "not coordinating" with Warren's office.
Additionally, an earlier version of this article misstated a quote from Sagrans, the Ready for Warren manager. She referred to the draft movement as a "do-ocracy," not a "duocracy." (Dec. 23, 5:05 p.m.)