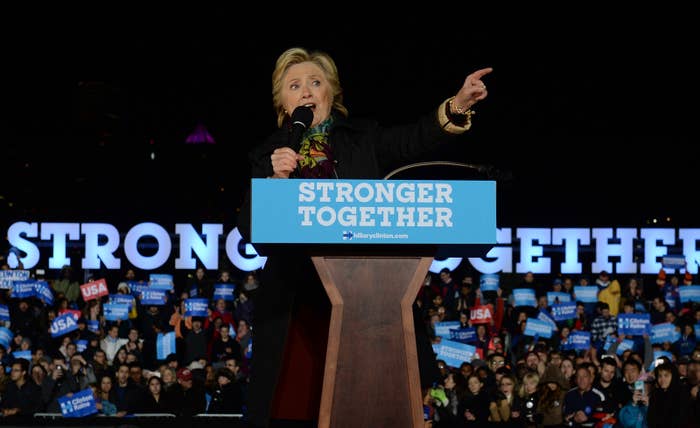 If Hillary Clinton pulls off a victory in Arizona next month, Democrats believe it will be due in part to one of the red state's key voting blocs: Native Americans.

The campaign has worked for months to win support in Navajo Nation, the Native American territory with the largest population of not just any in the state, but the country. On Friday, Clinton secured the endorsement of the territory's president, Russell Begaye, in what has been an aggressive effort to engage the 100,000 Navajo Nation members who live in Arizona and could sway the vote against Donald Trump.
"Tribal communities have swung a lot of elections in Arizona," said Charlie Galbraith, a member of Navajo Nation and a political adviser to both the Clinton campaign and the Democratic National Committee. "In an election that will be razor thin, getting out the vote in Navajo Nation could turn the state blue."
Approximately 25% of Arizona is native land, with a total of 22 tribes making up about 10% of the state's population, Navajo Nation being the largest and most politically active. Of the 160 organizers now in Arizona for the DNC and the campaign, a Clinton official said, 25 are dedicated to tribal communities.
Galbraith helped facilitate the Begaye endorsement. "We'd been working on this one for a long time," he said, adding that only rarely does Navajo Nation's president weigh in on an election. (The endorsement is from Begaye himself, not the nation as a whole, which would require a vote of the tribal council, according to Galbraith.)
Over the weekend, Navajo Nation Vice President Jonathan Nez also endorsed Clinton during a Democratic Party bus tour through the region in Arizona and New Mexico, part of a DNC-led series of get-out-the-vote trips through the country, making stops at field offices, churches, universities, and community centers.
Native American support could make the difference in a state like Arizona. The campaign has studied races like Rep. Ann Kirkpatrick's in 2012, where on reservations she won by a margin of 28,000 votes, a Clinton official said.

Members of the Clinton team said they had yet to observe much outreach on the part of the Trump campaign to Native American communities in Arizona or elsewhere.
"As far as I know, they've made no effort to engage Indian country," said Galbraith.
During the Democratic primary, while Bernie Sanders struggled with black and Latino voters, he campaigned fiercely for Native American voters. (He was a guest in the "Tribal Suite" at the Democratic National Convention this summer, visiting with tribal leaders from Arizona, New Mexico, and California.)
Clinton aides said they see Sanders as a key validator with members of Navajo Nation. His visit last week to Arizona was geared toward Native American voters in Flagstaff, an official said. (Sanders devoted a sizable share of his time to the Arizona primary this spring, though he lost by nearly 18 points.)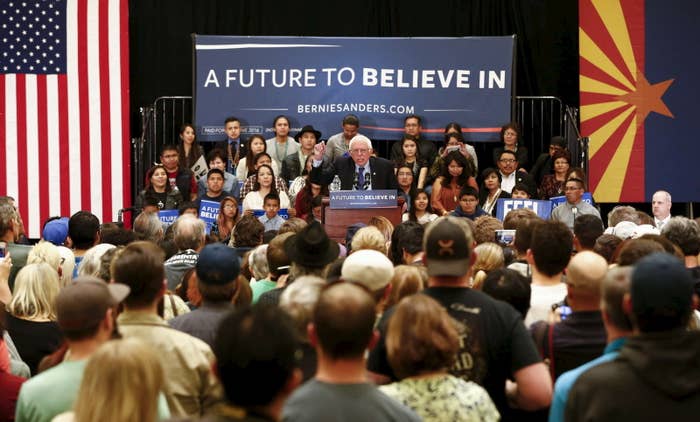 Michelle Obama, the campaign's "not-so-secret weapon" and "rockstar" surrogate, as spokesman Brian Fallon referred to her on Sunday, also made a recent showing in Arizona, drawing a crowd of about 7,000 to the convention center in Phoenix. Should Clinton win there, the state's Latino voters will likely be a key determinant, but Clinton staffers are looking for every available voter.
The campaign, meanwhile, has tailored get-out-the-vote events to the state's 22 tibes, working to highlight Clinton's plan for Indian country, which focuses on improving health care and stemming drug and alcohol addiction rates on reservations.
Trump has drawn unfavorable headlines this year for speaking in offensive terms about Native Americans, including for repeatedly calling Sen. Elizabeth Warren "Pocahontas" and for comments he made in the '90s about Indian casinos.
Clinton strategists still don't see Arizona, which has been considered a toss-up state, as a sure bet. Recent polling puts Clinton and Trump within one or two points of one another. But aides have also floated a possible visit by the candidate to the state before the end of the election, and are scrambling now to build a real operation there now that a victory might be within reach.
"The reality of the situation," Fallon said, "is we have so many different paths to victory that you will see us spread our time and resources over a series of states."
Correction: Begaye did not endorse Bernie Sanders or any candidate during the Democratic primary, a spokesman for Navajo Nation said. A previous version of this story misstated his position during the primary.