"Team Cincinnatus": Tom Steyer Draws Name From Roman Dictator
A rosy polling memo shows a path forward for the California hedge fund manager in the race to succeed Sen. Barbara Boxer.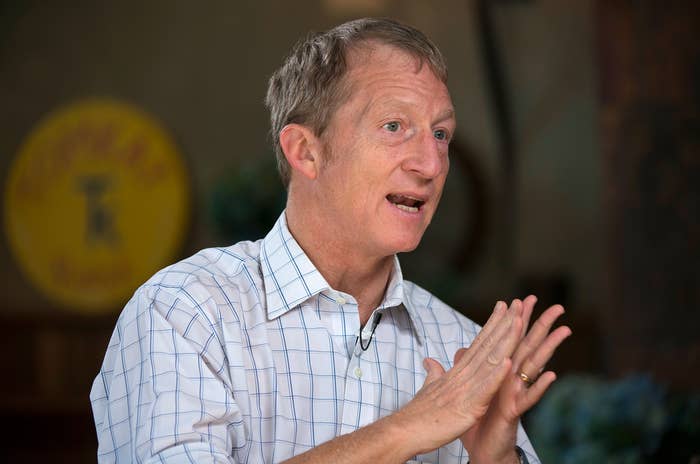 A polling memo from Tom Steyer, the California hedge fund manager considering a run for U.S. Senate, shows voters might like a climate candidate and "successful businessman" — and reveals an internal nickname: "Team Cincinnatus."
His political operation has borrowed the name from Lucius Quinctius Cincinnatus, the legendary Roman statesman known for his "civic virtue."
Cincinnatus, said to be the inspiration in part for Russell Crowe's character in Gladiator, came from the Roman aristocracy. But he was living in retirement as a farmer when he became dictator, called to lead the Roman infantry in the battle of Mons Algidus. Fifteen days later, Cincinnatus returned to his fields.
George Washington, who similarly left Mount Vernon to serve, is often compared to Cincinnatus. Steyer's team liked the nickname because Cincinnatus "went from farmer to general to statesman — known for civic virtue," an aide said.
The dictator was also known for his opposition to the plebeians.
"[Cincinnatus is] what the internal group has named the idea of Tom potentially running," the Steyer aide said. "From plowshares to swords."
The memo was first published on the Bay Area News Group's Political Blotter blog.
Steyer is among a handful of candidates considering bids to replace retiring Sen. Barbara Boxer. His aides have said he will make a decision by the end of the week.
Only one candidate, California Attorney General Kamala Harris, has officially declared. Harris made her run official just five days after Boxer announced she would retire, setting off the state's first open Senate race since 1992.
The memo — commissioned by Steyer's pollster, Paul Maslin — makes the case for the first-time candidate's path forward. But the survey of 600 registered Democrats and nonpartisan voters, conducted last month, relies on a set of nonspecific and strictly positive questions, revealing little about Steyer's chances.
Steyer, a climate change activist, spent about $100 million of his own money during the last election on Democrats who prioritized the environment. His super PAC, NextGen Climate, made a high-profile effort to boost the issue in 2014.
The Maslin poll shows voters believe the environment is "one of the top three priorities." The memo also says the majority of voters would like to support a "successful businessman" and a candidate who "has committed to giving away the majority of his personal wealth to help the next generation get a fair shake."
In the week since Boxer's announcement, Steyer's aides have argued in the press that their polling shows a "path" forward for the candidate. The questions in the Maslin survey, though, do not reference Steyer by name or ask voters specifically about self-funding candidates — who have historically have done poorly in California.
A Steyer aide said a horse race poll would be hard to commission at this point in the race since the field is not set and candidates aren't yet well known. "What we did do was test descriptions and then tested descriptions with specific names next to their profiles," said the aide. "Steyer immediately moved into a top-two position."
This memo, only two pages, is designed for release to a wider audience. Internal polling documents are typically much longer in length and more detailed.
Antonio Villaraigosa, the former Los Angeles mayor also considering a run, has yet to set up a political entity or commission polling. Disclosures show Harris spent $50,000 on polling one month out from her 2014 re-election as attorney general.