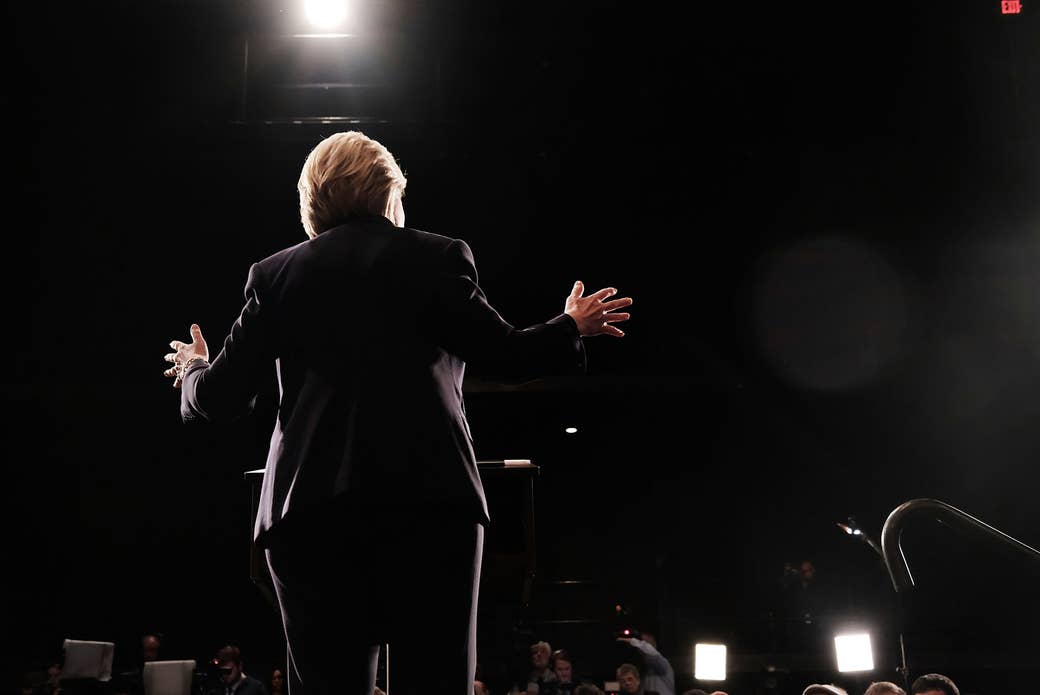 When it came up on the debate stage, Hillary Clinton didn't flinch.
"In 1996, you used the term 'superpredators' to describe some young kids," said that night's moderator Don Lemon, referring to a speech the candidate gave as first lady. "Some feel like it was a racial code. Was it? And were you wrong to use that term?"
Clinton repeated the answer she and her aides have given reporters — that in context, the "superpredators" quote referenced drug cartels specifically; that it was nonetheless a "poor choice of words," a term she didn't and wouldn't ever use again — and then, quickly, easily, the candidate moved on. "To go back to what I was saying…"
But on the campaign trail, when confronted with the same piece of history by young black activists seeking a deeper and more difficult conversation about Bill and Hillary Clinton's role in the 1994 crime bill, both the candidate and her husband have struggled to engage with their concerns about the remark and the legacy it encapsulates.
Even as Clinton runs with the broad support of people of color, a string of recent "superpredator" protests — culminating last week in an uncomfortable interaction between Bill Clinton and demonstrators in Philadelphia — reflects a remaining generational divide between the Clinton campaign and a network of young activists galvanized by police brutality against blacks. For many Black Lives Matter activists, the candidate's early record as a civil rights advocate, for instance, is seen as insufficient or irrelevant to questions about the structural injustices rooted in 1990s policy.
On three separate occasions this spring, activists linked to the Black Lives Matter movement have surprised the Clintons with questions about the "superpredator" remark. Each time, the conversation has become tense and abrupt — less give-and-take than two sides talking about the same topic, but from two irreconcilable angles.
After the encounter in Philadelphia, where Bill Clinton criticized the demonstrators and defended his wife's use of the term "superpredators," the former president declined to apologize for the comments, but acknowledged a gulf between himself and his questioners: "I realized finally I was talking past [a protester] the way she was talking past me," he said. "We gotta stop that in this country. We gotta listen to each other."
The recent string of incidents began the week before the South Carolina primary, at a private fundraiser, when a 23-year-old activist named Ashley Williams stepped to the front of the room and brandished a sign quoting another remark from Clinton's 1996 speech: "We have to bring them to heel." Video of the encounter, shared widely online, shows Clinton growing irritated by the interruption. "Do you want to hear the facts, or do you just want to talk?" Clinton asks tartly, before turning away from Williams as a man escorts them out of the room. "OK, back to the issues," Clinton says.
About a week later, at a campaign stop in Minneapolis, another young activist named Stacey Rosana approached Clinton in the back of a downtown coffee shop and brought up the "superpredator" quote. "Have you changed?" Rosana asked Clinton in a quiet voice.
Again, Clinton seemed to disagree with the premise of every question — and the activist with every response. "That comment was made one time in my life," Clinton said.
"How do we know you're going to be accountable to black communities now?" Rosana replied.
"Well, I think, you now, you can look at my record."
Rosana said she'd looked at the record — "and that's not what happened."
By then, as with the Williams protest, it was Clinton, voice rising, who sounded a note of agitation. "Well, you know what? You haven't looked at the whole thing."
For Williams, a North Carolina native and student in a master's program at the University of North Carolina, Charlotte, what stuck out about the South Carolina protest was Clinton's parting remark. "When I was being escorted out, she said, 'Now, back to the issues.' To me, this means mass incarceration is not one of [her] issues," they said in an interview. (Rosana, the Minneapolis activist, declined to be interviewed through a Black Lives Matter spokesperson.)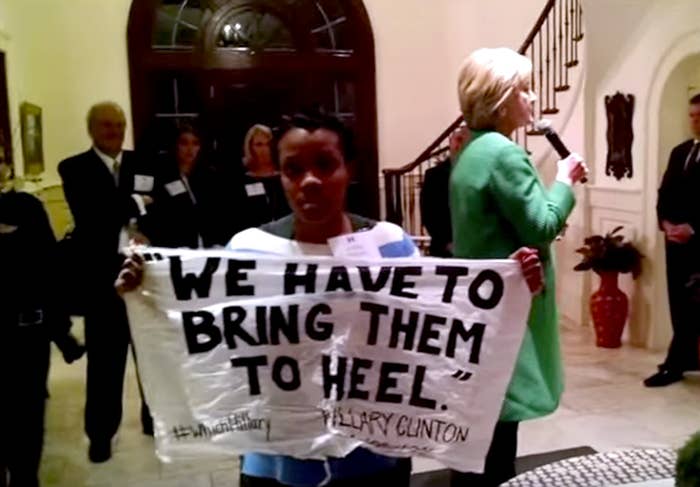 Williams describes themselves as part of a generation of Americans acutely affected by the Clinton era. The 1994 crime bill, Williams said, "is something that I've always been aware of."
"We haven't only heard bad things about her," Williams said of Clinton. "We've seen our dads and our sisters and our brothers be taken out of our communities and stay out. We know what it's like when our people come back into our community and they're socially dead — and sometimes literally die. We know and experience that."
Since well before her campaign began, Clinton has shown she's aware of Black Lives Matter and the changing perceptions about criminal justice. She voiced support for the movement, declaring "yes, black lives matter," as early as December 2014. She dedicated her first campaign speech to the problem of mass incarceration, acknowledging that parts of the 1994 crime bill her husband signed into law had disproportionately harmful effects on the black community. And of all the candidates in the race, Clinton has spoken the most often and bluntly about systemic racism and what she's described as the "special burden" of white people to better understand "the daily experience" of black people.
Still, Clinton aides acknowledge an ongoing struggle to win over young black voters, particularly those in the politically engaged activist class. (In an NBC News poll of Super Tuesday states, which favored the Southern states where Clinton has performed best, she carried young black voters 61% to 36%. By comparison, Clinton won black voters aged 30 to 59 by a 72-point margin on the same day, and black voters over 60 by a staggering 86-point margin.)
In the wake of the Williams video, Jennifer Palmieri, Clinton's communications director, stressed that better connecting to those young people is "constantly" on the candidate's mind: "She's not necessarily going to win them all over, but by starting this conversation, we want by the time we get to the general have comfort in [the dialogue]," Palmieri said. "She wants them to know her better. She understands they have a lot of doubts about her. They've heard a lot of bad things about her."
After the Williams action, aides took on the superpredator comment directly, focusing on the context of the remark — that Clinton was talking about drug cartels working with gangs. (The term was popularized in the 1990s by a political scientist who theorized that based on the spike in youth homicides at the time, there would be a new generation of "superpredators." The theory was criticized at the time, and the political scientist's predictions did not bear out.)
During her husband's administration, Clinton talked up the era's tough-on-crime policies often — but the "superpredator" remark in particular has found a wide audience. This spring, as Clinton and Bernie Sanders competed for black voters in the Southern states, with each side accusing the other of some form of racial pandering, Sanders supporters seized on the "superpredator" quote as well.
Before a Clinton rally in Alabama, held at a historically black college just outside Birmingham, a young white Sanders volunteer, 21-year-old Ben Gillilan from Coleman, Alabama, stood outside the event next to a large white sign reproducing the "superpredator" remarks in full. He placed two smaller signs nearby: one showing a quote from Martin Luther King Jr. about Barry Goldwater's "morally indefensible" stance on civil rights; the other reminding passersby that Clinton was a Goldwater girl in her youth. Gillilan, wearing a "Bernie" sticker on his red flannel, identified himself as an active volunteer, phone-banking regularly for the campaign, but stressed that he was an "independent protester."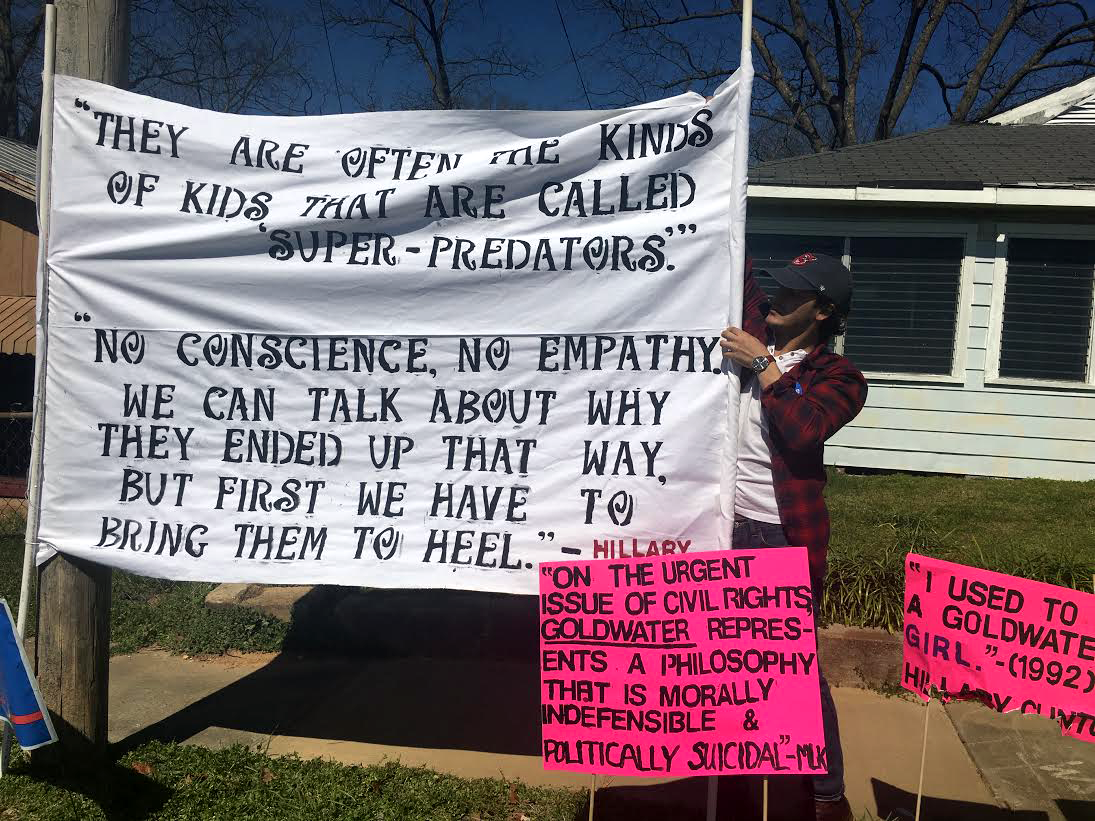 Gillilan spent that morning talking to voters about the video of Williams' protest. Asked if he'd spoken with any black voters, Gillilan said he'd been approached by five or so. "They didn't even know who Goldwater was," he said, gesturing toward the two small signs at his feet. "That's surprising to me. Like, you don't know that your candidate, the person you're supporting, campaigned for someone who was advocating for segregation?" (Goldwater voted against the 1964 Civil Rights Act and objected to federal intervention to desegregate, though he opposed segregation itself.)
At another rally, this one in Orangeburg, South Carolina, two white men interrupted Clinton's speech, shouting questions about the "superpredator" quote — only to be booed to leave by black audience members. One of the protesters was Mike Ferguson, a 32-year-old from Washington state who came to South Carolina to volunteer full-time for the Sanders campaign there, and ran into the crowd at Clinton's rally with a pillowcase, bearing a message in black Sharpie. One side read, "We came here to heal. Not to be 'brought to heel.'"
After he'd been escorted out by security, Ferguson explained to a questioning Secret Service agent that he, too, had been inspired by Williams. He showed the other side of the pillowcase to the agent. "This says, 'We are brothers and sisters together in this fight for justice.' So we are," Ferguson said. "This is activism. This is building off of — I'm not black obviously, I'm an Alaska native, so I guess you could call me a person of color — this is following in the footsteps of what Black Lives Matter is doing."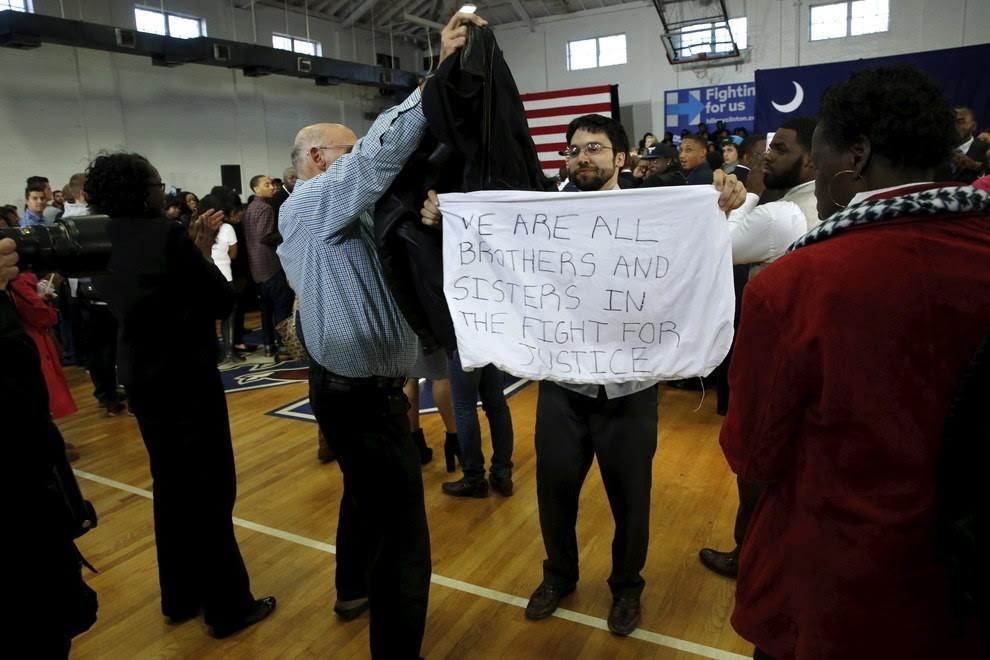 Inside the Orangeburg rally, the other protester, Rod Webber of Boston, was still standing in the back of the gymnasium, holding a handheld video camera where he'd first interrupted the rally by yelling, "What is a superpredator? What is a superpredator?"
Eventually, an elderly black man in glasses and a baseball cap approached the protester, took his hat off, and held it in the air, blocking Webber's camera.
"Leave," he told Webber. "Leave."
"Stop touching me," said Webber, an activist who has become a familiar figure on the campaign trail this year. "Identify yourself and stop touching me."
"Just leave," the man said.
"Stop touching me."
"Just leave. Leave."
Behind Webber, a group of reporters leaned over the ropeline. He turned toward the reporters, keeping one arm in the air, still holding the videocamera. "Hillary Clinton is not the person for the black man, I'll tell you that much," Webber said. "I don't understand what black people want, but I know that she hasn't supported black people in the past," Webber told them. "You take a look at the quote…"
In front of him, the older man stood silent, still holding his hat to the camera.
For Williams, the superpredator language can't be explained — not in a way that would make "someone want to vote" for Clinton. "I want to make sure that people know this is the kind of propaganda that was being passed around to slave catchers and to people in the antebellum South," Williams said. They said they'd meet with Clinton if allowed to set the terms, but feared being co-opted by the campaign. "In that sense, I ain't with it," Williams said. (Williams had also been contacted by a member of the Sanders campaign via Facebook, a source familiar with the communication said; ultimately, representatives for the Sanders campaign said they didn't work with Williams because they didn't want to be accused of planting them.)
As to whether they regret that her protest encouraged others to seize on the remark, including those like Gillilan and Ferguson, Williams says no. "I've been asked a lot if I feel if I'm wrong, or if I feel like I'm taking it out of context, but I don't feel like I'm taking anything out of context," Williams said. "I knew that I was doing the right thing."
"I really believe that we deserve an apology," Williams added. "I believe all of the things I was telling her, all of things I was asking her, so I think what helped me carry everything out was just standing in that truth and believing in myself, like, you belong here. You're supposed to ask her this. You're supposed to stand up in this way."