Suddenly Famous Clinton Aides Cast Shadow Over Bill And Hillary's Big Week
When staffers become the story. "Does it matter that Bill Clinton happens to get an interview question about Doug? It's annoying, but not for a second."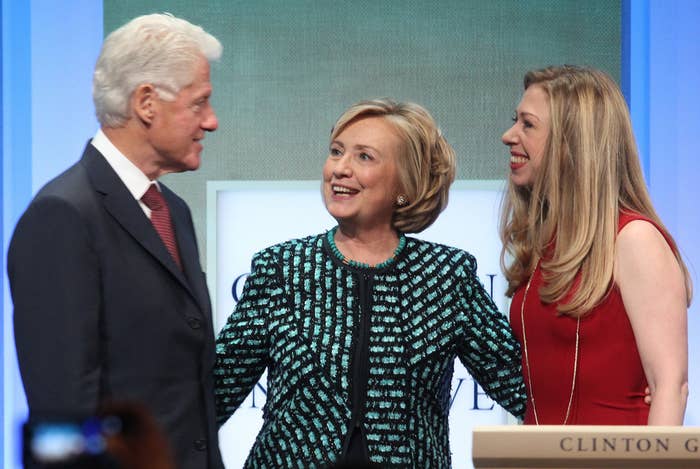 When Hillary Clinton walked through the double doors of the Sheraton Ballroom to make her Clinton Global Initiative debut Tuesday, reporters covering the annual conference made special note of the woman by her side: Huma Abedin.
Clinton's longtime personal aide, they observed on Twitter and in news stories later that day, had "reemerged" for the first time since her husband Anthony Weiner lost his scandal-ridden mayoral campaign, and since an anonymous source in a New York Magazine story last weekend claimed she had a choice to make: "Does she go with Anthony, or does she go with Hillary?"
Later that day, reporters caught a glimpse of another noteworthy member of the Clintons' inner circle: Doug Band. The former Bill Clinton aide, who now owns the lucrative consulting firm Teneo Holdings, was the subject last week of a long and blistering New Republic cover story. "While Band was not seen with Clinton," read one article by Yahoo News about the CGI conference, "reporters were atwitter after they spotted him in the lobby of the Sheraton Hotel."
And when Bill Clinton sat for a television interview with CBS News to tout CGI's accomplishments on Monday, he ended up fielding questions about Band. Would the former president like the opportunity "to say anything on behalf" of his onetime aide, now under attack, CBS's Norah O'Donnell wanted to know? "Yeah, I'm happy to do that," Clinton said, before offering a forceful defense of "a highly intelligent person who's got a good business."
The CGI meeting in New York marked Hillary's first major showing on behalf of the Clinton Foundation, where she will base her post-State Department operation as she mulls a bid for the White House. But the Clintons' big week in New York was marked at times by a role reversal most all political operatives are trained to avoid — when the staffer upstages the principal.
"They became part of the story," said one Hillary Clinton associate, who noted that Abedin and Band both drew media attention for vastly different reasons. "But they violated their own rules, and that's when they got in trouble," the source said. "Up until a few years ago, Doug's whole thing was always, 'Don't be the story.'"
Because both Clintons have been mainstays in the national political arena, and in various iterations, for decades now, the couple's extended and inner circles of operatives, friends, and donors is vast, and often tangled. Republican operatives already looking for ways to attack Hillary Clinton in advance of her possible presidential campaign see "Clintonworld" as an early and easy target.
"Hillary's 2008 campaign imploded because she didn't manage the huge egos and infighting in the Clinton orbit," said Tim Miller, executive director at America Rising, a political action committee focused on tearing down the Clinton campaign before it even exists.
"That orbit has only grown larger since then, and you've seen this year that the Clinton brand is being tarnished by these various hangers-on, from Terry McAuliffe to Carlos Danger to Huma and Doug Band," Miller said. (McAuliffe is Bill Clinton's best friend and the Democratic candidate for governor in Virginia whose electronic car company has come under scrutiny this year; and "Carlos Danger" is the infamous online alias that drew added ridicule to Weiner's failed campaign.)
On the eve of the CGI conference, the Republican National Committee even released a memo to reporters — headlined, "The Clinton Network is 'Almost Impossible to Control'" — sampling passages from the New York Magazine and New Republic articles that were particularly critical of the Clintons' associates. "As CGI Kicks Off Its Annual Conference," the memo declared, "Rifts Appear in Clintonworld."
But Clinton loyalists reading headlines about Abedin, Band, and others, dismiss the stories as ephemeral, inside-game chatter that matters little to anyone outside Washington, D.C.
"The Clinton aides are not the issue. Political pundits and the media are the issue," said Robert Zimmerman, a former adviser and bundler for Hillary Clinton, who stressed that Abedin and Band have served "heroically and notably" for the Clintons. "This has become a press story in the same way that if Martians landed on our planet, the first thing the media would write about is what it means for Hillary in 2016," Zimmerman said, calling media's focus on staffers "absurd."
One former Hillary Clinton aide explained the Clintonworld intrigue as a way for the political media to "fill the void." Because the former secretary of state has kept a low profile this year — she rarely weighs in on policy debates, and she has granted just one interview since leaving her cabinet post in February — aides and confidants are readily more accessible subjects than Clinton herself. If Clinton decides to run for president, that dynamic is sure to change.
"If she runs for president in three years, no one is ever going to spend any time on Huma or Doug. Ever," the former staffer said, acknowledging the emphasis on Clinton confidants was distracting, particularly amid Hillary's first appearance at the CGI meeting. "Does it matter that Bill Clinton happens to get an interview question about Doug? It's annoying, but not for a second."
"When Hillary and Bill Clinton are on the ropeline, the focus will always be on Hillary and Bill Clinton, not their aides," Zimmerman said. "Nothing overshadows their work and their message — certainly not political gossip."