Political Strategy In Disputed "Hynes Emails"
Documents portray the Brooklyn district attorney fighting for his life in the race against Ken Thompson.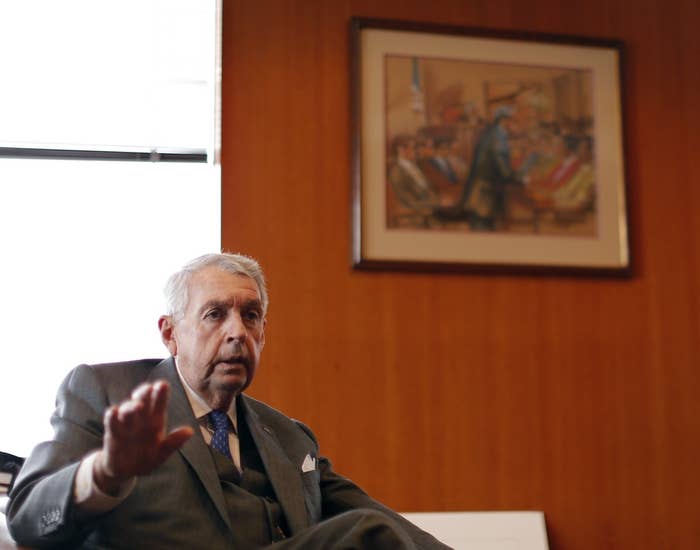 Editor's note: An earlier version of this story included an allegation attributed to an email that the office of the Brooklyn District Attorney now describes as "fraudulent." BuzzFeed printed the allegation, and the document, because we were under the mistaken impression that a spokesman for the district attorney had, in condemning its contents, confirmed its authenticity; this was a mistake by the story's editor. We have removed the document and the allegation because they do not meet our standards for confirmation, and we apologize to Judge Sol Wachtler for having printed them.
Brooklyn District Attorney Charles Hynes used his government email account to plot campaign strategy with his political allies, according to emails obtained by BuzzFeed.
Hynes, fighting for a seventh four-year term after losing the Democratic primary to Ken Thompson, a former federal prosecutor, appeared to discuss the details of his campaign in a series of email exchanges provided to BuzzFeed by a source who opposes his reelection. In the messages, dated from July of this year, Hynes corresponds primarily with Sol Wachtler, New York's former chief judge.
Wachtler strongly denies the authenticity of one alleged email, calling it "manufactured and a forgery."
On Monday afternoon, Hynes spokesman Jerry Schmetterer said Hynes had his office's information technology department investigate the matter further. The inquiry concluded that the "email using the racial slur from Sol Wachtler is fraudulent," Schmetterer said. "An investigation has determined that Mr. Wachtler never sent such an email and District Attorney Hynes never received such an email."
The assistant district attorney in Hynes's office named by Wachtler, did not respond to a request for comment Saturday night.
Other messages suggest that Hynes used his King's County government account to correspond about the campaign with Judge Joseph Bellacosa, whom he tapped earlier this year to run an "independent panel" to review 50 trial convictions involving a discredited detective.
Bellacosa appeared to be copied on messages to and from Wachtler.
"Hynes and Bellacosa are very close friends — we've addressed that," Schmetterer said on Saturday, citing questions raised earlier in the year over financial disclosures revealing that Bellacosa gave $1,000 to Hynes's campaign, despite being appointed to the independent panel.
"The issue of being on the panel does not pose a conflict," Schmetterer said.
Wachtler has also donated to Hynes's reelection bid. He gave $2,000 back in February, and his wife, Joan, gave an additional $1,500 in October, according to campaign finance filings.
In another alleged exchange, dated July 9, Hynes forwarded Wachtler and Bellacosa a figure-by-figure canvas report detailing his campaign's field operation, to which Wachtler responded with advice.
"It would be interesting to know if any particular area has a concentration of opponent support," the email shows him writing, "or undecided voters and their stated reason for their decision."
Hynes, incidentally, has made repeated efforts to link his opponent to Clarence Norman Jr., the Democratic assemblyman and party boss who was put away for extortion six years ago.
Wachtler was convicted in 1993 of threatening to kidnap the daughter of his former lover and was sentenced to 15 months in federal prison.
Schmetterer argued that the communication between Wachtler and Hynes is not comparable to the alleged ties between Thompson and Norman, whose connection the Thompson campaign has vehemently denied.
"He's a friend of the district attorney's," Schmetterer said of Wachtler on Saturday. "I could tell you that I never had one conversation with Judge Wachtler, and I can tell you that the campaign manager has not had one conversation with Judge Wachtler."
"He does not have a role in the campaign," Schmetterer added.
The 78-year-old Hynes, who lost to Thompson in the Democratic primary by nearly 11 points, switched parties this month to continue his reelection bid, and has continued to hammer on Thompson's affiliation with Norman, saying that his son spotted the former Brooklyn Democratic County leader at Thompson's campaign headquarters.
"I don't think the people of Brooklyn want a DA who is beholden to a corrupt machine boss ex-con," Hynes said earlier this month.
"We're not backing off the fact that there's more than enough hard evidence to indicate that Clarence Norman was a major participant," Gerstman said, arguing that the opposite is true of Wachtler and Hynes.
The line of attack has been sharply criticized by Thompson allies, who point out that Taharka Robinson, a protégé of Norman's who was convicted at a young age of assault and robbery in 1987, is working for the Hynes reelection effort.
Hynes has faced his toughest political fight ever against Thompson. The incumbent's 24-year record has come under fire amidst reports of wrongful convictions, his handling of sex-abuse cases in Brooklyn's Orthodox community, and a steady spate of bad press.
Most recently, Hynes has been criticized for a full-page advertisement his supporters are running in two Yiddish weeklies that blame his loss in the primary on "the minority element that seeks lawlessness." Thompson's campaign suggested the ad was racist and called on Hynes to take down the "disgusting ad immediately." Hynes's campaign has charged Thompson with mischaracterizing the translation of the advertisement.
Note: This article has been updated to include Wachtler's denial of the authenticity of the email in which the racial slur is used. The article has also been updated to reflect that the Hynes campaign, which did not contest the now-contested email and distanced itself from Wachtler Saturday, Sunday suggested the email may not be valid, and Monday said an IT inquiry concluded the message is "fraudulent." (10/28/13)
The other correspondence: