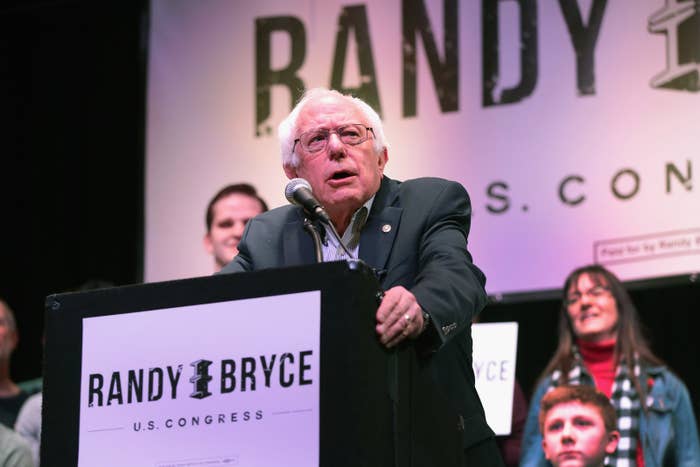 On Monday morning, a sudden wave of cheers sounded through the offices of the progressive digital consulting firm behind Bernie Sanders' presidential campaign.

The staffers at Revolution Messaging had just formed their own union.
Ahead of this year's midterm elections, a growing number of Democratic campaign workers are now moving to push the party that champions fair labor rights to apply the same standards to its own employees in an industry where the hours are long, the work is transient, and power dynamics and murky reporting structures can leave staffers with little recourse to address problems of misconduct and discrimination.
So far this year, staffers on at least nine 2018 campaigns have unionized, ratifying collective bargaining agreements on wages, work hours, benefits, housing, and new policies surrounding sexual harassment and workplace misconduct.
Revolution Messaging, the Washington-based company that helped run Sanders' digital strategy, is one of the first political firms to see its staffers form a union.
Employees at Revolution Messaging notified the firm's management of its decision to form a union with a local chapter of the NewsGuild-Communications Workers of America, part of the country's largest communications and media labor union.
"As progressives who care deeply about the work that we do, we feel that it's time to illustrate our pro-labor values by organizing ourselves," members of the union wrote in its letter to the firm's senior staff.
"Unionizing Revolution Messaging will allow us to truly become the progressive beacon we have always strived to be. Our union will allow everyone at Rev to have a voice on the job and a seat at the table, which will undoubtedly help retain current and future employees, bolster our recruitment efforts moving forward, and attract business from clients who seek out unionized firms. At the end of the day, unionizing will only be better for business and for everyone who works here."
Later that morning, founder and CEO Scott Goodstein recognized the union, offering words of support. "This is great news!" he wrote. "As most of you know, we fought on behalf of dozens of labor unions since our inception, and it is part of our DNA. We believe in workers' rights, labor rights, women's rights and human rights."
The firm is expected to enter into negotiations with staffers and representatives at the NewsGuild-CWA.
In a HuffPost report last month, employees at Revolution Messaging outlined a number of complaints about the internal culture at the firm, including management's handling of a late 2015 incident in which a woman employee said she had been physically assaulted at a company party by one of the company's partners. (The firm fired the partner, according to HuffPost, but staffers also said that the woman had also been forced out, potentially in an act of retaliation, prompting employees to draft a letter to management about the incident.)
Members of the Revolution Messaging Union, reached by email, did not respond to questions about the terms they will be pushing for, or the impetus for their decision to unionize.
The recent unionization push by Democratic campaign staffers has been led in large part by a new nationwide union, formed about a year ago, called the Campaign Workers Guild.
The CWG, led by 16 volunteers across the country, has helped organize political staffers across nine races, from campaigns for county council (Chris Wilhelm in Maryland) to attorney general (Renato Mariotti in Illinois), governor (Erin Murphy in Minnesota), and Congress (Randy Bryce in Wisconsin, Jess King in Pennsylvania, Andy Thorburn in California, Brian Flynn in New York, Dan Haberman in Michigan, and Marie Newman in Illinois).
The labor union is currently facilitating contract negotiations with as many as 25 more campaigns and campaign-adjacent organizations, according to Meg Reilly, a former Sanders campaign staffer who now serves as CWG's vice president.
"It doesn't show any sign of stopping," Reilly said, describing the campaign workers' movement as the first "really serious concerted effort" by political staffers to collectively bargain.
In the fast-paced startup world of campaigns, young staffers and organizers work long, rigorous hours for little pay, all in service of a cause or candidate they believe in. Efforts to fight campaign leadership for better conditions are often, as Reilly put it, pushed off "for the sake of the greater good."
The same mindset, one where the candidate's public perception is an inherent priority, has also made it historically difficult to address complaints of workplace harassment and misconduct, particularly when campaigns lack clear reporting structures. Ahead of 2016, staffers at a Hillary Clinton super PAC, said they didn't know how to come forward against their boss because there was no human resources department. Another said they believed harassment was simply something you had to be "tough enough to endure" to work in politics.
The political operatives who founded the CWG say that collective bargaining on campaigns is one way to set better grievance and harassment procedures. In some of the contacts they've already negotiated, Reilly said, they've mandated that campaigns designate a third-party neutral investigator to handle complaints.
The CWG did not work with the Revolution Messaging Union, but Reilly said they expect staffers at more consulting firms to move toward forming their own unions.
At the Sierra Club, the largest environmental group in the country, staffers have already formed two unions, an Oakland-based Sierra Employee Alliance and the Progressive Workers' Union, or PWU, which represents about 215 Sierra Club employees across the country. The PWU is about five months into contract negotiations with the Sierra Club, according to the union's president, Larry Williams Jr.
As described by Williams and CWG members, the ongoing unionization push is linked in fundamental ways to the pro-labor stance widely espoused on the left. Every year, Democratic campaigns and causes depend on labor unions — for their support, their volunteers and organizers, their millions of dollars in contributions.
"If the labor movement falls," said Williams, "then so does the progressive movement."