Scott Walker: I'm Not Involved At The Federal Level, "Yet"
The Republican governor of Wisconsin hints at a possible presidential run in 2016.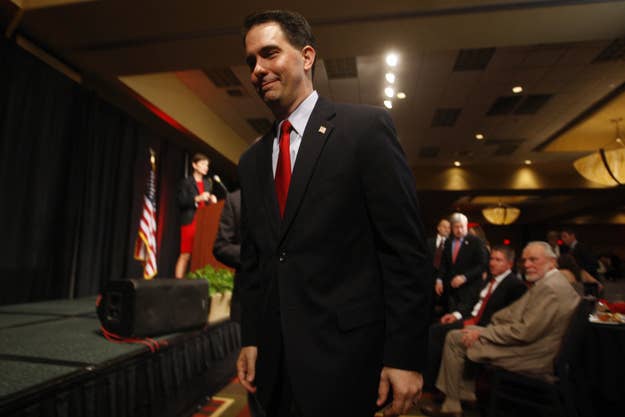 MILWAUKEE — Wisconsin Gov. Scott Walker let slip his possible interest in running for higher office Friday, saying he wasn't "involved yet" at a federal level — an admission he jokingly asked reporters to redact.
At the opening press conference for the National Governors Association summer meeting, hosted this year in Walker's home state, Walker responded to a question about Republicans in Congress who threaten to block the federal budget as a way to halt the implementation of President Obama's Affordable Care Act.
"I mean, right now, I've got my hands full being governor," Walker said, surrounded by a gaggle of about 15 reporters and photographers. "I'm not real involved yet at the — strike that last word — at the federal level, so I'll let them work that out for right now," he said, smiling.
"Obviously I have concerns on a principle about the Affordable Care Act," Walker went on, "Not only in terms of implementation, but I don't think it's good public policy to have the federal nor the state government dictate to me or my family what we do or any other family does on health care."
Walker, who gave a well-received speech three months ago in Iowa, the important presidential primary state, is thought to be considering a bid for the Republican nomination in 2016.
The NGA conference this weekend, held in downtown Milwaukee, will certainly be a moment of national exposure for the hosting governor.