Progressives are planning a series of demonstrations across 60 cities on April 15, describing the protest as the first major successor to the women's marches that drew as many as 4 million people over inauguration weekend last month.

The so-called Tax March — set to coincide with the annual IRS deadline — aims to pressure President Donald Trump and Congress over Trump's unreleased tax returns, organizers said, citing reports this week on his team's communication with Russian officials and long-standing questions about potential foreign conflicts of interest.
A coalition of liberal groups is organizing the march, including Bernie Sanders' Our Revolution, MoveOn.org, the Indivisible Project, Americans for Tax Fairness, the Center for Popular Democracy, and the American Federation of Teachers.
Also involved are leaders from the Women's March, the day of protests that turned out to be among the largest demonstrations in US history.
The Tax Day plans make April 15 a key test for Democratic leaders working to harness that expanse of activist energy into a sustainable movement that yields results in Congress and at the ballot box in next year's midterm elections. (Similarly, in 2009, Tax Day was one of the first major protest days for the conservative, anti-establishment Tea Party movement.)
Fissures in the Democratic Party's self-described resistance effort have already emerged since Trump's inauguration, with progressive activists demanding that lawmakers oppose the president at every turn, while various House and Senate members maintain some openness to pieces of Trump's cabinet and agenda.
The country's highest-ranking Democrat, Sen. Chuck Schumer, drew protests from his own party's base outside his home in Brooklyn earlier this month. Activists on the left have also confronted other Democratic lawmakers outside their congressional offices and in recent town hall meetings, demanding top-to-bottom opposition.
On Wednesday, a group of former Sanders campaign aides and activists launched a PAC, #WeWillReplaceYou, aimed at challenging Democratic elected officials in primaries, asking progressives to "pledge to support primary election challengers against any Dems who won't do everything in their power to resist Trump."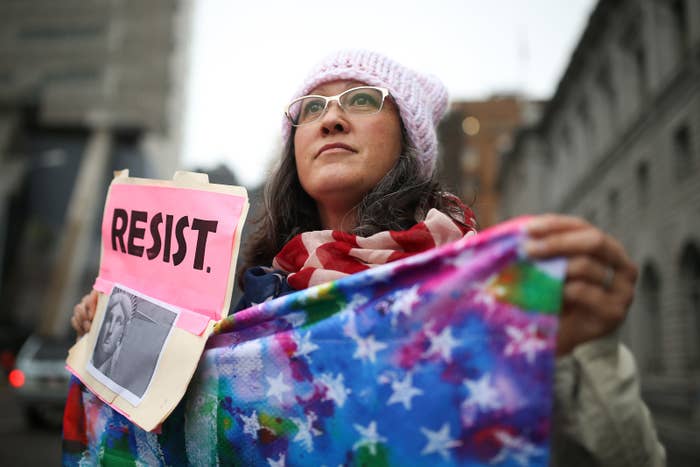 The Tax March will be based in Washington, with satellite marches planned in cities ranging from New York and Los Angeles to Little Rock, Arkansas, and Boise, Idaho.

Organizers said the idea started with a tweet from Frank Lesser, a New York-based comedy writer who took issue with the Trump administration's claim that people "didn't care" about his tax returns. (Trump is the first president in 40 years to keep his tax returns private, breaking a tradition kept by candidates since Richard Nixon.)

In Washington this week, members of the Republican-led House of Representatives Ways and Means Committee voted down an amendment proposed by Democrats to have Congress ask the Treasury Department for copies of Trump's tax returns.

Tax March organizers also linked the effort to questions about Trump's ties to Russia.
On Sunday night the president's national security adviser, Michael Flynn, resigned after the Washington Post revealed that he had discussed sanctions against Russia with the country's US ambassador. And on Tuesday, a New York Times report cited claims from four current and former US officials that some involved with Trump's campaign had been in contact with Russian intelligence officials during the election, though officials told the Times that no evidence has yet been found that there was coordination with those Russian officials.
"Until we see his taxes we don't know how much money he owes Russia, China, and other countries," said Ben Wikler, the Washington director of MoveOn.org.