Left Presses Andrew Cuomo On Campaign Finance
"If he only does a half-measure or doesn't come through, it would be very hard for him to have an excited base," Radford says.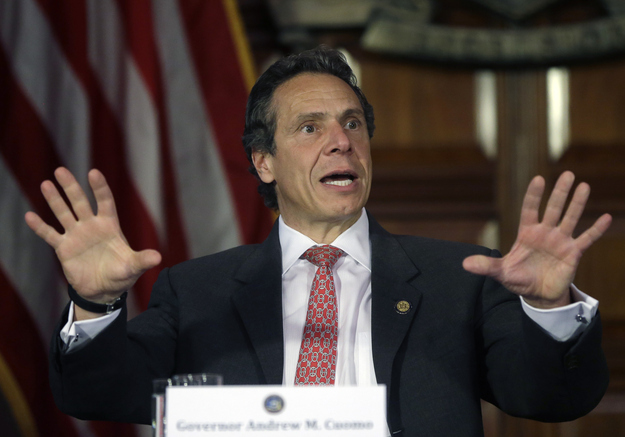 New York Governor Andrew Cuomo has four weeks before the end of this year's legislative session to deliver on a pledge to pass public financing of elections in his state — an issue that is the latest in a series of chances he and other possible presidential contenders have to woo or alienate progressives before the 2016 primary season begins in earnest.
Cuomo, who is widely thought to be considering a bid for the next Democratic nomination, has stressed the importance of campaign finance reform in all three of his State of the State addresses since becoming governor in 2009. In his speech earlier this year, Cuomo proposed a public-funding option for statewide elections based on the system now in place in New York City, which allocates matching funds and places spending caps on primary and run-off races. The governor has also vowed to overhaul disclosure rules and lower contribution limits for all offices.
Advocates say the proposed program would not only mitigate the longtime pattern of corruption in Albany — including the arrests this spring of two state senators — but would serve as the first sweeping campaign reform effort since a 2010 Supreme Court case, known as Citizens United, that made yet more space for the influence of corporate money in electoral politics.
"Governor Cuomo promised to clean up Albany, and now he's got the opportunity to do it by passing public financing of elections," said Ilya Sheyman, the campaigns director for MoveOn.org's political action committee. "This is on him. Millions of progressives are watching to see if he'll step up and deliver."
MoveOn and other progressive groups — including the Communications Workers of America and CREDO Mobile — have tried to ramp up national pressure on Cuomo leading up to the end of the state legislative session on June 20.
Even an organization like Greenpeace, one of the largest environmental groups in the country, is citing public financing as a "top issue" this year. Executive director Phil Radford argued that as long as "the natural gas industry can buy elected officials," Greenpeace won't be able to advance its environmental causes.
"New York State was really the first out of the gate in significant reform in recent years," said Radford, citing Cuomo's push to pass same-sex marriage in 2011. "This could really be an incredible model for the rest of the country, and the governor could be a model for democracy and reform. He could really act in a bold way."
Advocates also make the case that Cuomo's focus on campaign finance could make him a progressive hero on the national stage ahead of a possible run for the presidency.
Martin O'Malley, the Democratic governor of Maryland, already signed an overhaul of his state's campaign laws earlier this year, but if Cuomo's ambitious package succeeds this spring, "he'll be far and away the leader on this nationally," said Radford.
"He's a presidential contender in 2016 and what he does matters nationally," said Becky Bond, the head of CREDO. "He might run for president as the man who cleaned up elections. That would be a huge momentum point in our organization."
But progressives who have their hopes pinned on the campaign finance push also worry that Cuomo may be going soft on his commitment to sealing a full package of legislative reforms.
In the face of state Republican opposition, the governor has expressed some doubt that he would be able to check off all his initiatives this year, including an abortion rights bill also opposed by Dean Skelos, the New York Senate Republican Leader.
"Those issues, some may fall off. It may become an even smaller handful as we get closer," Cuomo said late last month.
CREDO recently released a petition warning its some three million members — 200,000 of whom live in New York — that "even after two huge corruption scandals," Cuomo appeared to be "stepping back rather than stepping up."
"Rather than seizing the moment and leading the fight to pass public financing, Gov. Cuomo instead expressed pessimism that it would pass," the petition reads.
Bond noted that Cuomo expressed his support last year for independent redistricting reform, but failed to follow through on legislation. "Politicians make a lot of promises," she said. "Governor Cuomo said that he would support independent redistricting, and then he backed away from it. The ball is in his court here. If he doesn't follow through it will send a strong message that what he says and does are not aligned."
"There's always worry with Andrew," added Mike Lux, a former Clinton administration official and CEO of Progressive Strategies. "He is more than a bit slippery."
If Cuomo does fall back on his commitment to full reform, said Radford, he'll have to answer to the progressive community during a possible campaign, in which a contender like O'Malley could potentially out-flank him on the left.
"If he only does a half-measure or doesn't come through, it would be very hard for him to have an excited base," Radford said.
Inside New York, political observers say they'll know when the famously aggressive Cuomo, a skilled inside-player, wants to get serious about ramming through the campaign finance deal.
"People know what it looks like when the governor wants to move something forward, and this isn't it yet," said a state Democratic operative involved in the reform movement. "He continues to say something good one day and then nothing for three days. We have seen what he's like when he's really focused — he'll be banging heads together in private meetings."
Skelos will "keep his thumb on it, and if the governor doesn't make it clear that he has to lift it off, he'll just keep it there," the operative added. "There is a definite sense that the Republicans are going to say 'no' until the governor says 'yes.'"
But if anything will motivate the legislation forward, the operative argued, it's that Cuomo knows national Democrats are watching — and closely.
"This is part of what made Andrew interested in it. He'd be the first to do a post-Citizens United thing that was real. This would establish him as the leader on it nationally, and that would be a very big deal."
Others working closely on the issue were optimistic, noting that four weeks is time enough to push through even the most ambitious legislation.
"There's a lot of time left in the session even though it doesn't look that way on the calendar," said David Donnelly, executive director of the Public Campaign Action Fund. "And New York is notorious for getting deals made in the crucible of a tightening calendar."
"We're not concerned about it," added Steve Pampinella, spokesman for FAIR Elections for New York, a coalition group supporting Cuomo's reform push. "We know that the governor is going to come through. We're confident that he's going to push this, and that he's reliable on this."
Cuomo's press office didn't respond to an inquiry about the legislation.