Oscar de la Renta: Like Another Clinton
​Last year, in a rare joint interview, the three Clintons honor​ed​ de la Renta​ —​ ​a​n otherwise infrequent glimpse into one of the family's closest friendships.
They first met in a receiving line at the White House. Oscar de la Renta and his wife Annette waited their turn for a handshake along with dozens others at annual reception in for honorees of the Kennedy Center. When the designer reached the front of the line, he took Hillary Clinton's hand and said, "Is that my dress?"
Clinton had purchased the Oscar de la Renta dress off the rack. That was 1993. From then on, from the White House to the Senate and the State Department, Clinton wore the creations of the fashion icon, who passed away on Monday at 82.
All three Clintons detailed the Kennedy Center story and others about de la Renta in an intimate, nine-minute video tribute they commissioned last year for the Clinton Presidential Center in Little Rock, Ark. The film aired there last July at the invitation-only opening of an exhibit that featured more than 30 de la Renta styles.
It also features a joint interview with Bill, Hillary, and Chelsea Clinton — one of the few they've ever given. The rare group appearance by all three Clintons, filmed last year in a vacant space inside the Time & Life Building in Manhattan, is a testament to de la Renta's exceptionally close relationship with the former first family.
"It was amusing to me," said Bill Clinton, by his wife and daughter in the interview, "because I've never had anyone go through a line and say, 'That's my suit.'"
Over the years, the Clintons vacationed with de la Renta at his estate in the Dominican Republic, where the designer was born. The relationship extended to some of the Clinton's closest aides: Huma Abedin, Hillary Clinton's longtime right hand, was also a close friend of de la Renta's. He designed her 2010 wedding dress.
"We are deeply saddened by the passing of our dear friend," said Bill, Hillary, and Chelsea Clinton, and Chelsea's husband, Marc Mezvinsky, in a joint statement on Tuesday. "We will always be grateful to Oscar for the love he showed us, and for sharing his talent on some of the most important occasions of our lives."
Richard Kaufman, a Los Angeles-based filmmaker, directed the film project. Kaufman has worked with the family before, producing the famous video that played before Hillary Clinton's speech at the 2008 Democratic National Convention. He also produced a number of films for her food security initiative at the State Department.
Two years ago, as Clinton was preparing to leave her post as secretary of state, Kaufman was commissioned by Haim Saban, a major Democratic donor, to produce a tribute to her four years at State. The video, put together without Clinton's knowledge and aired as a surprise at the Saban Forum gala, prompted some of the earliest speculation that the former first lady would run again in 2016.
Kaufman said he received a call one morning last April from the Clinton Presidential Center team, asking if he would produce a tribute for de la Renta.
He spent the next three months putting it together. The Clintons, Kaufman said, were "effusive" in the interview. "You get to see a certain side of the Clinton family."
"They saw what everybody else saw in him," he said. "This is a person who knew how to enjoy life, who shared a generosity of spirit with everybody he encountered."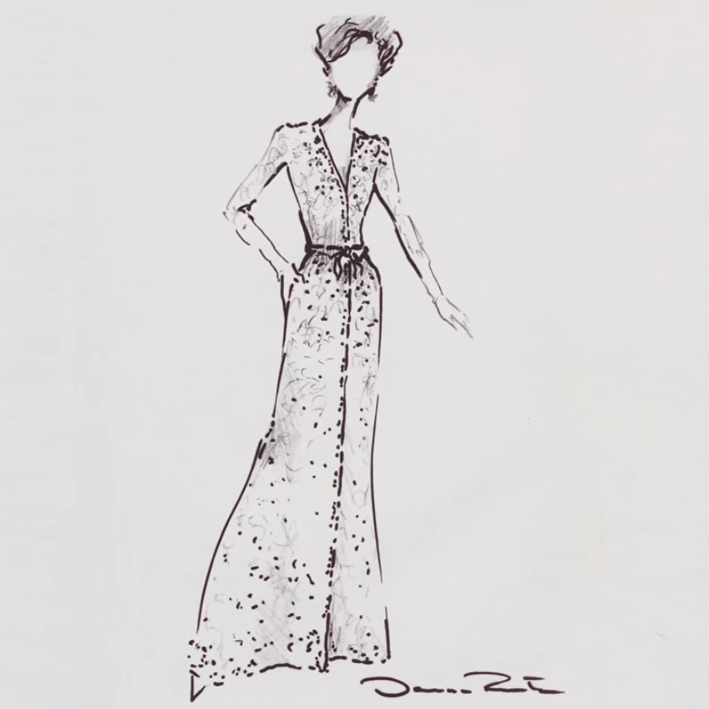 Clinton wears an Oscar de la Renta gown at the 1997 inaugural ball.
The film features the designer's original sketches, and additional interviews with Anna Wintour, Diane von Fürstenberg, and de la Renta himself.
In the interview, Bill Clinton fondly talks about de la Renta's sense of humor, while his daughter Chelsea remembers the way the 1998 cover of Vogue "helped demystify my mom." When Hillary Clinton, dressed in de la Renta, was photographed for the magazine that December, it was the first time Vogue had ever featured a first lady on its cover. (The idea was de la Renta's, Wintour has said.)
In one memorable portion, de la Renta recalled asking Clinton what she "would like to achieve" with the dress he planned to design for the inaugural ball in 1997. "She said to me, 'What I would like is, where I would walk into the room, and Bill would look at me and say, 'Wow,'" de la Renta said, his voice dropping to a whisper.
"I still remember when Hillary walked out in that gown," Bill Clinton said.
"I thought, 'Oh my god, that's beautiful.' I still think it's probably the best gift Oscar ever gave us beyond his friendship."