One Week In, Cory Booker Hasn't Figured Out How To Save Washington Yet
America's most famous mayor used to talk about how he might one day "hack the Senate." But after his first week on Capitol Hill, Booker is getting his footing, staying close to New Jersey, and steering clear of his one-time best ally — the media.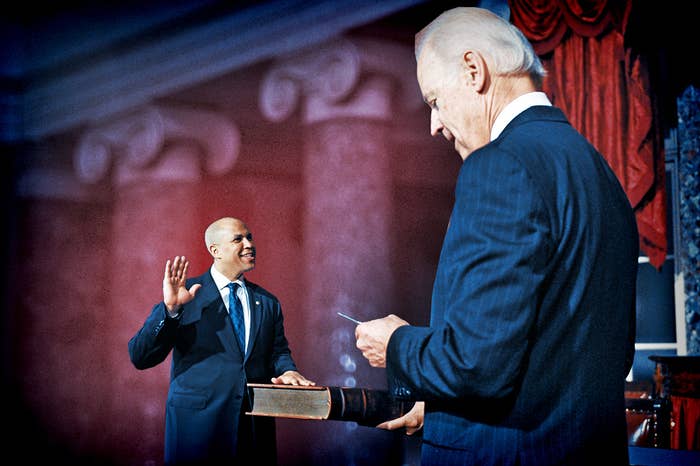 WASHINGTON — Two months before his campaign for U.S. Senate began in earnest, Cory Booker told a group of entrepreneurs and leaders from New York's tech industry that he had a radical vision for Capitol Hill.
Somebody, he told about 50 digital media VIPs at the Tribeca Grand Hotel, "needs to hack the Senate." The line, tailored for the group on the eve of a tech conference Booker headlined in April, was one he'd start toying with.
Later that month, he used the phrase in an onstage interview with Reuters. "I get very excited about this idea that we could hack the Senate and disrupt Congress in a great way, in a righteous way," he said. "Why do we have these omnibus bills that are so dense? There's no light. There's no accountability. There's no understanding. No people leaning in and collaborating."
Booker, the 44-year-old mayor of Newark who became the newest U.S. senator last Thursday, has always been a disrupter.
But his first week in the Senate — marked by deference to his colleagues, near-constant admissions that he has much to learn, and an obsessive focus on his home state — looked nothing at all like the jolt to the Beltway he articulated earlier this year, before the death of Sen. Frank Lautenberg. And as Booker works to gain his footing in "the world's greatest deliberative body," it remains an open question whether he has the wherewithal to match his reformist rhetoric with action.
The special election that sent Booker to Washington left him and his staff just two weeks to transition from campaign headquarters in Newark to their still-sparse space on the ground floor of the Hart Senate Office Building.
The office, occupied by Lautenberg before he died in June, was barely up and running by the end of Booker's first week. Sen. Bob Menendez, New Jersey's senior senator and one of Booker's chief mentors this week along with Senate Majority Leader Harry Reid, leant out two staffers to man the front desks and answer phones. Two framed prints — Norman Rockwell's "The Problem We All Live With" and a poster of former Sen. Bill Bradley, a hero of Booker's and a celebrity politician in his own right — were propped against Booker's office wall, still waiting to be hung. And the conference room was all but empty this week, save for two boxes of doughnuts on the table — a gift from South Dakota's Sen. Tim Johnson, whose office is nearby.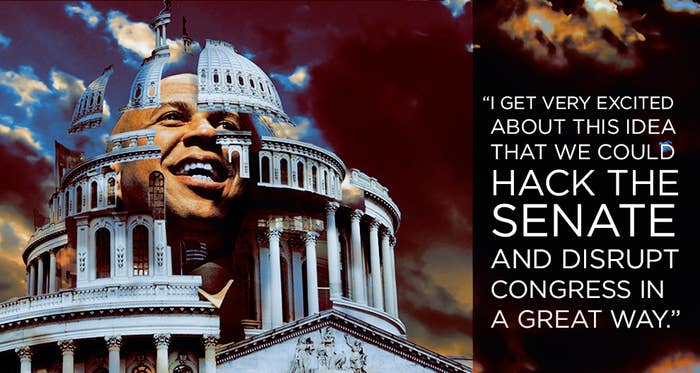 The shift from America's favorite celebrity mayor to humble junior senator, struggling to find his way around, has been significant for a man who has been his own boss for seven years. "Sen. Menendez had to tell me where the bathroom was on my way in," Booker recalled over the weekend.
He also wasn't quite sure how to cast his first vote — a motion to invoke cloture on the nomination of Rep. Mel Watt to oversee mortgage companies. "It was time to vote and I had not thought about, like, literally how do you vote," Booker said, laughing. "Do you push a button? Do you pull a lever? And [Menendez] nudges me and says, 'Just raise your hand and say aye.'"
Booker's senior staff, a bare-bones team of four, has tried to restrict interviews to New Jersey news organizations, while Booker made a point of leaving Washington on his second day in office to head home to the Garden State.
The new senator hasn't found a place in Washington to live yet — "not my number-one priority," he says — and he is currently living in a hotel, though he didn't say which one. An "ideal" situation, Booker said, would be managing "as little time as I can spend in D.C." as possible, staying for the majority of his weeks "back here in New Jersey working with people on real problems."
He said he would try to keep up a loose three-nights-a-week rule in Washington. "If I can stay there Monday night, Tuesday night, Wednesday night, and come back Thursday night, that's my ideal," Booker said in an interview with BuzzFeed Sunday inside a black GMC Yukon he rented for the weekend.
Booker, for the first time in seven years, is living without a 24-hour security detail and full-time driver. (His regular driver from Newark, Kevin Batts, a quiet man who goes by his last name and often wears a Bluetooth in his ear, was behind the wheel last weekend. Booker's office said Batts retired from the Newark Police force and stayed on the job that weekend on a volunteer basis.)
For years, police officers even lived with Booker on the second floor of his multi-unit home on Newark's Hawthorne Avenue because of death threats. Booker, now without the resources of the city, is still adjusting to their absence.
"You know what's strange?" Booker said in the Yukon, parked outside the Somerville Democratic Campaign headquarters. "I love the guys, they're phenomenal… but I was never alone. Even when I went home, I wasn't alone, because there were people there at the house. So there's something about locking your door, walking up, and really being alone."
Booker's dogged emphasis on talking, thinking, and staying in New Jersey as much as possible makes it clear he's not aspiring — at least not before he has to run for reelection next year — to emulate Republican junior senators like Rand Paul and Ted Cruz, who came into the Senate at a full-paced sprint.
Booker, though, once named both men, along with Democrat Sen. Elizabeth Warren, as potential role models back in August, telling NBC News he didn't want to "just go down there and become part of the system," he said at the time. "I want to change it and create change for real people." At a press conference after his ceremonial swearing-in last Thursday, Booker referenced the idea of changing the Senate, saying he had received the following piece of advice: "Don't let the Senate change you. Try to change the Senate."
But asked how he would work to reform the legislative body, still mired in the gridlock that has made it deeply unpopular with the American people, Booker backed away. "Look, this is day one," he said, echoing his aides who have warned that it's too early to make judgments about the future based on one week alone.
In his SUV, Booker was even more reticent to discuss his strategies moving forward; his emphasis was back on New Jersey. "As I'm running around the state, what I'm hearing from people is, 'I'm so happy to see you around. I didn't think I would see you,'" Booker said. "So I want to show people that I'm the same guy that Newark got to know, which was this over-the-top, hands-on guy who was constantly in the streets, constantly in the neighborhoods. I'm gonna show people that I work really hard to be all around in 21 counties."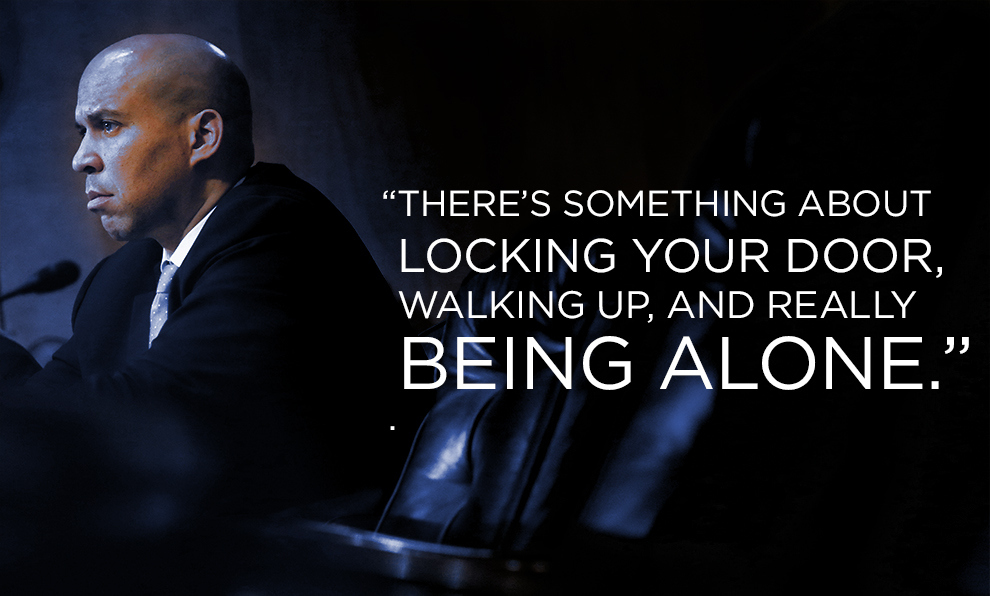 On his third day as U.S. senator, Cory Booker was all of 200 miles away from his new office, stopping traffic in the middle of Scotch Plains, N.J.
A postal worker leaned out his truck to wave; a policeman honked; a man driving his minivan up Park Avenue, the main drag in town, held up a line of cars, five deep, to pose for a photograph with the new senator. Booker was in Union County to campaign for three local candidates just 48 hours after taking the oath of office and finally rising to a position suited to the national platform he's held for years his office on the third floor of City Hall.
"It's amazing isn't it? Watching him?" said Assemblywoman Linda Stender, one of the dozen down-ballot candidates Booker campaigned for last weekend.
"It's hard walking down the street with you," state Sen. Nick Scutari told Booker, after making the rounds with him at a deli and sports bar in Scotch Plains on Saturday afternoon. "People were jumping out of cars."
On the day of his swearing-in, Booker may have had breakfast — scrambled eggs — with one of his heroes, Rep. John Lewis, in a meeting with his mother that made them both, he said, "tear up"; he may have tossed a football in the Oval Office with President Obama; and he may have received a standing ovation from his new colleagues on the floor of the Senate, where expressions of approval are typically forbidden, at his swearing-in with Vice President Biden.
But it was the kind of notice he got around Scotch Plains on Saturday he said he wanted most. Booker, Washington's new big shot, was back in New Jersey, his home state, and he wanted you to know it — badly.
Again and again, he hammered the point at rally Saturday night for Lou Beckerman, a city councilman candidate up for reelection.
"Thursday, I got sworn in, met with the president of the Untied States, and Friday, I came back to New Jersey to get to work," Booker said. "That's what the people elected me to do. And I'm gonna be back here more than you guys want to see me. You're gonna think, Didn't we elect him to go to Washington?"
He praised the local leaders in the audience as "humble heroes" who do work "folks don't even know about." He said that playing a quick game of catch with kids outside on Park Avenue was "just as special to me as throwing around the football with the president of the United States." And he reminded the crowd, as he would to other state Democrats throughout the weekend, that "titles don't honor men or women," he said. "Men or women honor titles."
He would clarify at a stop in Cherry Hill on Sunday that he was just following his mother's advice. "My mom's own advice," Booker said, "was, 'Don't for a second get caught up in all of that pomp and circumstance and stuff like that. That's not what you went there for.' She was so happy when I told her I would be sworn in on a Thursday and back in Jersey on a Friday working for folks."
Lines like that, repeated in stump speeches up and down the state last weekend, cast Booker as, in many ways, as pointedly humble as he's ever been.
The plan to hack the Senate that Booker described to audiences this spring is straight from a playbook the new senator has been using all his life.
In 1998, he ran for city council against a four-term incumbent more than twice his age, and won in a runoff by knocking on just about every door in the district. Later that year, he moved into a two-room apartment on the 16th floor of Brick Towers, an affordable housing complex, to draw attention to the city projects. At his city council swearing-in, he didn't wait to start going after the man whose job he wanted most, Mayor Sharpe James.
"If Newark is on a roll, which way is it rolling?" he said at the ceremony, mocking one of James's favorite stump speech lines about the city's progress.
His stunts, as many called them from the start, became more dramatic over time. During his second year on the council, Booker organized a sit-in and hunger strike under an oversized white tent outside Garden Spires, an apartment complex whose parking lot was home to regular drug deals. The following year, he raised $30,000 in private funding to travel and live in a 1987 Holiday Rambler, measured at 33 feet, in different neighborhoods throughout the city for four months. "Publicity stunts? You're darn right," Booker said that year. "You've got to attract attention to a problem sometimes to get something done about it."
By the time Booker ran for mayor for the first time in 2002, the opening scene of Street Fight, a documentary chronicling the race, shows Booker knocking on doors in the dark, asking voters, "I'm Cory Booker, you ever hear my name?"
"He was dying for any press he could get," said Marshall Curry, the film's director. "People didn't know who he was and he needed to do whatever he could to get his name out. Now his political opponents accuse him of being 'too Hollywood,' so he needs to focus on local issues and his home state."
Clement Price, a Rutgers University Newark professor and city historian, has been a close observer of Booker for 15 years now. He said he's seen the 29-year-old councilman grow into a more disciplined public servant. "Since then, he's become more measured, more patient, and less given to the kind of scenarios that brought him to the national stage," Price said.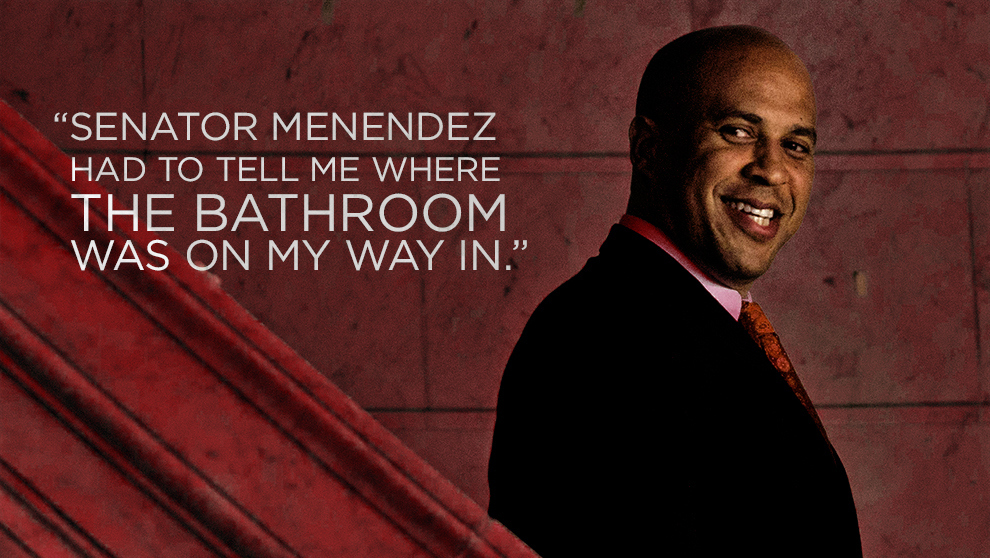 Booker has been visibly eager to learn from his colleagues, huddling this week with Reid and Sen. Patty Murray. He was seen chumming it up on the Senate floor with some of the other low-ranking members of the upper chamber, Hawaii's Sen. Brian Schatz and Connecticut's Sen. Chris Murphy. And he spent this past Thursday morning presiding over the Senate, learning the rules of the floor and turning often with a smile to the parliamentarian for help along the way — an appropriate coda to a quiet first week in which Booker rarely engaged with reporters in the hallway, and was more often seen taking notes in a small black Moleskin notebook than thumbing away on his BlackBerry.
When asked why his first week in the Senate was relatively subdued compared to his early days in Newark, Booker pointed out that nearly all the high-octane acts he pulled off as councilman, and later as mayor, occurred after his first year in office. "As a city councilperson, I took a full year learning the ways. I used to bring budgets from other cities into our city council meetings to say, 'This is how it's done so much better than we're doing it,' and it didn't work. I couldn't get the votes to change the form of the budget," he said, noting that only then did he turn to other tactics. "You gotta try to figure out what strategy works."
But Rep. Rob Andrews, a New Jersey Democrat who has served in the House of Representatives since 1990, warned that Booker shouldn't hesitate to use what he characterized as an unmatched national megaphone.
"He is someone who will use the power of his voice, the leverage of his office, to make progress," Andrews said at a get-out-the-vote house party in Cherry Hill. "He has some unique gifts that I know Sen. Reid wants to take full advantage of," he added after the event, when asked about the comments.
Menendez had similar advice for Booker. "Take your time, get to know the members of the institution, but when your passion calls you, go for it," the two-term senator said. "He's got a lot of work to do obviously — just setting up in office and coming in midterm, understanding a new institution — but I think he's got a lot of goodwill from a lot of members."
Booker, though, warned that he hasn't abandoned the entrepreneurial, on-the-ground brand of politics that helped make him a national name.
He still writes his own tweets, early and often, and he still gives out his cell phone number to New Jersey residents he meets on the trail. And when three family members whose father had been deported approached Booker outside his church on Sunday — Booker had tweeted the address out to his 1.4 million followers earlier that morning — he agreed to help look into their case. Booker's Senate office is now in touch with the family, aides say.
Booker was also quick to note that he made a point of making a personal call to Watt, the Democratic congressman up for the Federal Housing Finance Agency appointment, on the eve of the vote. "I called him the night before I was sworn in to vet him, so to speak," Booker said. "I reminded [him] that New Jersey is the second-worst state in the nation for percentages of residents in foreclosure."
Booker also emphasized his plans to continue pursuing the kind of public-private partnerships he cultivated in Newark to spread those projects to other cities throughout the state. He said he's already spoken to two mayors about potential projects — Dana Redd of Camden about a police foundation, and Steve Fulop of Jersey City about a prison reentry program — that he, as senator, would help found and raise private funding for.
"These are things I can do that will really make an impact for New Jerseyans," Booker said. His staff also recognizes the need to build a record outside Washington on which Booker can run for reelection in 2014.
Booker, though, no matter how quiet he stays in the first few months of his Senate tenure, is still one of the biggest stars the legislative body has ever seen. Gayle King, the co-host of CBS This Morning and the best friend of Oprah Winfrey, was present in the gallery for the swearing-in. Bill Maher, the late-night talk show host, "sent me nice notes after the election," Booker said. ("He's a great Jersey Boy.") And Gov. Chris Christie, New Jersey's other star, texted Booker some "really great, nice things" that week to offer his congratulations.
Booker may always be too big in name, and possibly in aspiration, for the Senate. If he does still want to "hack" it — to change the way change happens in the upper chamber — it's not clear that he's figured out quite how yet.
Booker, who for months weighed a gubernatorial bid against his friend Christie, has said he almost had to sell himself on the idea of being senator. In an interview in 2012, at the height of speculation about his future, Booker suggested to Winfrey that he didn't fully understand yet what it was a member of the U.S. Senate did, or could do, with the power of the office.
"I've been asking the question to a lot of people, 'Well, what does a United States senator do?' And people look at me almost like that's an annoying question," said Booker, who often names former mayors like Gov. Martin O'Malley, over senators, as his role models in politics. "You've got to live a mission-driven life."
Chris Magarro, Booker's best friend since both men were nine years old in school together, said the new senator would find his greatest frustration from the Senate in the rules that might limit what he can do in the office. "It will be a big adjustment for him," Magarro said. "When recess happens, he'll have to go on recess. That's not like the 24-hour, seven-day-a-week job of mayor."
"Knowing him, he'll be back in Jersey working during downtime," Magarro said.
But with his first week down, Booker still seemed puzzled, if not frustrated, over what he called the "crazy" procedural rules that blocked Watt's nomination on that first day in the Senate.
"These are the crazy rules of the Senate," Booker said over the weekend. "Not end a filibuster, because there was nobody there filibustering, but to end the threat of a filibuster, to bring cloture to a perceived threat of a filibuster the Republicans were doing," he said, eyes wide. "And against a candidate who is infinitely qualified!"