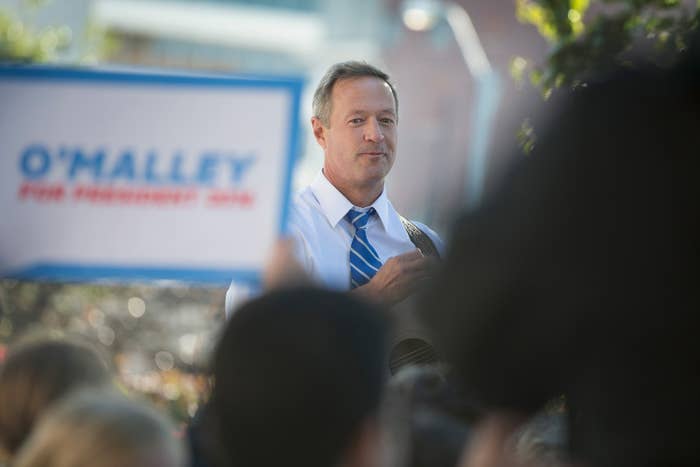 There's a joke Martin O'Malley likes to make about his campaign: "Well," the former governor tells friends and supporters, "at least I haven't peaked too early."
This spring, Hillary Clinton set out on the campaign trail with unrivaled support, and this summer, Bernie Sanders began his sharp rise, first in New Hampshire, then in Iowa. All the while, O'Malley stayed stuck at the bottom of the polls. This month, with a narrowed Democratic field and more voters engaged by the debates, O'Malley's campaign aides have cast the last few weeks as the primary's true starting point.
But as they wait for his moment, O'Malley backers also recognize that without gaining traction soon, their candidate will run out of time — and money.

O'Malley began the fourth quarter with about $800,000 — a paltry sum compared to Clinton's $33 million and Sanders's $27 million. But according to an analysis of his itemized contributions and expenses, O'Malley set out on the final stretch to Iowa with effectively even less money than his latest financial disclosures suggest.
At the time of the filing deadline, the campaign had yet to pay some of his September expenses, including payroll. O'Malley reported spending about $72,000 in September, compared to $806,000 in August and $915,000 in July.

The sharp drop in spending, according to a campaign aide, does not reflect a pared-down operation. O'Malley spent more in the summer months, the aide said, because of start-up costs associated with the campaign, which launched in late May, as well as large one-off expenditures for mail and digital programs.
Still, the last O'Malley report did not include September paychecks. (The campaign ran September payroll on Oct. 2, after the filing deadline, an aide said.) Past payroll spending, which hovered around $400,000 per month by August, suggests that, in effect, O'Malley began the fourth quarter with as much as about half the $800,000 cash-on-hand his campaign reported.
Coming out of the slow summer months, the former Maryland governor saw an uptick in contributions, raising roughly $150,000 a week in September. But with expenses totaling $150,000 to $200,000 per week in July and August, O'Malley still spent more than he raised. His so-called 3rd quarter "burn rate" was 139.6%.
Dave Hamrick, O'Malley's campaign manager, said on Monday that the operation's overhead costs are sustainable. The campaign, he said by phone, is "financially strong and viable," and equipped to compete beyond Iowa and New Hampshire.
"We built an operation to give us the ability to have a strong campaign into the early contests and on to Super Tuesday," Hamrick said. "We're in this to win it."
Privately, O'Malley supporters say the candidate is committed to placing in Iowa on Feb. 1. After the caucuses, he hopes to have enough momentum, funding, and support to move onto the primary in New Hampshire. For months, campaign aides have been organizing and securing local endorsements in both states, with about 30 staffers in Iowa and 12 in New Hampshire. Polls also show that if there isn't much outright support for O'Malley, voters do consider him a viable second-choice candidate to Clinton or Sanders.
As he nears the caucuses and primaries, O'Malley's experience in 1984 on the underdog Gary Hart campaign remains central to his thinking, friends say. It wasn't until the month or so before Iowa that Hart began registering in polls as a threat.
Now, O'Malley is eying the fall as his best, if last, chance to find a path forward — not just drawing contrasts with Clinton and Sanders, but telling his own story.
In a campaign memo, released Monday, senior strategist Bill Hyers cast events this month as a crucial turning point in the campaign. The first Democratic debate in Las Vegas, Hyers said in the memo, amounted to O'Malley's "introduction on the national stage." And this weekend's Jefferson-Jackson Dinner in Des Moines, he said, was the "opening salvo in a narrowed field he proved he thrives in."
"In the coming weeks, expect sharpened distinctions as Gov. O'Malley steps up the next phase of the campaign to make his case," Hyers wrote.
According to O'Malley, that phase begins now.
In an interview on Monday morning, on MSNBC's Morning Joe, O'Malley described the race as "changed in many, many ways just over the last week."
"We had the first debate, and then we had the [Jefferson-Jackson Dinner] in Iowa just the other night, and, in between, two of the candidates dropped out. The vice president chose not to get in this race and the difference is that I am going to be able to make now, between two candidates..."
Both Clinton and Sanders, O'Malley continued, "have been in Washington for about 40 years" — and neither one, he was quick to add, has "gotten much done."