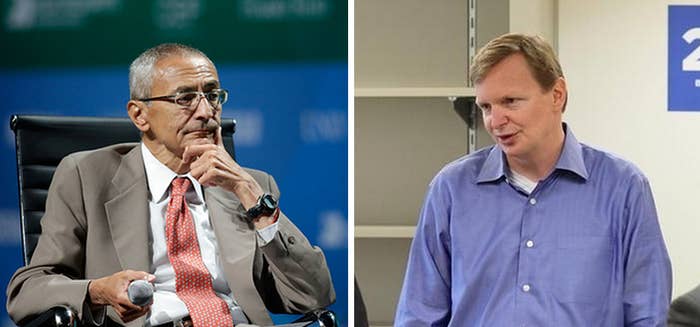 Jim Messina and John Podesta, top former aides to Barack Obama and Bill Clinton respectively, are currently in talks to co-chair a board backing Hillary Clinton — a plan that, should it come to fruition, would be a dramatic early symbol of party unity behind the former secretary of state.
Three sources with knowledge of the plans said Messina, an Obama insider who ran the president's campaign last year, and Podesta, a longtime advisor to Bill Clinton, are in discussions to join the board of Priorities USA, the multimillion-dollar super PAC that backed President Obama's reelection effort last year.
The men would chair a board of former elected officials and donors who would announce their support for Clinton's possible White House bid in 2016. Messina's presence, in particular, would signal that key Obama loyalists have lined up behind Clinton and are ready to essentially forgo a primary.
But those close to the group, who spoke on the condition of anonymity, warned that the talks are still in progress and that the eventual outcome of the PAC's "Phase Two" plan is still fluid and subject to change. One open question surrounds Vice President Joe Biden, who some worry would view Messina's move to a pro-Clinton venture as a slight, sources said, explaining that Biden is one of several considerations still holding up the PAC from moving forward.
For months now, Priorities USA founder Sean Sweeney — along with advisor Paul Begala, a longtime Clinton associate, and the group's key financial backer, Dreamworks CEO Jeffrey Katzenberg — has been deciding how best to re-launch the PAC, orienting it behind Clinton ahead of the 2016 race.
Priorities, composed of a pair of linked groups that raised and spent $79 million battering Mitt Romney with television ads in 2012, would serve as a centralizing pro-Clinton advertising giant in its new iteration, funded by big-money donors and Katzenberg, who helped jumpstart the small, four-person operation with a $2 million check in early 2011.
Katzenberg, who abandoned his old Clinton alliance for Obama in 2008, has already made clear he wants a hand in electing Clinton to the White House. The mega-donor told the Hollywood Reporter last month that he personally reached out to Clinton to "assure her" that if she runs, he would support her.
Other outside groups have already lined up behind Clinton, each tackling a different element of the 2016 effort. One prominent Clinton backer described Priorities as the "final missing piece" in the developing coalition.
Ready for Hillary, a super PAC founded in January to harness enthusiasm for Clinton's candidacy, would focus on list-building and grassroots organizing; American Bridge, a Democratic super PAC that launched a project in July called "Correct the Record," would handle Clinton-focused research and rapid response; and EMILY's List, a group that supports female candidates, would tackle a polling effort under its "Madam President" project, with pollsters Geoffrey Garin and Diane Feldman taking the lead. Priorities USA would, in theory, take on the piece of the pie dedicated to paid media.
Ready for Hillary, which ultimately emerged this year as the leading pro-Clinton PAC with a growing list of 1 million supporters, has even voluntarily capped its donations at $25,000, so as to clear the way for a group like Priorities to operate as the outlet focused on big money, according to a person familiar with the strategy.
Multiple sources independently described the divide-and-conquer approach as a conscientious "division of labor" — an effort to make sure each group does something different, without wasting resources in the months leading up to the likely announcement of Clinton's actual campaign, at which point the landscape of outside groups will likely shift again.
Representatives from both American Bridge and EMILY's List attended Ready for Hillary's finance council meeting in New York City on Tuesday. Two sources said Messina and Podesta were invited to speak at the event's final panel discussion, and considered attending, but ultimately decided not to. Podesta, however, did make an appearance at the group's reception later that night.
It remains unclear when, and even whether, the plans to install Messina and Podesta at the top of the reimagined Priorities USA will come to fruition — and that question now hangs over the entire enterprise.
Messina currently runs his own consulting firm, the Messina Group, while retaining his role as chairman of Organizing for Action, the nonprofit founded after the 2012 election to help back legislation supported by Obama. Podesta, who served as Bill Clinton's chief of staff, serves as chairman of the Center for American Progress.
Messina and Podesta did not respond to requests for comment.
But Begala, emailing on Messina's behalf, said the former campaign manager currently has no formal role in Priorities, but added that he and founder Sean Sweeney have "been talking to Jim since the election."
"It would be malpractice if Sean and I didn't reach out to him," Begala said. "He is a damn genius who just ran the best campaign I've ever seen. But to project from that into a hypothetical 2016 campaign is not something I am willing to do."