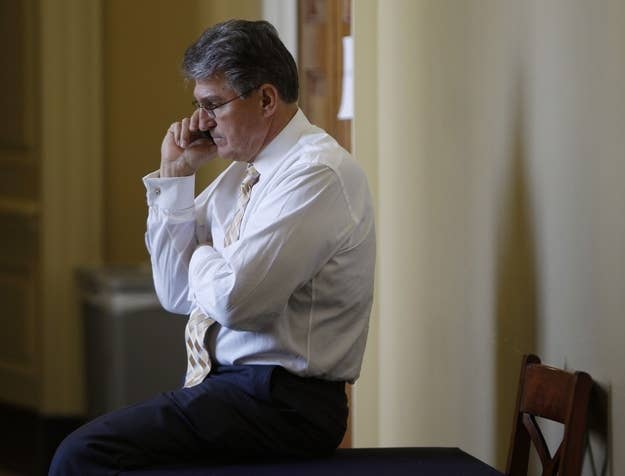 As Sens. Joe Manchin of West Virginia and Pat Toomey of Pennsylvania prepare to roll out a bill on expanded background checks for gun purchases Wednesday morning, the National Rifle Association has been in talks with both senators, but remains neutral on the deal, according to Manchin's office.
"The NRA has not said either way," said Katie Longo, Manchin's press secretary. "The senators have been talking to the NRA, but they're still neutral."
Longo told BuzzFeed Wednesday that the brokered bipartisan bill — which would expand background checks for all commercial sales, including gun shows and internet sales — was completed early this morning, after staffers worked "pretty late into the night," said Longo.
The bill, which includes a record-keeping requirement but not for "a national registry," is likely President Barack Obama's last shot at passing a crucial segment of the sweeping gun control reform he called for after the mass shooting in Newtown, Connecticut, last year.
Manchin, a Democrat, and Toomey, a Republican, are both A-rated members of the NRA, and have been working together on a deal after Manchin's negotiations with Republican Sen. Tom Coburn fell through last month. But Cobrun and Sen. Mark Kirk, said Longo, "may still have some input" as negotiations move forward.
"Once they propose this amendment," said Longo, "they still realize that they need to work with other senators and their colleagues."
Manchin and Toomey are scheduled to speak about the bill at a press conference Wednesday morning.
Update: After this article was published, the NRA issued the following statement:
Expanding background checks at gun shows will not prevent the next shooting, will not solve violent crime and will not keep our kids safe in schools. While the overwhelming rejection of President Obama and Mayor Bloomberg's "universal" background check agenda is a positive development, we have a broken mental health system that is not going to be fixed with more background checks at gun shows. The sad truth is that no background check would have prevented the tragedies in Newtown, Aurora or Tucson. We need a serious and meaningful solution that addresses crime in cities like Chicago, addresses mental health deficiencies, while at the same time protecting the rights of those of us who are not a danger to anyone. President Obama should be as committed to dealing with the gang problem that is tormenting honest people in his hometown as he is to blaming law-abiding gun owners for the acts of psychopathic murderers.