Months Later, Clinton Campaign Struggles To Define Bernie Sanders
"From the beginning, Bernie Sanders has known exactly what he wanted to say about himself and exactly what he wanted to say about her."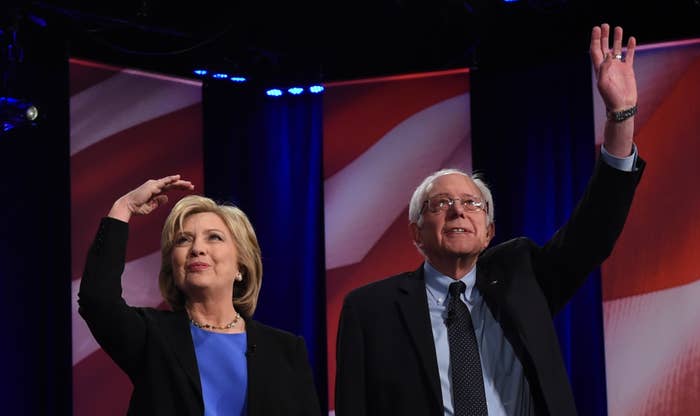 DES MOINES, Iowa — He's a regular politician with a "long string of flip-flops." But he's also a pie-in-the-sky progressive, with proposals that "sound good on paper that will never make it to the real world." Though he's also part of the experienced political "establishment" he's fighting against — while being inexperienced and naive on foreign policy. Oh, and he wants to dismantle your health care, too.
Between speeches, press releases, television ads, and interviews this month, this is the Clinton campaign's muddled picture of Bernie Sanders.
Eight months into the primary, with just four days until the Iowa caucuses, Clinton and her aides still don't have a clear way to talk about Sanders. Inside and outside the campaign, Clinton backers acknowledge that her team has struggled to define and shape a narrative around the Vermont senator, going back to her events last fall, when she first began directly invoking her main rival months after rarely saying his name.
The tone has vacillated between aggressive and soft. And the focus, to varying degrees of effect, has touched on the senator's policies, preparedness, and experience — but not always toward a clear, single argument against Sanders and for Clinton.
"From the beginning, Bernie Sanders has known exactly what he wanted to say about himself and exactly what he wanted to say about her," said one former Clinton adviser.
"He was always the guy who was going to blow up the entrenched interests that were screwing the little guy and she was going to represent the entrenched. A lot of us have been concerned because we haven't seen that clarity from her on either side of the ledger."
Back in October, without mentioning Sanders by name, Clinton asked voters to consider two questions of any candidate: First, how realistic are their proposals? Second, how will they be paid for? Months later, Clinton is still pursuing the argument, and more aggressively. She now tells crowds, as she did in Cedar Falls on Tuesday, for instance, "I do put my plans on my website, and I do tell you how much it will cost because I do want you to know that I'm not just shouting slogans. I'm not just engaging in rhetoric. I've thought this through. I have a plan."
But even this month, as she's tried to cast herself as the candidate with pragmatic proposals — with "the experience and determination to get the job done," as a new campaign ad put it on Wednesday — the candidate and her staff have pursued other lines of attack against Sanders that appear at times to be at cross-purposes.
Sanders casts himself as an insurgent, fighting against mainstream forces and the hard-to-define "establishment." Clinton aides, meanwhile, have at turns called that dangerously naive. The candidate has also noted to Iowa voters, as evidence that his brand of politics is ineffective. that Sanders has "introduced his health care plan nine times, but he never got even a single vote in the House, or a single Senate co-sponsor," she said in Indianola last week. "Not one." At other times, Clinton has suggested Sanders's anti-establishment stance is artifice coming from a longtime member of Congress whom she recently suggested is more of a creature of Washington than she is.
"They're launching so many attacks and so many of them are contradictory," said Jeff Weaver, the senator's campaign manager. "It's clear that the coherent strategy is to say as many negative things as possible, whether they make sense or not."
"You have the attack that he's part of the establishment and you have the attack that he's too far out of the mainstream. It's contradictory," Weaver said.
Weaver said the campaign enjoyed watching the public spat between top Clinton officials and one of their top allies, David Brock, head of the pro-Clinton group Correct the Record, over whether to make issue of Sanders's age by calling for the release of his medical records. (Sanders released the records on Thursday.)
"That was obviously an amusing day when you had various parts of the Clinton campaign attacking one another in public over strategy," Weaver said. "It just speaks to the sort of scattershot approach to attacks that they've been choosing."
The issue of health care — and the single-payer system that Sanders advocates — perhaps best encapsulates the approach. Sanders calls for vastly more money spent on social programs than the mainstream Democratic Party is generally willing to embrace — and his health care plan, which would nationalize Medicare and raise taxes across the board is no different.
At times, the Clinton campaign has neatly made the case that Sanders is more political fantasy than practical politician capable of pushing ideas through the actual structure of Washington. But when attacking Sanders for being a universal health care advocate, the campaign has made three different critiques: They've said Sanders favors eliminating popular social programs he actually wants to expand; they've attacked him for advocating tax increases while promising bigger savings for American families (a standard progressive political vision); and they've said he wants a replay of the health care debate that snarled up President Obama's first years in office.
"The Affordable Care Act now has gotten to 90% coverage. We're 10% away from universal coverage," Clinton said at the Cedar Falls event on Tuesday. "We can't start all over again. We can't start a contentious national debate. Both Sen. Sanders and I have the same goal. We want universal coverage. I just happen to think starting from where we are, moving from 90% to 100%, fixing the problems with the Affordable Care Act is a lot more likely to happen than starting from zero."
The Clinton campaign has also repeatedly tried to say Sanders has broken his "no negative campaigning" pledge. Most recently, about a week ago, aides held a press call to attack a new Sanders ad that framed the race as a debate between two Democratic "visions" — one that said a candidate can take Wall Street money and be tough on Wall Street, and one that says a candidate can't. "One says it's OK to take millions from big banks, and then tell them what to do," the Sanders ad script reads in part.
The Clinton campaign said that the ad was negative, and a clear violation of Sanders's pledge. The ad certainly did not fit the traditional mold of a negative TV commercial, and the Clinton outrage took a drubbing in the press. "The idea that he was going to take away everybody's health care when he's been an advocate of universal health care for his entire life was ludicrous. It went nowhere," said Weaver. "The fake moral indignation about his ad talking about Wall Street and trying to convince everybody it was negative."
Clinton's campaign has tried hard to quash Sanders after barely talking about him for much of 2015. Polls in Iowa show a neck-and-neck race, with turnout the deciding factor in the end.
That Sanders is within striking distance of actually winning Iowa, which could not be considered anything but a huge upset, is itself a kind of victory for Sanders. But he hasn't won yet. And Clinton's constant barrage of attacks — no matter how lacking in a central methodology they seem to be — could prove effective. There is some method to the madness, said one longtime Democratic strategist not aligned with either campaign. "That is actually a smart strategy," the operative said. "It's called 'muddy the water.'"
"It feels wrong," the operative went on. "But for voters, it's meaningful."