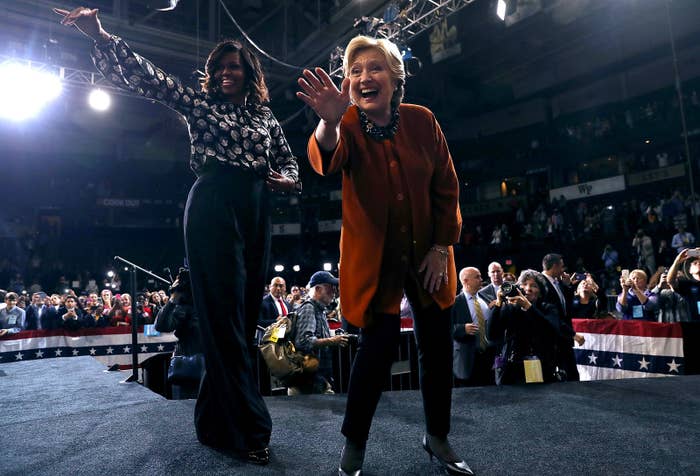 WINSTON-SALEM, N.C. — During her first joint appearance with Hillary Clinton here on Thursday, speaking at points as if from one first lady to another, Michelle Obama tried to explain something fundamental about what it means to live on the national stage that is the White House residence.
"We know the influence our president has on our children," she told a crowd of 11,000 packed into the arena at North Carolina's Wake Forest University. "How they turn on the TV and they see the most powerful role model in the world. Someone who shows them how to treat others. How to deal with disappointment. Whether to to tell the truth. They're taking it all in."
Obama spoke in slow and sober tones.
Clinton, seated paces behind her on stage, nodded in agreement.
"As Hillary said," the first lady went on, "when you've raised children in the White House, as Barack and Hillary and I have, you are reminded every day of the impact that you have. You start seeing the images of every child in this country in the face of your child."
The 25-minute speech from Obama — the Clinton campaign's self-described "not-so-secret weapon" on the campaign trail — came as a reminder of the power of the presidency to shape not just policy, war, and peace, but the millions of children who grow up, the first lady said, looking every day to the family that inhabits 1600 Pennsylvania Avenue.
It's a reality that Clinton understands like few others can, Obama told voters in this critical battleground state. In the '90s, Clinton raised her daughter Chelsea, now 36, through her teenage years in the White House.
"So when people wonder how Hillary keeps her composure through the overwhelming pressure of not just this campaign but in her career," Obama said, "or how Barack and I have dealt with the glare of the national spotlight these last eight years — that's the answer."
"With every action we take, with every word we utter, we think about the millions of children who are watching us, who hang onto our every word, looking at us to show them who they can and should be. And that's why every day, we try to be the kind of people, the kind of leaders, that your children deserve, whether you agree with our politics or not."
It was a strikingly apolitical message from the first lady.
Obama has become one of the campaign's most effective and popular surrogates on the campaign trail, holding one or two events each week where she often makes an aggressive case against Donald Trump. On Thursday in Winston-Salem, she did not even mention his name.
The event came as Clinton faces new questions about the Clinton Foundation and speeches she gave to financial firms, raised by revelations in the ongoing WikiLeaks releases of hacked emails from campaign chairman John Podesta. Notably, Obama's speech amounted to a forceful testimonial to not just to Clinton's credentials and fitness to serve, but her character and values, citing the middle-class upbringing she received in the suburbs of Chicago from her mother and father, who owned a drapery business.
"Let me tell you," Obama said, "this is not about Republicans versus Democrats. None of that matters this time."
"This election is about something much bigger. It's about who will shape our children and the country we leave for them, not just in the next four or eight years, but for the rest of their lives," she said, urging voters to think on Election Day about looking "into the eyes of our children, as we send them off to school each morning, as we tuck them into bed."
The joint appearance also served as a public affirmation of the relationship between two women who just eight years ago were pitted against each other in a bitter Democratic primary. "First Ladies," Obama said at one point, turning behind her to face Clinton, "we rock!"
This month, Trump himself called their relationship into question. "I see how much [Michelle Obama] likes Hillary, but wasn't she the one that originally started the statement, 'If you can't take care of your home, you can't take care of the White House or the country,'" Trump said, referencing a 2008 comment that some interpreted as a knock on the Clintons. (Barack Obama, at the time, said that it was not.)
Here on Thursday, the two women walked out on stage arm in arm to a standing ovation. Later, between speeches, Clinton handed the mic off to Obama with a tight hug.
"People wonder," the first lady said, as if to clarify, "And yes, Hillary Clinton is my friend."