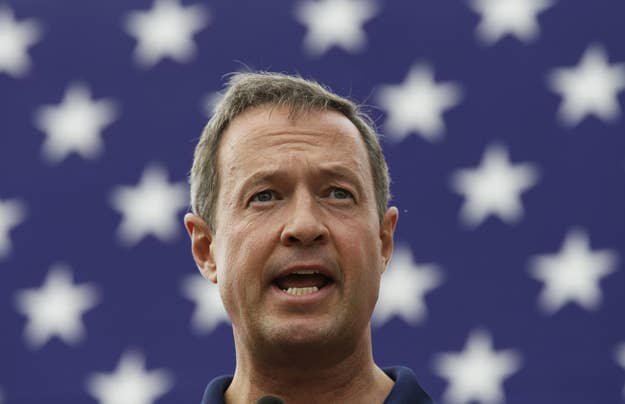 MILWAUKEE — Maryland Gov. Martin O'Malley, speaking candidly to a group of reporters Saturday, said he has spent the last several months weighing a bid for the presidency and laying what he called the "framework of a candidacy for 2016."
O'Malley last spoke at length about his presidential ambitions in April, when he told The Baltimore Sun he would give "serious consideration" to a White House race as he rounds out what will be his second and last term as governor of Maryland.
Asked how that process has been going so far, O'Malley said, "It's going well."
He described a handful of recent speeches as the conduit through which he has been able to present his national policy beliefs to a wider audience. "[I've] given a number of talks: the commencement at St. Mary's College, the climate change talk, the Center for American Progress," he said.
"So by the end of this year, I think we're on course to have a body of work that lays the framework of a candidacy for 2016," said O'Malley, who is here in Wisconsin this weekend for the National Governors Association summer meeting.
The governor also highlighted his political action committee — named, "O' Say Can You See PAC" — that this week reported raising more than $500,000 in the first six months of the year.
"Another part of the work is the PAC and the work that we're doing to help elect like-minded candidates," he said. "And also to the work that comes from increasing our activity online and social media — I mean, all of these things are part of that process."
O'Malley also said he's been taking more time to "let my soul catch up with where my body's been," he said. "To slow down a little bit and to spend time thinking and writing and reading, and spend some time with my kids, and just doing that important work that any human being has to do to be centered and present and make a rational decision on something this big."
"And to do it for the right reasons and in the right way," he added.
Asked what he's been reading, O'Malley named Richard Haass's Foreign Policy Begins at Home, Eric Liu's The Gardens of Democracy, and Parker Palmer's Healing the Heart of Democracy.
O'Malley, who is term-limited and will leave office in early 2015, did not name Hillary Clinton as a factor in his decision-making process. The former Secretary of State is widely thought to be considering her own bid for the presidency, and many political observers believe that her candidacy would clear the Democratic field.
The governor, though, has said in the past that Clinton's decision would not greatly alter his own. "I can't really control what decisions other people make, whether or not they run," he told BuzzFeed in a February interview. "And even if I knew, I don't think it would change what I have to do this year, which is to govern well, always learn, become better prepared, and most important, deliver results for the people you're serving."