Martin O'Malley Makes New Friends, Keeps Old Ties In New Hampshire
The governor is spending a lot of time in the early primary state these days.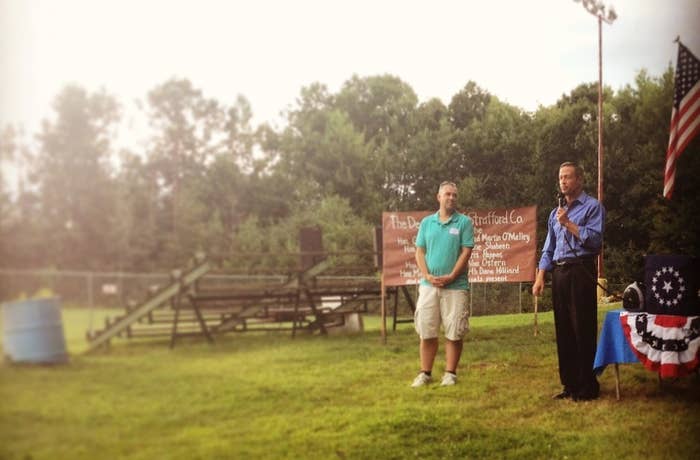 When he arrived on Sunday afternoon at the small, shaded park in Somersworth, N.H., Martin O'Malley cut across the lawn, looking for an old friend. Sen. Jeanne Shaheen, his boss three decades ago on the Gary Hart campaign, was about to leave the Democratic county picnic when O'Malley wrapped her in a hug.
About an hour later, after a short speech and dozens of handshakes, O'Malley was greeted by a new familiar face, when Louise Korn, a 70-year-old Democrat from the nearby city of Rochester, approached his picnic table. "I met you in 2012, and we're still working for you," she said. "I'll see you when you're president."
"Hey, thank you," O'Malley replied. "I accept your nomination!"
The stop in Somersworth, an annual picnic for the Strafford County Democratic Committee, marked the Maryland governor's third trip in nine months to New Hampshire, home to the first presidential primary. Many attendees had met O'Malley before, underscoring his political and personal ties to the state.
Some relationships stretch back three decades, to the 1984 campaign, when a Hart staffer arranged for O'Malley to stay on a friend's floor in Manchester. Others are still fresh. Democrats in the state remember the governor's speech late last year at the party's Jefferson-Jackson dinner, about fighting crime as mayor of Baltimore. Or they recall seeing him afterward, at the Puritan Backroom bar in Manchester, playing with Marty Quirk, the Irish musician about town.
After years of campaigning for Democrats in the state — and more recently, as he's considered pursuing his own White House bid — O'Malley has become a somewhat familiar figure on the New Hampshire political scene.
"Now I'm starting to see people that remind me that we met," O'Malley said in an interview at the picnic, before he left to headline a fundraiser for New Hampshire state senate candidates. "What I hadn't fully appreciated until that Jefferson-Jackson dinner about a year ago was the number of people I had met in coming here almost every four years for somebody," he said, ticking off names like John Kerry, Hillary Clinton, and Maggie Hassan, the current governor.
"I've made other new friends in the course of things," O'Malley said. "People have been very kind to me here in the early going."
Kathleen Kelley Arnold, an active Democrat whose father hosted O'Malley in 1984, has watched the governor develop those relationships over the last 30 years. "He has some strong ties in New Hampshire," said Kelley Arnold, whose husband is running for Manchester mayor. "I probably didn't recognize it at the beginning, but he certainly has kept those strong connections going."
O'Malley has also gotten the attention of a new generation of activists in the state. After the Jefferson-Jackson dinner last fall, he was joined at the Puritan Backroom by a bevy of young aides and volunteers from Shaheen's ongoing Senate campaign — many of whom had never met or seen O'Malley until that night.
"They loved him," said Will Kanteres, a Manchester real estate executive who worked with O'Malley on the Hart campaign. "They could relate to him on a generational level."
The governor has barely registered on the early 2016 polls — some surveys show him at under 1% — and would face a very deep fundraising challenge to compete against Clinton. Hart, the U.S. senator from Colorado who went up Vice President Walter Mondale, was polling just as poorly before his upset in the primary. Friends from that campaign talk about the Hart experience often. Some say the memory drives O'Malley forward. Others cast Clinton as a Mondale.
"We say we don't believe in miracles," said Dan Calegari, a senior Hart aide who helped get the win in New Hampshire. "Martin and I and the others participated in one. After seeing it once, why can't it happen again?"
In Somersworth, O'Malley didn't dismiss the comparison. "Perhaps these things are cyclical, but I do sense a tremendous yearning out there that was also present in 1984 for a new generation of leadership and to hear a new perspective from a new generation of leaders that will help us solve our problems," he said. "That's very resonant now. Maybe that's part of what people are hearing or saying."
"Everywhere we go, Democratic activists will say phrases like, 'I'm glad we have new leaders,' 'It's good to hear from new leaders,'" O'Malley went on. "I hear that a lot. I heard that here. I heard it in Iowa. I heard it in Mississippi the other night."
"Maybe that's what they see."
Dan O'Neil, an alderman in Manchester and a friend of O'Malley's, said Democrats in the state are still waiting to see what Hillary Clinton does, but recognize that "she has not been here," he said. (Clinton has not returned to New Hampshire since the 2008 primary, but she is scheduled to appear in Iowa next month, at the state's premier Democratic Party event, the Iowa Steak Fry.)
"When they meet with O'Malley one-on-one, he's very personal. That's important," said O'Neil. "They expect politicians to reach out and touch you here."
A staffer for Ready for Hillary, the super PAC gathering an extensive list of Clinton supporters, also attended the picnic, a "Ready" button pinned to her lapel. The group maintains a Northeast headquarters, located in Manchester.
Lou D'Allesandro, a longtime state senator, referred to "the Hillary situation." Other candidates enjoy "pockets of support" in New Hampshire, he said, but Clinton's fanbase would be "hard to crack at this point in time" for anyone.
David Lang, the president of the Professional Firefighters of New Hampshire, a powerful group in the state, said he's also heard from Joe Biden, another possible candidate. The vice president invited Lang to "come over and say hello" at the airport as he was traveling during a recent visit to the state, Lang said.
But still, O'Malley maintains a notable distinction in the state: He is the only Democrat openly acting like a presidential candidate. He is raising money for his PAC, visiting early voting states, and campaigning aggressively for Democratic candidates.
O'Malley's efforts have become more aggressive in recent months. After tens of thousands of immigrant minors flooded the U.S.-Mexico border — and as President Obama seemed open to expedite deportations — O'Malley called the children "refugees" and argued they be given due process. The White House called O'Malley to complain and then leaked the call to the press. ("I just focused on what we could do together," the governor said Sunday. "And I'm far more concerned about what happens to these kids than I am about whether somebody in the White House press office got their feelings hurt.")
In April, O'Malley convened more than 60 people at the Baltimore Hilton for lunch and a discussion about his record in Maryland, the 2014 midterm races, and his path forward. The group included friends, former advisers, and political supporters he's known for years from Maryland and other states.
After lunch, a group discussion veered into questions about O'Malley's decision-making process ahead of the 2016 race. One attendee described the meeting as a "brainstorming" session with the people he's close to. "The feeling was overwhelming, 'Martin, run. Go ahead and do it," the person said.
The scene was the same at a "young professionals" event late last month in Washington that helped raise money for O'Malley's PAC.
"There was palpable energy there," said one former aide who attended and still sounded surprised weeks later by the crowd. The two-floor venue, at a bar called Local 16, was filled with people. At one point, the person recalled, he turned to another former O'Malley staffer and said, "Oh my god, this is real."