Martin O'Malley Knocks Brown Campaign For Not Defending His Record
"I can tell you my feelings were hurt," says the Maryland governor. A Brown campaign consultant responds: "It's disappointing that as his career is winding down so is his loyalty to a man who stood by his side for eight years."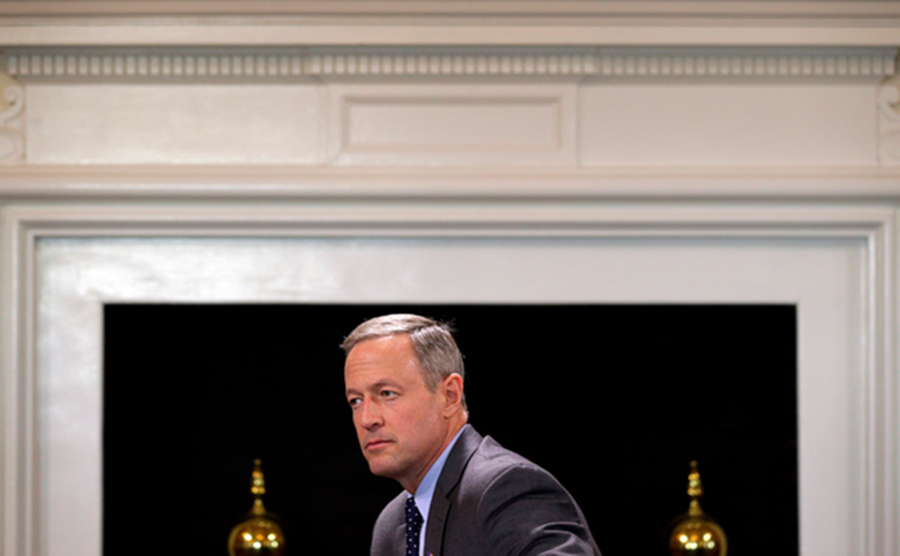 In two weeks, Martin O'Malley will complete his last term as governor of Maryland, move his family from the official residence in Annapolis back home to Baltimore, and map out the presidential campaign he's been considering for months.
But as O'Malley weighs a bid for the Democratic nomination, another race still casts a shadow over his next move: the loss last fall of Anthony Brown, his lieutenant governor and hand-picked successor, to Larry Hogan, the Republican businessman few thought could win in a state considered left-leaning.
Hogan, who won by four points, campaigned more against the eight-year O'Malley administration than Brown, focusing on the string of tax hikes that voters, polls showed, considered the dominant issue in the race.
On Thursday night, O'Malley suggested the Brown campaign strategy, not his policies, were to blame for the November loss. His comments, made at the University of Chicago's Institute of Politics, were his most pointed on the subject yet.
"I'll let others determine whether the prospects were hurt. I can tell you my feelings were hurt," said O'Malley, asked about the race. "We had done a lot of really good things in Maryland, and yet you did not hear much of that during the campaign."
"I was not on the ballot in Maryland," he said.
The outgoing governor suggested the outcome would have been different had Brown more forcefully defended his administration's economic record, and the improvements the tax revenues funded. O'Malley cited his own 2010 reelection, when his opponent, former governor Robert Ehrlich, also ran against tax hikes.
"When I was on the ballot — when we were criticized and our opponents hit us for many of those same votes they hit our lieutenant governor for — unemployment was twice as high and most of those votes were six years fresher," said O'Malley. "And we prevailed by 14 points by always coming back to the purpose of those tough choices — which is more jobs and better opportunities for our kids."
"So you rarely heard that affirmative story," he said of the 2014 race. (Brown targeted social issues, like Hogan's positions on gun control and abortion.)
Asked about O'Malley's comments, a Brown campaign consultant, who asked to speak without attribution, said on Thursday, "It's disappointing that as his career is winding down so is his loyalty to a man who stood by his side for eight years."
O'Malley's camp has addressed the Brown race few times since the election.
The day after the election, a person close to the governor was quoted in Politico saying that Brown's campaign had been "poorly executed." O'Malley had even sounded "alarm bells" about the strategy, the source said. Later that month, the governor shrugged off the loss in an interview with the New Yorker.
Toward the end of the race, O'Malley appeared at more events for Brown and helped with get-out-the-vote efforts, calling himself the campaign's "deputy field director." But for much of last year, O'Malley spent his weekends away, stumping for Democrats in early-voting states like Iowa and New Hampshire.
Recent polls show that the majority of Maryland residents do not want the governor to run for president. He is expected to make his decision sometime this spring.
"I'm very seriously considering running in 2016," he said on Thursday.
On Jan. 21, at the inauguration in Annapolis, Hogan will take over as governor.