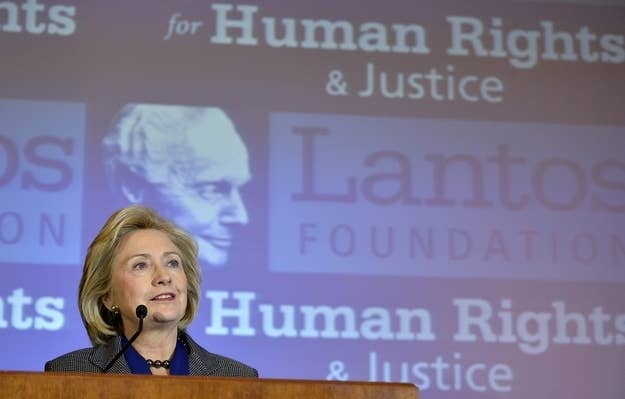 The Democratic Party's biggest super PAC, recently retooled as an early pro-Hillary Clinton effort, will sit out the midterm elections this year.
A spokesman with the group, Priorities USA Action, confirmed to BuzzFeed on Wednesday night that it would not be involved in House or Senate campaigns.
"House Majority PAC and Majority PAC are doing everything right and making a real difference. We fully support their efforts," said the spokesman, Peter Kauffmann, referring to the main groups supporting Democratic congressional candidates.
Priorities USA, which operates under loose campaign finance rules that allow it to raise and spend unlimited sums, put $65 million behind Barack Obama in 2012.
Sources close to the group say its leaders considered helping Democrats in House and Senate races approaching this fall. The PAC's principal financial backer, Hollywood magnate Jeffrey Katzenberg, has shown an interest in one midterm candidate in particular: Alison Lundergan Grimes, the Democrat gunning to unseat Sen. Mitch McConnell. Katzenberg, one of Obama's biggest bundlers, raised more than $1 million for Grimes on her first trip to California last year.
Sean Sweeney, the former Obama aide who co-founded Priorities USA, said a year ago that the group would likely let others, like House Majority PAC and Majority PAC, "take the lead on House and Senate races."
Kauffmann told the Center for Public Integrity last week that the group did not intend to be involved in the midterms. But his statement Wednesday night amounts to a sure signal from the group that it will steer clear of 2014 races.
Priorities USA will also take steps to ensure its Clinton fundraising operation doesn't interfere with the party during the midterms, according to a Wall Street Journal report this week. The group, the article said, is discussing a system in which it asks donors to hold off on making larger contributions until after 2014.
After months of discussions, which date back to as early as last spring, the political action committee announced it would support Clinton should she decide to make a second White House run in 2016. The group assembled a new board of directors, headed by Jim Messina, Obama's campaign manager, and Jennifer Granholm, the former governor of Michigan who backed Clinton's first presidential bid in 2008. Priorities USA announced its new board in the New York Times last month.
The PAC is one of several Democratic groups — including Ready for Hillary and American Bridge — already aligned behind Clinton. EMILY's List, another PAC, has also launched a polling effort under its "Madame President" project, an initiative aimed at electing a woman to the White House in 2016.
Update: This article has been updated to include reference to a piece by the Center for Public Integrity. (2/7/2013)