Jennifer Granholm To Join Obama Campaign Manager At Priorities USA
The former governor and Ready For Hillary surrogate is in talks to co-chair the board of Priorities USA with Jim Messina. Podesta's replacement.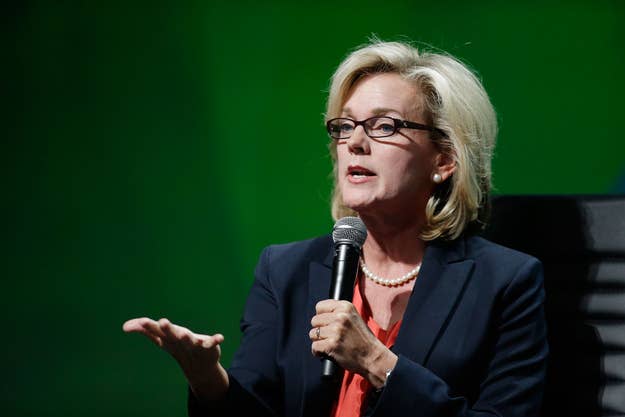 WASHINGTON — Jim Messina, former campaign manager to President Obama, will soon have company at the helm of Priorities USA Action, the big-money super PAC set to support Hillary Clinton should she run for president in 2016.
Jennifer Granholm, the former two-term governor of Michigan and one of the Democratic Party's most spirited principals, is well into talks to join Messina as co-chair of the group's board of directors, BuzzFeed has learned.
Three sources with direct knowledge of the plans said Granholm was tapped for the role after the group's original pick, longtime Bill Clinton adviser John Podesta, fell through. Podesta, originally in line to be co-chair beside Messina, agreed late last year to join the White House senior staff as a special adviser. Messina's move to Priorities USA was first reported by BuzzFeed last month.
For months, Priorities USA officials have discussed how best to reconfigure the group that two years ago bolstered Obama's reelection campaign with high-production-value campaign ads against Republican Mitt Romney.
The group's chief funder, Hollywood producer Jeffrey Katzenberg, has, along with senior advisers Paul Begala and Sean Sweeney, steered the plans for the next iteration of the PAC: a pro-Clinton effort focused on advertising and big-money donors, with a possible analytics element, sources close to Priorities said.
The Messina and Podesta partnership — the joining of two top former aides to Obama and Bill Clinton, respectively — was considered by those involved in the arrangement's development as a symbol of two once-divided camps aligning behind the former secretary of state's possible candidacy.
Granholm's visibility and early ties to Clinton make her a natural replacement for Podesta. In 2007, the former governor endorsed Clinton over Obama in the Democratic primary, though she later went on to serve on the president's transition team. After a rousing Democratic National Convention speech in 2012, and a stint on the now-defunct cable news channel, Current TV, Granholm was reportedly under consideration for a cabinet position early last year.
Last May, Granholm also signed on as a surrogate for Ready for Hillary, another leading super PAC supporting Clinton's would-be candidacy.
It is unclear whether Granholm's spot on the Priorities USA board would very greatly alter her role with Ready for Hillary, for whom she has appeared at fundraisers and events. At the PAC's national finance council meeting in New York City last month, Granholm closed the daylong confab with what attendees remember as a particularly moving speech, titled "Why I am Ready for Hillary."
The Priorities USA board of directors, a handpicked group of Clinton supporters headlined by Messina and Granholm, could be unveiled by the group as early as the end of this month, one source familiar with the rollout said.
The PAC announced two additions to its leadership team in a press release Friday morning. Obama campaign field organizer Buffy Wicks will serve as executive director and Democratic fundraiser Jonathan Mantz as a senior adviser for finance.
Priorities USA's representative declined to confirm Granholm's role. A representative for Granholm did not respond to a request for comment.