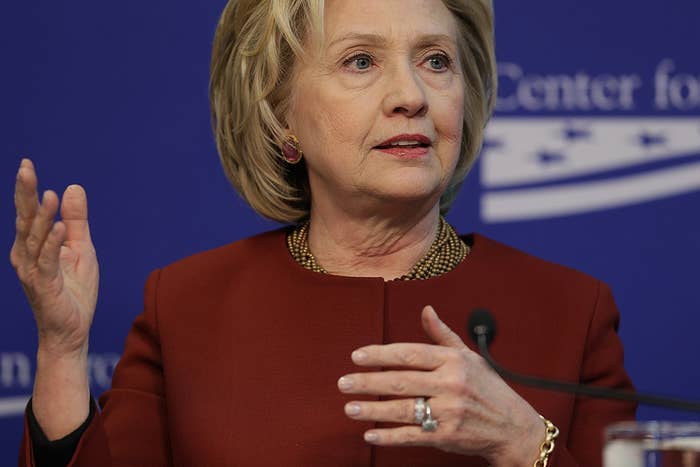 Hillary Clinton paid women and men equally as a U.S. senator, according to a review of internal salary information that shows full-time female and male staffers from her Senate office and three political committees making a dollar for dollar.
Clinton, who has been a longtime advocate of equal pay for women, is expected to launch a second presidential bid on Sunday — and has, along with senior aides, spent recent weeks building her campaign staff, to be headquartered in Brooklyn.
The compensation data, obtained by BuzzFeed News, spans from 2002 to 2008 — a period covering every full fiscal year of Clinton's tenure as the junior senator from New York.
Staffers included were on the payroll of either the Senate office or Clinton's political entities from that time period: Friends of Hillary, Hill PAC, and Hillary Clinton for President. (The data also shows one staffer who worked jointly for Clinton and a Senate committee.)
Part-time employees were not included in the data.
The review of annual salary numbers, which are not publicly available, shows that over the seven-year period, the median salary for both men and women working for Clinton was $43,000. (That number addresses the total pool of employees, regardless of the years in which they worked. The median salaries for each year are different, but the median of the yearly figures is also equal for men and women: $40,000.)
During the seven years, women made more on average for Clinton, according to the data. Women made an average of about $56,000, while men made about $52,000.
Each year in Clinton's overall payroll, more women were on staff than men.
Earlier this year, the Washington Free Beacon published an analysis of publicly available compensation data from Senate expenditure reports from 2002 to 2008 that showed Clinton paying female staffers $0.72 on the dollars.
The analysis did not include data based on annual salaries, or from her political committees.
The Free Beacon report traveled quickly on conservative media as evidence of Clinton's hypocrisy. The former secretary of state supported equal pay legislation and has criticized Republicans for not voting for such measures as the Lilly Ledbetter Fair Pay Act, of which Clinton was was an original cosponsor.