In Iowa, Hillary Clinton Takes A Question About Her Questions
And makes little news on policy or politics. "WHAT MAKES YOU SO SPECIAL?"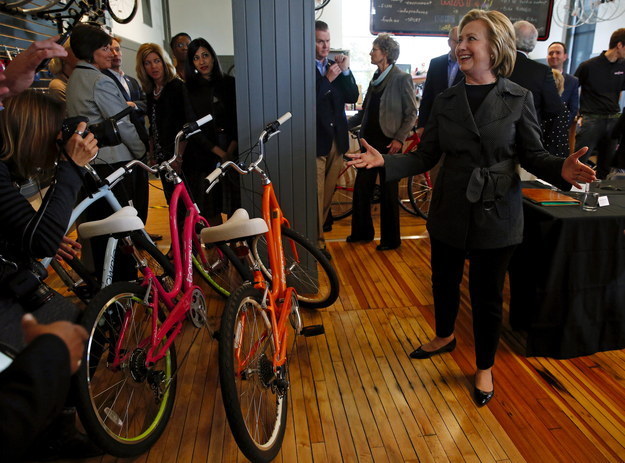 CEDAR FALLS, Iowa — At a bicycle shop here in northeast Iowa, Hillary Clinton was taking questions from the audience — a handful of local officials who'd come to watch her roundtable discussion with small business owners — when a voice rang out from the other side of the room.
"Secretary Clinton, will you take questions from the media as well?" said one of the few dozen reporters crowding the rope line at Bike Tech on Tuesday morning.
Clinton is now one month into the presidential race. Since her campaign announcement, a number of negative stories have followed Clinton to Iowa and New Hampshire and Nevada: There's the use of her personal email at the State Department, the foreign contributions to the Clinton Foundation, and the new book, Clinton Cash, which investigates whether those donations, and domestic ones, were used as tools of influence.
From these varied matters, one common question has emerged for the media covering her campaign: How many questions, about these questions, has Clinton answered since her launch — and when will she take more? (Last week, one news outlet published a story saying she had taken nine. Another counted 13.)
On Tuesday in Cedar Falls, the press got seven more.
The reporter who yelled his question to Clinton, appearing to startle some in the audience, also remarked on the candidate's recent silence.
"We haven't heard from you in a month," he told her, setting off a somewhat strained exchange, which the crowd of press and attendees observed in silence.
"Maybe when I finish talking to the people," Clinton said.
"Thank you."
"How's that?" she asked.
"Thank you," he replied. "Will you come over?"
Clinton paused. "I might."
"Thank you."
"I'll ponder it," she said, prompting some laughter.
"I appreciate that."

"I'll put it on my list."
After another question from the audience, Clinton took pictures with the participants at the roundtable event — where she vowed to serve as the "small business president," eliminate "red tape," and ease regulations on community banks.
Then she came over to the reporters.
The shouting happened all at once.
One voice, booming above the rest, could be heard asking multiple times, "WHAT MAKES YOU SO SPECIAL?"
When the din quieted, Clinton took her seven questions.
First, the foreign donations:
I am so proud of the foundation. I'm proud of the work that it has done and keeps doing. It attracted donations from people, organizations, from around the world, and I think that goes to show that people are very supportive of the life-saving and life-changing work it's done here, at home, and elsewhere.
Her vote as senator for the war in Iraq:
I've made it very clear that I've made a mistake, plain and simple … what we now see is a very different and very dangerous situation. The United States is doing what it can but ultimately this has to be a struggle that the Iraqi government and the Iraqi people have to win for themselves — and we can provide support, but they're gonna have to do it.
Her personal wealth:
Bill and I have been blessed. And we're very grateful for the opportunities that we've had. But we've never forgotten where we came from.
Her relationship with a friend and adviser, Sidney Blumenthal, who, after being barred from serving in the Obama administration, still advised her on matters pertaining to Libya while he pursued business interests there, as reported on Monday in the New York Times:
I have many, many old friends. I always think it's important, when you get into politics, to have friends you had before you were in politics … He's been a friend of mine for a long time. He sent me unsolicited emails, which I passed on in some instances, and I see that [as] just part of the give-and-take.
Her paid speeches — did they amount to a conflict of interest?
No.
The emails from the State Department — will she "demand" they be released sooner than January 2016, as is expected?
I have said repeatedly I want those emails out. Nobody has a bigger interest in getting them released than I do. I respect the State Department. They have their process that they do for everybody, not just for me. But anything that they might do to expedite that process, I heartily support.
But would she demand it?
As much as they can expedite that process, that's what I'm asking them to do — to please move as quickly…
Clinton was cut off. The yelling started again.
"Secretary Clinton?"
"Did you take official actions from the Clinton Foundation donors?"
"Secretary Clinton?"
"Why did you delete the email server?"
"Secretary Clinton?!"
More voices rang out — but Clinton was done, exiting the Cedar Falls bike shop alongside her press aide to head to another campaign stop. A chyron on MSNBC summarized the "breaking news": "CLINTON TAKES QUESTIONS IN IOWA."
There was another question that went out to Clinton on policy — and it was from a voter on the roundtable, who raised the topic of the Trans-Pacific Partnership, the trade deal President Obama is negotiating that has become an immense source of tension within the Democratic Party.
"What's your stand?" asked Denita Gadson, the owner of i-Gus Consulting, a small digital signage company based in Waterloo, Iowa.
Clinton, in this case, had plenty to say — except exactly whether she will support the deal.
"There are questions being raised about this agreement. It hasn't been negotiated yet … I have said I want to judge the final agreement." In the past, Clinton said, "I have been for trade agreements; I have been against trade agreements."
She would, she said, back a deal that increases jobs, wages, and protects national security. And she would oppose one, she said, that "gives corporations more power to overturn health and environmental and labor rules."
"I've been very clear on this," Clinton told Gadson.